While discussing the issue of horrible people with stupid faces it's important to not give into emotions and start comparing everyone to Hitler.  The people on this list are, in a word, scum, but legally their crimes barely register on the Outrage-O-Meter.  However, in strictly moral terms, everyone on this list has sunk to lows which you'd need a state-of-the-art military submarine to reach.
Now, TopTenz cannot legally advise that you track down the following folks and continuously poop in their cereal every morning because the logistics of such an endeavor would be just impossible.  But, if you ever run into them, be sure to give a stern look and a judgmental wag of the finger to:
10.  Paul Christoforo
Back in 2011, a gamer named Dave ordered two of those newfangled thingamajig PS3 Avenger controllers.  Unfortunately, the shipment of the controllers kept getting postponed until Dave decided to contact Ocean Marketing, who were handling customer service and PR for the Avenger. That's when Dave reached Paul Christoforo, aka His Majesty, The King of the Internet and the Greater Duke of Gaming.
After a few e-mail exchanges things started to escalate between Paul and Dave until the former went, in proper psychological terms, bat-crap loony banana.  Paul quickly started insulting Dave for daring to ask when he will get the stuff he paid for, telling him to shut up and stopping very short of adding "or else" at the end.  After Dave informed Paul that their e-mails were sent to major gaming websites like Kotaku
,
IGN
and
Penny Arcade
, Paul simply laughed that he's like so tight with the people there that it won't matter none.  When Mike Krahulik, aka Gabe from
Penny Arcade
, kindly told Paul that due to his behavior he will never get a booth at PA's PAX festival, Paul actually told him that he will get the mayor of Boston to force Mike into giving him that booth.  This is basically the equivalent of trying to get into your neighbor's birthday party by threatening to complain to his mother.  Also, the neighbor here is 40 years old.
In the end Paul did get what was coming to him when every single person and company he name-dropped either denied ever knowing him or confirmed that he's a jackass.  But, you might be asking, why single out Paul?  Yeah, he's a horrible person, but it's not like there aren't worse customer service reps out there.  Well, it's actually about the Avenger controller.  It just feels so wrong for one horrible person to bring so much bad press to an invention which was originally designed by a teacher to help a disabled student.
9. John Fitzgerald Page
JFP entered the internet lime light in 2007 when his Match.com e-mail exchange went viral.  In it, John replies to a woman who, obviously during a very tragic period in her life, wanted to know more about him.  His opening line is about how totally rich he is.  Then he goes on to explain, without actually being asked to do so, that he attended the world famous University of Pennsylvania and has a physique of a Greek god.  This naturally sounded exactly like asking a guy for the time and having him respond "Why yes, I DID bang Angelina Jolie."
So after the woman politely rejected John, he answered back to tell her that she just missed the chance to be with, in no uncertain terms, the greatest man in the world.  That's certainly douchebagery at its finest, but it feels like there should be more for Johnny to make this list.  There sure is!  In 2010, it came to light that, along with being a Mensa member and the greatest living actor of all time, JFP also runs a modeling agency!  Only not really.  Apparently what Johnny did was copy-paste ads from real casting calls and sent them to his clients, for which he demanded money.  When one woman decided to expose his scam in a mass e-mail John immediately contacted her and told her that he knows Nick Nolte!  And that if she doesn't apologize or give him $1,000, he will sue her!  Then he threatened to use his contacts to put the girl on a no-fly list because he can totally do that, you know.
Luckily the woman, only known as Rebecca, didn't buy it and even found a lawyer willing to represent her pro bono.  In the end John never sued her, for reasons which are known only to a complicated mind like his.
8. Matthew Chidgey
When a woman named Keara was treated rudely at GASP, a clothing store in Australia, she fired off an e-mail to the store's manager hoping to get, at the very least, an apology for being called a joke by the store's employee. Matthew, the manager, had a different idea.
Following the established MO for huge asses, Mattie started off with a few well positioned name drops like Kim Kardashian, Selena Gomez and Katy Perry, explaining that their store is more catered to those kinds of people, not Keara, who probably smells (it was heavily implied).  He unfortunately omitted the part where that makes it OK to insult people in your store, but let's move on.  The manager then proceeded to defend his employee, Chris, calling him a superstar and kindly asking Keara to please not compare herself to GASP just because she too works in retail.  See, it doesn't count unless you sell swatches of polyester to sort-of-famous people.  That's just common sense.
All in all Chidgey's attitude sounds about the same as feeling superior to the "common folks" because you once treated the anal glands of the Taco Bell Chihuahua.
7. Abraham Kortotki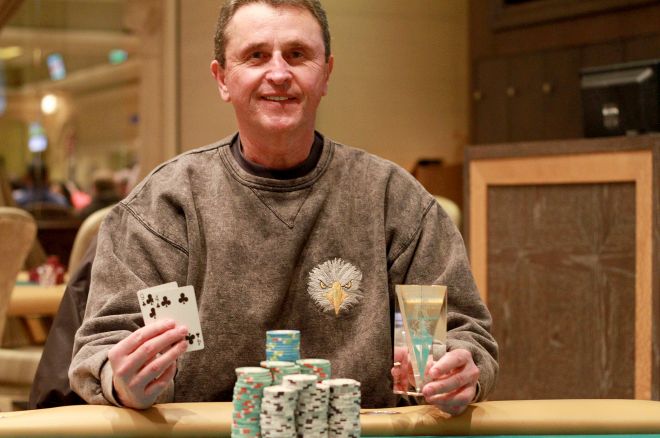 After Nicole Rowe, 40, was diagnosed with breast cancer she decided to not take it sitting down and went off to kick cancer's butt with poker!  Let me explain.  In 2009 Rowe was preparing for the Atlantic City women-only poker tournament where she was sure she will come first and earn enough money to keep her afloat after her cancer surgery.  A surgery where they would cut off her breast.  A noble cause if there ever was one.
Unfortunately, Rowe's plans came to a small hitch when she only placed second at the tournament.  It happens.  But the problem is with to whom she lost: Abraham Kortotki, a man who elbowed his way into the women-only tournament and won the first prize of over $20K.  It turns out that it's actually illegal to deny anyone entry to sport tournaments based on gender, race or sexuality, which is how Kortotki got in.  When Rowe explained her situation to him and asked if, in these circumstances, he would maybe want to share his winnings with her, he refused.
The final judgment is of course left to you. Is Kortotki a greedy, slimy poker pro with less right to breathe the air we all share than a diseased weasel, or just your run of the mill jerk?  Let us know in the comments section.
6. Dog Wheelchair Thief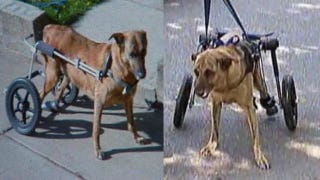 ---
It takes a very specific type of person to steal from the disabled.  It takes an even more specific person to steal from animals.  And it takes the most specific person in the world to steal from disabled animals.  The anonymous thief in this story is exactly that type of "specific," which is actually a code word for "horrible."
Dave Feeney's dog Lucky, a 12-year-old Belgian Shepherd, got hit by a car some time ago and lost the use of his hind legs.  Since then, he could only move with the help of a dog wheelchair.  But one night, Dave left the wheelchair in his front yard, only to discover the next day that it was stolen.  Let me repeat that: someone stole a custom dog wheelchair for a disabled dog.  Was it an act of desperation to finance that person's out-of-control habit of eating all the d***s in the world?  I'm not saying yes but yes, that's totally the reason why he did it.
In a bit of good news, some nice people over at HandicappedPets.com have since donated a new wheelchair for Lucky.
5. Xiao Baiyou
Xiao Baiyou, aka "Wolf Dad," is a horrible person and parent.  In his book, originally actually titled "Beat Them Into Peking University," he lays out what is most likely a taunt for God Almighty to finally end his life by admitting to the following things: he regularly beats his kids, sets up literally thousands of rules for how they are supposed to act, including how to HOLD STUFF, and actually considers himself to be a great dad.  Unsurprisingly, his face looks like the result of millions of years of evolution working hard to produce the most punchable object in the universe.
4. John M. Fiala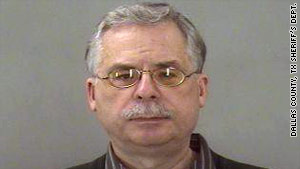 Let's get this out of the way:  Rev. Fiala is a pedophile priest.  But as horribly depressing as that makes me feel, priests molesting kids isn't really all that uncommon, so what makes Fiala eligible for this list?  One simple detail: After his victim accused Fiala of sexual abuse, he put a hit on the kid's head.
I'm freaking serious.
Fortunately, he offered the $5,000 for the boy's life to an undercover agent with the Texas Department of Public Safety and is now currently comfortable behind bars, with no further harm coming to his victim.  Unfortunately, you know that Fiala is destined to strike it rich after he sells the movie rights to his thoroughly messed up story and the resulting film makes millions because, if you look at his face, it's obvious he will be played Bryan Cranston.
3. Darren Pease
We've already established that you'd need to be a particular brand of horrible to steal a handicapped dog's wheelchair.  But then, what does that make Darren Pease, who stole over 300 THOUSAND pounds from a trust fund of a quadruple amputee 5 year old girl…who also happens to be his niece?  If you've answered "Oh GOD, what the hell is wrong with the world?!" then you were correct.
The story is simple: Darren Pease "Of Crap" is a banker and part-time Pillsbury Doughboy lookalike who was made a trustee of his niece's charity fund, which she was counting on for small stuff like, oh, replacement limbs and living.  Pease was trusted with managing this small fortune due to his experience in finances and because he was family.  But in 2008 it was discovered that he had plundered all but roughly 200 pounds of the original cash, which mostly came from donations.
Police say that they are looking into what Pease did with the money, a statement which I sincerely hope means that they are planning to tie him to a chair and work on his face with a cricket bat for a couple of nights.
2. Hamza Abuhamdeh
Oh look, another story about stealing from an unfortunate little girl related to you!  Just as TopTenz' secret slogan says, "You will grow to hate the human race!"
Sabreen Haq was just 14 when she died of a brain tumor but here, death was made all the more sad when she didn't get her dying wish to finally have her own room in a real house.  What's worse, she almost saw her dream come true, when her local community came together and raised $120,000 for her. But then they entrusted the money to Sabreen's cousin Hamza, who bought a house and immediately rented it to other people, leaving Sabreen to die in her tiny apartment.
When confronted about his crimes, which come down to three counts of theft, Hamza chewed his gum, smirked and replied that the wishes of a dying kid don't mean much to him because, hey, "we're all gonna die."  He's, of course, totally right, especially after I find both the cheapest flight to Cleveland and a way to attach an angry badger to a sharpened hockey stick.
1. HIV Guy
Look, I get it.  HIV sucks.  But no matter how bad or alone you feel with it, I advise, no beg you, not to do what this anonymous New Zealand man did and infect your sleeping wife with the virus just so that your misery can have company.
OK fine, that's not the whole story.  The guy who did this also missed having sex with his wife, after he contracted the virus by… I'm going to say "rolling in medical waste for fun."  Yeah, that sounds like the kind of stupid, senseless thing this guy would do.  Unfortunately, his sick plan worked halfway.  After pricking his wife with a needle soaked in his infected blood, the man succeeded in giving his wife HIV.  He will even finally get his wish and have lots and lots of sex, though mostly of the "rape-y" variety as he will most likely and hopefully spend the rest of his miserable life in prison.
---
Other Articles you Might Like