Mankind has come a long way over the centuries, with structures evolving from simple one-room huts, to castles, all the way up to state of the art skyscrapers in bustling metropolises all over the world.
The most amazing feats of architectural achievement used to take years or even decades to complete, like Neuschwanstein Castle in Germany, which took 24 years, or Dracula's Castle (officially known as Bran Castle) in Transylvania, which required nearly a century to complete. The speed with which today's enormous structures are built is a testament to how far we've come from both a technological and engineering standpoint.
Nowadays, construction rarely extends beyond a few years on even the biggest and most imposing structures, and even then it's more a matter of financial constraint than architectural know-how. Construction has taken giant leaps forward, to the point where the ability to quickly create these impressive structures almost feels like magic.
10. Mini Sky City: Changsha, China
With Mini Sky City, Chinese engineers performed something of a miraculous task when they completed construction of the 57-story building in a mere 19 days. Located in the town of Changsha, in the central region of China, it was built at a staggering rate of three floors per day.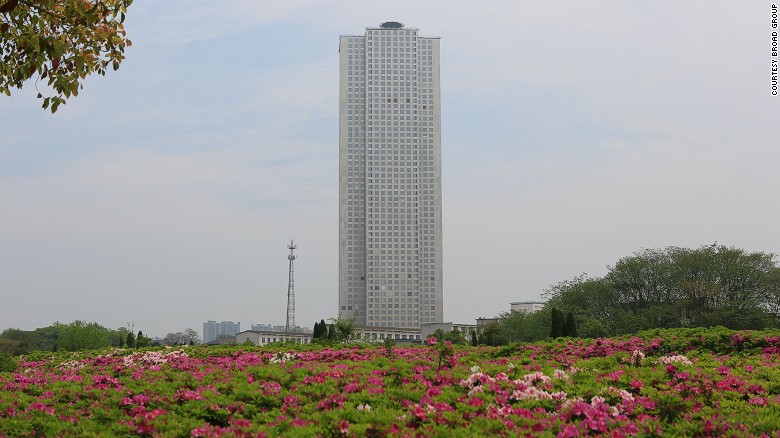 Mini Sky City was built by 1,200 workers and is comprised of 800 homes, a working space for approximately 4,000 people and a total surface of 1.93 million square feet (186,000 square meters). Zhang Xianmin, one of the architects behind the project, says that the company is planning an even bigger construction in the near future.
Broad Sustainable Building, the company behind this construction marvel, will build another sky-scrapper in the coming year called Sky City, which will also be located in Changsha. The new construction will be a 220-story building, with a projection of just 90 days to complete. Not only would that set records for construction time, but it would also become the world's tallest building.
9. Heijmans ONE: The 1-Day House
One of the difficulties of building your own home is the generally open-ended construction time. That's not the case with Heijmans ONE, however, as this house can be built in a single day.
Heijmans ONE is a prefabricated home constructed with solid wood frames and solar panels, making it not only efficient in terms of costs and time, but also environmental friendly. The house includes a kitchen, one bathroom, one bedroom, a living room, and an outside patio.
These homes have become prevalent throughout the Netherlands, where the Heijmans architecture firm is located. The purpose is to provide not just affordable homes (the rent is about $800 per month) but also to help beautify Dutch cities like Amsterdam by constructing these homes on abandoned and unsightly lots.
8. INSTACON: Mohali, India
On December 3-4, 2012, Indian architects and engineers from CMD of Synergy Thrislington managed to build a 10-story high building in just 48 hours, setting a new world record in the process.
INSTACON, located in the city of Mohali, was a massive undertaking with a total area of nearly 270,000 square feet (25,000 square meters). It was built by hundreds of workers, in addition to 200 technicians, and 24 engineers acted as supervisors during the construction and assembly of the prefabricated materials required to complete the building.
Under project manager Harpal Singh, INSTACON was completed in record setting time thanks to workers laboring around the clock in order to meet its 48-hour deadline and become the fastest ever construction of its kind in India.
7. Archiblox: Melbourne, Australia
Being eco-friendly is a major global trend, with more and more people looking to create a minimal carbon footprint. This has made things difficult when it comes to home construction, but some companies are beginning to create sustainable houses with an eye toward the environment. One of the prime examples of this is the Archiblox house, which was first installed in Melbourne, Australia.
Archiblox has a total surface of 570 square feet (53 square meters) and it is formed out of a living room, a bedroom, a bathroom, kitchen, dining area, laundry room and a sunroom. One of the most appealing aspects of the Archiblox house is the minimal energy cost, which is substantially reduced thanks to the materials used and the small, efficient layout.
Priced at around $205,000, the Archiblox could be completely built in as little as 12 weeks, with a maximum timeframe of 20 weeks for those who want full customization.
6. 30-Story Hotel: Changsha, China
Broad Sustainable Building checks in again, and again pulled off an impressive architectural achievement with the construction of a 30-story hotel in Changsha. The construction happened so rapidly that it seemed likely that BSB may have skimped on safety measured and industrial standards, but amazingly every bit of this towering hotel is completely up to code.
---
The 30-story hotel was finished in just 15 days, thanks primarily to it consisting almost entirely of prefabricated materials. Broad Sustainable Building attributes the two story per day rate to the fact that they were able to build the pieces in a factory and later assemble them at the construction site. All told, 93% of the building materials for the building were premade.
In addition to increasing the speed of the build, this process eliminated the risks of accidents, pollution, and delays. Broad Sustainable Building also prides itself on being environmentally friendly, so along with being quick, efficient, and safe, this method of construction could be the future of architecture.
5. Homeshell: London, England
Similar to the Heijmans ONE project, Homeshell is a construction that represents the current architectural movement focusing on environmentally friendly and efficient buildings. The benefits of such buildings also include the low cost of construction, as well as the expedience of the build itself.
Homeshell is a three-story house created by Richard Rogers, of Rogers Strik Harbour and Partners. The design and overall concept are simple and affordable, with both construction and living costs coming in lower than most other mass housing options currently available in the industry. These structures can be constructed in less than a day.
But the most amazing and impactful part of the Homeshell project is that these homes could minimize energy costs to such a degree that, according to the firm, it could "[help] alleviate poverty" with up to a 90% reduction in utility bills.
4. Ark Hotel: Changsha, China
As you've figured out by now, Broad Sustainable Building specializes in quick and efficient construction, and one of its finest examples is the Ark Hotel, located in Changsha, China. The Ark Hotel stands 15-stories high, and was built in its entirety in just 48 hours.
One of the things that sets the Ark Hotel apart from so many other constructions is the method that Broad Sustainable has been perfecting, creating interlocking, premade pieces offsite before more or less snapping them together like a puzzle. That's what makes the quick build time possible – it's not so much a construction, it's an assembly.
Broad Sustainable is on the cutting edge of modern construction, with the Ark being one of the crown jewels in its rapidly growing portfolio.
3. 3-D Printed Houses: China
The boom in 3-D printing technology has impacted almost every industry around the globe, and construction is no different. Thanks to benefits that include cheaper parts, less labor, and more rapid production times, 3-D printing was a natural fit in the world of construction. With so many companies turning to prefabricated materials, 3-D printing has become an essential part of the business.
One of the construction companies on the cutting edge of 3-D printing technology is Winsun, a Chinese company that used a giant 3-D printer to build 10 small houses in less than 24 hours using mostly recycled materials. These houses cost less than $5,000 to build and can be shipped anywhere in the world.
Developments like 3-D printing in the construction sector could provide a solution to homelessness and poor living conditions in emerging third world countries, while simultaneously providing an eco-friendly option to older construction methods.
2. Dom'Up: The Mobile Tree House
For anyone who has ever wanted to live a quiet life off the grid, Dom'Up is one of the best options out there. The quick construction can be completed virtually anywhere, giving people an option to virtually disappear into nature.
This strange and unique construction, created by Dutch arboriculturist Bruno de Grunne and architect Nicolas d'Ursel, is a lightweight dwelling that's just 172 square feet (16 square meters) and is octagonal in shape. The structure rests on a suspended platform that rests between multiple trees to provide a stable base.
Dom'Up is made of galvanized steel, natural wood flooring, and has a wrap around, external railing. It can be fully assembled in less than two days, providing temporary shelter or, in some cases, a permanent home for people looking to get back to basics and away from the bustle of city life.
1. The Habitat for Humanity House: Montevallo, Alabama
In December of 2002, the Shelby County, Alabama chapter of Habitat for Humanity shattered the world record for the fastest home construction when volunteers helped construct a three bedroom home in Montevallo in an astonishing time of three hours, 26 minutes, and 34 seconds.
Months of planning went into the project, with numerous local construction groups banding together to complete the build. The finished product was not simply a shell of a house, either, as the volunteers were able to install fully operational plumbing and electricity within their timeframe of less than three and a half hours. In addition to mapping out the plans for construction, members of Habitat for Humanity actually got together to stage what amounted to rehearsals to coordinate their movements well in advance of actually building the home.
The record had previously been set by Habitat for Humanity in Auckland, New Zealand, with a four bedroom home constructed in just under three hours and 45 minutes.
---
Want to find out more about some manmade marvels?
Other Articles you Might Like