Burger King has become an almost ubiquitous feature of the global landscape. With more than 13,000 locations across more than 70 countries, it's hard to visit many cities, especially within the United States, which houses the majority of its outlets, without seeing at least one Burger King. However, despite its constant presence on roadsides worldwide, Burger King is still hiding some surprises, including the 10 shockers listed below.
10. Burger King Ended Over 200,000 Friendships
Burger King has created buzz with its unusual marketing tactics. One of its most original was 2009's "Whopper Sacrifice" promotion. The promotion, offered via a Facebook application, offered users a free Whopper in exchange for unfriending 10 of their Facebook friends. In contrast to a normal Facebook unfriending, in which the "dumped" friend is not notified, Burger King's application sent notifications to the 10 rejected friends, alerting them that their online friendship had been traded for (part of) a hamburger.
The app was wildly successful, with more than 80,000 users deleting more than 200,000 friends in a week. Facebook, however, was not amused. The company disabled the app after 10 days, claiming that the notification feature violated its privacy standards, stopping the promise of a free Whopper from ending any additional Facebook friendships.
9. Burger King Tried to Make Nice with McDonald's
In 2015, in recognition of the United Nations' International Peace Day on September 21, Burger King made a bold proposal to archrival McDonald's. In full-page ads in the New York Times and the Chicago Tribune, Burger King asked McDonald's to join it in a one-day truce in the "Burger Wars" between the two chains. Burger King proposed selling a "McWhopper," a combo of both chain's signature burgers in a one day pop-up location in Atlanta located between the two restaurants, staffed with employees of both chains. Proceeds would support Peace One Day, a non-profit organization that seeks to raise awareness of the International Day of Peace.
McDonald's CEO Steve Easterbrook was unimpressed with the gesture and quickly dismissed the possibility of a McWhopper. He further noted that the "friendly business competition" between the two companies in no way resembled "the real pain and suffering of war." Burger King took its rejection in stride, partnering with other chains, including Denny's, on its Peace Burger popup. McDonald's, meanwhile, launched a separate ad campaign in support of the UN's World Food Program.
8. The Whopper has a Hard to Find "Perfect Wine Pairing"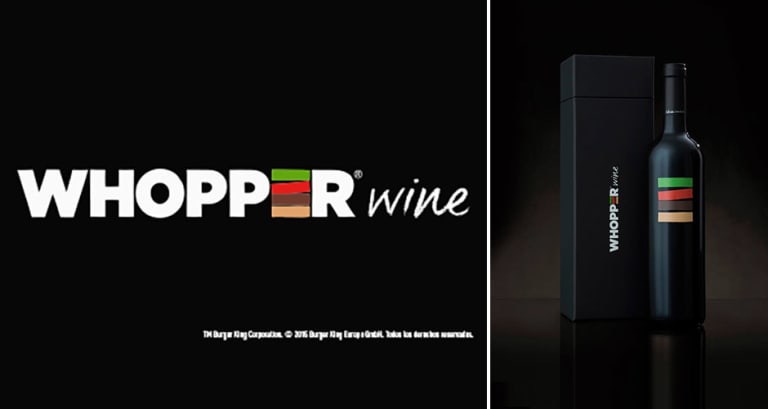 When Burger King sought to celebrate the 40th anniversary of its 1975 entry into Spain, it did so with a classy touch. The chain produced a limited edition wine, designed to pair perfectly with the Whopper. "Whopper wine," as Burger King dubbed it, was produced in Spain, and aged in flame-grilled (by a Burger King broiler) barrels, to produce a flavor that would complement its burgers.
Unfortunately, this ideal beverage companion to the Whopper will remain unknown to most. Bottles of Whopper wine, which included a matching box (perhaps for ease of carrying into one's local Burger King), were available only in Spain, and then only to forty winners of a contest to share your "Best Burger King story." Which, in retrospect, is a contest they should have saved until after they started plying their customers with wine.
7. Burger King has a Secret Menu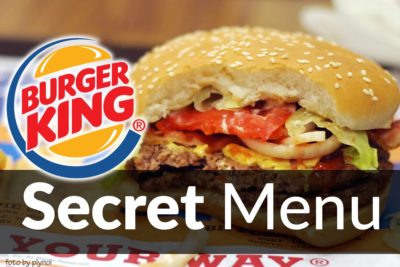 Several quick-service restaurants offer items that aren't on the menu, but that they will make if in-the-know customers request them. For example, In-N-Out's secret menu includes "Animal Style fries," which are topped with a mix of grilled onions, cheese and Thousand Island spread. And though there are no quesadillas on the menu at Chipotle, you can get one if you know to order it.
Burger King also has a secret menu of items that are available as long as the ingredients are there and the employees are game (It's best not to try your luck during the lunch hour rush). Offerings include the BK Ham & Cheese (served hot or cold on a sesame seed bun), "Frings"—a half order of fries, half order of onion rings, certain to settle any marital squabble, and the Rodeo Burger, which features the addition of BBQ sauce and onion rings. However, the title for "most intense secret menu item" at Burger King goes to the aptly named "Suicide Burger." Also known as the "Quad Stacker," this monster burger includes 4 patties, 4 slices of cheese, bacon, and special sauce. If you know about the secret menu and have a death wish, about $4, and a patient local Burger King employee, this giant ball of meat can be yours.
6. Burger King Briefly Offered Table Service
Table service? At Burger King? The idea of sitting down and having your food brought to your table at Burger King is hard to imagine. But if you missed the three-month period in 1992 when the chain rolled out table service, the only way that you will have this experience is in your imagination.
The idea behind table service was to attract new customers during the evening, traditionally a slow time of day for fast food restaurants. After ordering at the counter, guests were offered free baskets of popcorn to snack on while they awaited the arrival of their food, which could include choices from an upgraded dinner menu including steak sandwiches and fried shrimp, at their tables. Some locations even offered mood lighting and music.
Rival restaurant Wendy's took a tongue-in-cheek approach to the upgraded experience offered by Burger King. Noting that Wendy's did not plan to offer similar service, a Wendy's spokesman said of Burger King's table service (we're sure with no hint of sarcasm at all) , "We think it's fabulous. We hope Burger King spends millions of dollars on it." That assessment would prove prophetic. Table service slowed down Burger King's operations so much that the company lost millions of dollars, abandoning the foray into offering more upgraded service just a few months after it was launched.
5. Burger Kings Footed the Bill for One Lucky Couple's Wedding
---
Ashley and Joel's relationship has its roots in a history that will sound familiar to many couples. Friends since grade school, the two attended prom and homecoming together, but insisted to those around them that they were "just friends." However, the two started dating in college and in 2015, Joel proposed.
This sounds like an ordinary love story, until you hear that Ashley's last name is King, and Joel's is Burger. After a guest speaker at their elementary school pointed out that together, they were "Burger-King," the moniker stuck with the couple. When they got engaged, they took photos at a local Burger King, which soon went viral. The couple, who had hoped Burger King would provide some branded party favors or let them use the logo on wedding swag were in for a real treat. Burger King offered to pick up the whole tab for their Jacksonville, Illinois ceremony and reception—offering them "a whopper of a wedding," delighting the stunned, and fortunately named, pair.
The Burger-King wedding, attended by approximately 400 guests, took place July 17, 2015. The couple, and their wedding party, donned cardboard Burger King crowns for some of their photos and the groom and groomsmen wore Burger King t-shirts hidden under their formalwear. The guests sipped out of custom Mason jars bearing the Burger King logo during the reception. The sign in front of the local Burger King celebrated the Burger-King wedding as well, reading "Congratulations Ashley and Joel."
4. Burger King is Owned by a Canadian Donut Shop
Burger King seems as American as, well, the hamburger, which was invented in the US around the turn of the century. But as of 2014, Burger King is actually a Canadian company. How did this happen? Burger King merged with Tim Hortons, an iconic Canadian coffee and donut shop, and both companies were consolidated under the Restaurant Brands International holding company, headquartered in Canada.
The deal was controversial on both sides of the border. Americans protested the relocation of a highly symbolic company as part of a tax inversion transaction, a move which some said could save the company more than $1 billion in US tax payments over the next several years. Meanwhile, Canadians and their lawmakers weren't thrilled about the American takeover of their iconic brand, fearing job losses and a negative impact to national identity. The company, which denies that tax considerations were central to the merger decision, defends its merger decision as part of a larger strategy to aggressively pursue global expansion opportunities for both brands.
3. Burger King Had to Recall "Religiously Offensive" Ice Cream Desserts in the UK
When you think of controversial Burger King desserts, if anything comes to mind at all, it may be Burger King's bacon sundae, which debuted to mixed reviews in 2012. But Burger King's UK operations faced an entirely different controversy in 2005 over its ice cream desserts. In that case, it wasn't even the dessert that caused the dustup—it was the packaging it came in.
The lid on the ice cream treat depicted a rotating ice cream cone. But at least one horrified customer—Rashad Akthar of High Wycombe—saw something else entirely. Akthar claimed that the design resembled the Arabic inscription for Allah, causing offense to Muslims. He urged a boycott of Burger King, calling the issue, "my jihad." Burger King promptly recalled the questionable cones, apologizing and redesigning the lid in concert with the backing of the Muslim Council of Britain. At the same time, the chain insisted that the original design, "simply represents a spinning ice-cream cone."
2. BK's "Black Whopper" Has an…Unusual…Side Effect
Health experts have long warned of the negative consequences of a long-term diet heavy in fast food. But Burger King's A1 Halloween Whopper, which appeared as a limited-time holiday menu item in the US in October of 2015 had a more immediate, and colorful, impact on the digestive systems of those who consumed it, producing bright green poop.
The A1 Halloween Whopper, a burger in a black bun, is the American version of a similar item sold in Burger King's Japanese locations. The company indicates that the black bun of this burger comes from having A1 steak sauce baked in. But it's clear to at least one medical professional that that deep color didn't come just from A1, but rather, from food coloring—and a lot of it. The dye used on the bun of the Black Whopper travels through your system, emerging with a jaunty green hue. Luckily, this spooky side effect, much like the A1 Halloween Whopper that produces it, exists only on a temporary basis.
1. Burger King has a Special Crown Gold Card Available Only to Celebrities
Ahhh, the perks of being famous: private jets, deluxe hotel suites, personal assistants to cater to your every whim. But there's one perk that a small subset of the rich and famous enjoy that you may not have anticipated: unlimited free Burger King food.
Burger King has offered its "Crown Card" since 2006. For ordinary folks, this works just like any other prepaid gift card (the one pictured above is an ordinary Crown Card, if you were curious). But some celebrities, at least 12 that we know of, have been given an upgraded Burger King gold crown card. Why is this card special? It entitles the bearer to unlimited free food from Burger King…for life. We'll leave it to you to determine if this is a reward, or a punishment.
How do you get one of these coveted cards? Even for top-tier celebrities, getting the gold crown card is a rare achievement, with fewer in circulation than, say, Oscar statuettes. Chris Koster, who manages the program for Burger King, notes, "We've been extremely thoughtful about who receives them for life."
Some celebrity cardholders, including Jennifer Hudson and My Name is Earl creator Greg Garcia, got theirs because, at one point in their careers, they worked at Burger King. George Lucas earned his by always partnering with Burger King on releases of his blockbuster movies. Hugh Laurie of House fame, got his after joking that he had one in an interview; the claim garnered so much free PR for Burger King that the company happily added him the 12th celebrity gold crown card holder.
---
Other Articles you Might Like