Internet radio is growing increasingly popular, but with seemingly a million different stations out there it's difficult to know where to even begin. TopTenz asked one of our writers, Fred Hunt, to attempt to untangle the mess of options and find 10 memorable choices. This is the result of his musical adventure.

Nearly every major city in the United States has a corporate radio station that brags "we play anything." Here in Cleveland, Ohio, the local liars are Mix 106.5. When stations brag about their playlists, they mean the same hits from multiple decades instead of just this year. As my personal attention deficit disorder continues to spike, I decided to go to iTunes, hit up the Eclectic section, and attempt to truly broaden my horizons. With over 300 options in that section alone, and over 2,000 streams in total, I tried a sampling going strictly by cool names or descriptions. As I tried out station after station like I was hitting an all you can eat buffet for the ears, these 10 actually held my attention.
10. Slug Radio
"Where classic and modern alternative music collide."
The first time I tuned into this Seattle Internet station they were playing a single by the Cheatahs, "The Swan." With an impressive swath of alternative, from 80s punk and industrial to modern tracks by bands like Cloud Boat (a borderline jazz outfit from Great Britain), the station brushes the edges of mainstream alternative with bands like U2 and Arcade Fire. With no commercials, the station relies on donations from services like Flattr to exist. Besides iTunes, the station has nearly a dozen other access points from which you can listen. It proudly declares that it pays royalty fees through stream licensing.
As an alternative music savant, once they played the Dum Dum Girls' classic "Coming Down" Slug Radio had officially made me a convert — they fulfilled what they promised in their tagline.
9. Intersonik
"Post Punk, Underground, Electronica, African Beats, Krautrock, Ambient, New Wave Music Shows."
At first listen, I quickly identified the artist playing as Paul McCartney. Not exactly obscure, but from there it was off to the land of punk, electronica, and the underground. Intersonik hails from Athens, Greece, but it sounded an awful lot like an awesome American college radio station on acid. Maybe not quite understanding the way Facebook works, Intersonik is listed as a person with thousands of friends. I would chalk that matter up to translation issues.
Intersonik is available across multiple platforms and even has tie-ins with some local clubs in Athens. Because some of the website is in Greek I expected local European artists, but was surprised that Intersonik was at shows for American bands touring Europe like the Brian Jonestown Massacre, Helmet, and the Violent Femmes, which reinforces my belief that Intersonik is really a college radio station lost in the space-time continuum, beaming from about 1995.
8. Dynamic Range Radio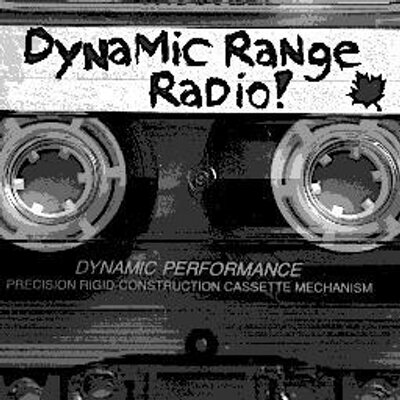 "No Compression. No Limits. Canada's Eclectic Alternative 24/7 and Commercial Free."
As Dynamic Range Radio hails from Vancouver, I was hoping to hear one of my favorite Vancouverite indie bands, Nomeansno. Instead of punk, I was treated to some laid back country, laid back rock, laid back folk and, to complete the dynamic range, some laid back reggae. Is marijuana legal British Columbia? Because this station sounds like it's broadcasting from a studio full of smoke mixed with incense.
If you love Dynamic Range Radio, they take donations from practically every payment form available, and are one of the few internet stations with some online content outside of the realm of music. If you're unsure if you'd like them, they're clear about the top 100 artists they've played over the past years. (Hint: Bob Marley is near the top.)
7. The 8bitX Radio Network
"Video game remixes, geek rock and chip music, all day!"
As I scanned the last songs played list I didn't recognize a single artist, which is quite a feat. I did recognize a handful of video games that the songs came from, but wow, talk about obscure music. Not bad, mind you, just different. The station has a mission statement that reads, "to entertain the masses while exploiting the memories of our youth while bringing back feelings of nostalgia."
I don't think people listening to the 8-Bit Network had the same childhood as me, maybe because the kids in Philadelphia are different than those in the Midwest. Or maybe because my personal musical experiences don't include hardcore gaming tracks from Metroid.
6. Head Case Radio
"Ultra-deep mix of just about everything, plus some of the world's finest unsigned indie bands and artists."
Back in the great Northwest, Head Case Radio has been chugging along in Seattle for nearly a decade. With a set of live DJs wedged into 24 hours of chaos, the description on Head Case Radio's Facebook page is a paragraph long sentence that basically says 'literally anything.' There's even a section for unsigned bands to submit their music for airplay, which is pretty neat. The only problem with playing absolutely anything is that it can be quite a roller coaster ride for the listener to hear the latest Dillinger Escape Plan tune, followed by Conway Twitty, followed by the biggest folk sensation from Bangor, Maine, and then INXS. The station almost challenges you to stay tuned.  There's a parental warning for explicit content label on the homepage for the impressionable youth unable to comprehend radical musical shifts.
---
5. Radio Kilo Disc
"Classic Tracks from the Top 1,000 Best Selling Albums 1956-Present."
Toronto has really nailed the spirit of the mixtape. With Adele my first exposure to the station, followed by a rousing rendition of the gospel classic "Amazing Grace" and a deep cut from the Dusty Springfield catalog, I technically heard all semi-familiar tunes — but I'm not familiar with any hits format that would play those songs 1-2-3.
Returning to the station, I was greeted with rare versions of classics from Black Sabbath, Bruce Springsteen, and Neil Diamond. An interesting fact about Radio Kilo Disc — they have a helpful playlist of what will be coming up for the week.
4. Yknot Radio
"The Best in Rock, Retro, Pop, Alternative, Talk, Comedy, and More!"
Greeted with two very familiar tunes by Pearl Jam and Kenny Loggins that I hear almost daily on local radio, I thought I had made a mistake by sampling Yknot Radio. But my patience was rewarded with comedy clips and more obscure fair from popular artists such as Mick Jagger and the Red Hot Chili Peppers.
Searching for the whereabouts of Yknot Radio headquarters was a bit more of a challenge, but I believe they're broadcasting from somewhere near Rockford, Illinois. Their website also declares that they pay royalties through their stream licensing agreement, and they too accept donations. Like most of the more established stations on this list, their social media presence seems to be their lifeline to their listeners, and they have multiple formats from which you can access the stream.
3. Dave's Strange Radio
"Garage punk, classic rock/soul, weird stuff."
Jumping from Generation X to the Electric Light Orchestra in a matter of moments, Dave had me locked in from the start. A fairly new station, its tagline is the modest "the greatest radio station in the world." Before I could figure out more details, Neutral Milk Hotel and the Cocteau Twins were coming through my speakers.
The station is a ground level endeavor that lacks details, as Dave's Strange Radio could be coming anywhere and anyone (well, anyone named Dave). But the gentleman has a vision. As the 15 minute live version of a Traffic song played, I couldn't help but admire the plucky attitude of Dave.
2. Planet Pootwaddle
I had a little apprehension about this station when first tuning in due to all the wink wink references to a certain illegal in 48 states herb, but my hesitation was quickly alleviated when I heard an amazing bluesy tune called "The Whale Have Swallowed Me" by Tommy Castro. As I continued to listen, the focus of this station seemed to be on classic rock. Not the classic rock overplayed by so many stations, but early artists from Bill Haley and Chuck Berry to about the time of Fleetwood Mac.
What else is in the Boomer Paradise? Apparently rockabilly, Hawaiian, new wave, 40s pop, country, blues, and the list goes on. There's something soothing and welcoming about Planet Pootwaddle — it's almost like going into an audial version of a neat little antique store. "An oasis of ear candy" streams from sunny Southern California, and there's even a Pootwaddle App.
1. Poplie

Poplie's web design is an ultra-cool layout that made me want to like the station. Being an American, half of the site is impenetrable even with the aid of Internet translation. After listening to Poplie for hours now, everything other than an Aaliyah remix was brand spanking new to me. I'm still trying to wrap my head around the concept of urban humming stereo. Perhaps it's a smooth jazzy, electronic and lounge blend. Perhaps it's a punky, feedback driven, subconscious sound immersion. Or perhaps it's a basement DJ simply spinning songs at an underground European hipster rave. Whatever it is, it's worth checking out.
---
Looking for some more new tunes?
Other Articles you Might Like