Death can be messy. Not like blood-splattering, flesh-eating zombies, but rather something much, much worse: lawyers. At some point, we all have to die. However, before the big sleep, it's best to have prepared a legal testament to ensure your final wishes are carried out, thus avoiding any post mortem mayhem.
10. Janis Joplin
For some people, the party never stops — even after they're dead. In her will, singer-songwriter Janis Joplin designated $2,500 for one last shindig to be held at The Lion's Share pub in Northern California. The celebration served as a proper send-off, honoring the bluesy Hell-raising songstress, who died from a heroin overdose in 1970.
Originally from Port Arthur, Texas, Joplin burst onto the music scene in the late 1960s with hit songs such as "Me and Bobby McGee" and "Mercedes Benz." She dazzled audiences with live performances at the Monterey Pop Festival and Woodstock before joining the infamous '27 club' (celebs who died at age 27). 
After her death, most of Joplin's estate was willed to her parents and siblings. But she also stipulated that some friends, especially any former female roommates, would receive her personal effects and household furnishings. 
9. Howard Hughes
Mogul. Playboy. Aviator. Howard Hughes wore several hats throughout his fascinating — and often bizarre — life. When he died intestate (without a valid will) in 1976, numerous claims were made by those hoping to cash in on his $2.5 billion estate. 
One of the more creative attempts involved a gas station owner named Melvin Dummar, who alleged Hughes gave him a handwritten will after picking up the eccentric billionaire on a desolate Nevada highway. The document, which endowed $156 million to Dummar, was later deemed a forgery. The story was later adapted into the 1980 film, Melvin and Howard.
Hughes' fortune was later split among several cousins. In 1984, the heirs agreed to an undisclosed financial settlement with actress Terry Moore, who claimed she and Hughes had secretly married on a yacht in international waters off Mexico in 1949 and never divorced. Her book, The Beauty and the Billionaire, became a bestseller.
8. Prince 
On the morning of April 21, 2016, the artist formerly known as Prince was found dead inside an elevator of his Paisley Park complex near Minneapolis. A report from the local medical examiner's office later revealed that the 57-year-old musician had died of an accidental overdose of fentanyl, a powerful opioid used to treat chronic pain. Because no will had been found, a mad scramble ensued over an estate valued at an estimated $500 million.
As one of the best-selling music artists of all time, Prince had a wide range of assets that included real estate, stocks, and royalties from both publishing and studio recordings. Shortly after his death, more than 700 people claimed to be descendants. DNA testing would eventually result in a court ruling which recognized his sister, Tyka Nelson, and five half-siblings qualified as the rightful heirs. 
After being cremated, the entertainer's ashes were placed into a custom, 3D printed urn shaped like the Paisley Park. His legal problems, however, remain unsettled. In the absence of a clearly defined executor, a fight for control of his brand, music, legacy, and image is expected to drag on for years to come. 
7. Gene Roddenberry
Although commercial space travel is still years away from becoming mainstream, that didn't stop Gene Roddenberry from boldly going where… well, you know the rest. As the Star Trek series creator and the first TV writer to ever receive a star on the Hollywood Walk of Fame, he requested that his ashes be scattered in the final frontier. 
During his lifetime, Roddenberry played an integral role in pioneering the sci-fi genre. The wildly popular Star Trek franchise would ultimately spawn blockbuster movies, TV spinoffs, and even an annual Trekkie Convention. Naturally, outer space beckoned as his final resting place that involved two separate missions. 
In October 1992, NASA astronaut James Weatherbee carried a portion of Roddenberry's ashes on board Space Shuttle Columbia. Five years later, a Pegasus XL Rocket transported more of his cremated remains along with those of 23 others, including LSD guru, Timothy Leary — but this time a trip only orbiting earth.
6. Jim Morrison
Another member of the '27 club', Jim Morrison, personified the live-fast-die-young creed as the lead singer for The Doors. After several high profile arrests and drunken shenanigans, Morrison's wild ride came to a screeching halt in 1971 after being found dead in the bathtub of a Paris apartment. The cause of death was listed as an accidental heroin overdose. Although his assets were only modest at the time, the frontman's 25% stake in the band would later generate millions in royalties. 
Consistent with his life while he was alive, Morrison left behind a will that resulted in chaos and protracted legal battles. Having long been estranged from his family, Morrison's girlfriend, Pamela Courson, inherited the entire estate. But when she died intestate three years later (also at age 27), a court ruling awarded the fortune to her parents. Not surprisingly, this didn't sit well with Morrison's mother and father, who claimed their son's will should have been ruled incompetent. 
A probate court later confirmed that Courson indeed qualified as Morrison's common-law spouse, and therefore, his rightful heir. In the end, however, the two families settled the matter between themselves and divided everything equally. 
5. George Bernard Shaw
---
The playwright and literary icon George Bernard Shaw was renowned for his acerbic wit and a sardonic sense of humor. As the foremost dramatist of his generation, Shaw's prolific achievements included works such as Man and Superman, The Doctor's Dilemma, and Pygmalion. Furthermore, the Irishman won the Nobel Prize for Literature and an Oscar (the only person to receive both awards), and when he died in 1950 at age 96, he left behind money to fund the development of a new alphabet. 
The Dublin-born writer instructed in his will to hold a competition to create a different writing system. The script had to be phonetic, at least 40 letters long, and distinct from the Latin script. In 1958, Kingsley Read was chosen as the winner and received a prize of £500. Each 'Shavian' character in the new variant required only a single stroke when written, allowing for faster writing. 
4. Freddie Mercury
Freddie Mercury loved to perform, captivating audiences worldwide with his charisma and rare, four-octave vocal range. He also loved his cats — and made sure they would be well taken care of following his death in 1991. 
Born Farrokh Bulsara on September 5, 1946, in Zanzibar, Mercury would become a rock and roll legend as the frontman for Queen with hits such as "Bohemian Rhapsody," "Killer Queen," and "Somebody to Love." While on tour with the band, he frequently spoke to his brood of felines on the phone and doted on them as though they were his children — replete with individual Christmas stockings and specially prepared meals. 
In 1985, Mercury dedicated his solo album, Mr. Bad Guy, "to my cat Jerry—also Tom, Oscar, and Tiffany, and all the cat lovers across the universe—screw everybody else!" He later wrote the song Delilah about one of his favorites, appearing on the Queen album, Innuendo. He left the majority of his estate to his ex-girlfriend, Mary Austin, with specific instructions to continue pampering his cats. Additionally, he also requested that Austin bury his cremated remains in a secret location.
3. Harry Houdini
As a master of escape and spellbinding illusionist, Harry Houdini was known for his death-defying stunts. He even planned to work his magic in the afterlife, creating a secret code so he could visit his wife Bess from beyond the grave.
The Hungarian-born performer died from a ruptured appendix on October 31, 1926. At the time, Houdini was one of the most famous and highest-paid entertainers in the world. Prior to his death, he and his wife had agreed on using a spelling code — known only to themselves — to communicate the message "Rosabelle believe."
For ten years after Houdini's death, Bess held séances every Halloween but without any luck. She later stated, "ten years is long enough to wait for any man." However, the tradition of summoning Houdini continues today by fans and magicians throughout the world. 
2. Frank Sinatra
Few entertainers who ever breathed achieved as much success, notoriety, and power as Frank Sinatra. The son of Italian immigrants from Hoboken, New Jersey, Sinatra would become a global icon as a chart-topping singer, movie star, and de facto leader of the Rat Pack. And when he died in 1998, the crooner left behind a will that let the world know that "Ol' Blue Eyes" was still in charge. 
Sinatra included a clever provision that stipulated that if anyone contested his will, they'd be automatically disinherited. Since he had married four times and fathered three children (possibly more), he knew that there would be disputes over his estate worth over $100 million. 
In 1998, Sinatra died at age 82 after suffering a heart attack. He was interred at Desert Memorial Park in Cathedral City, California, and buried with assorted mementos, including a bottle of Jack Daniel's, a pack of Camel cigarettes, and a Zippo lighter.
1. Anna Nicole Smith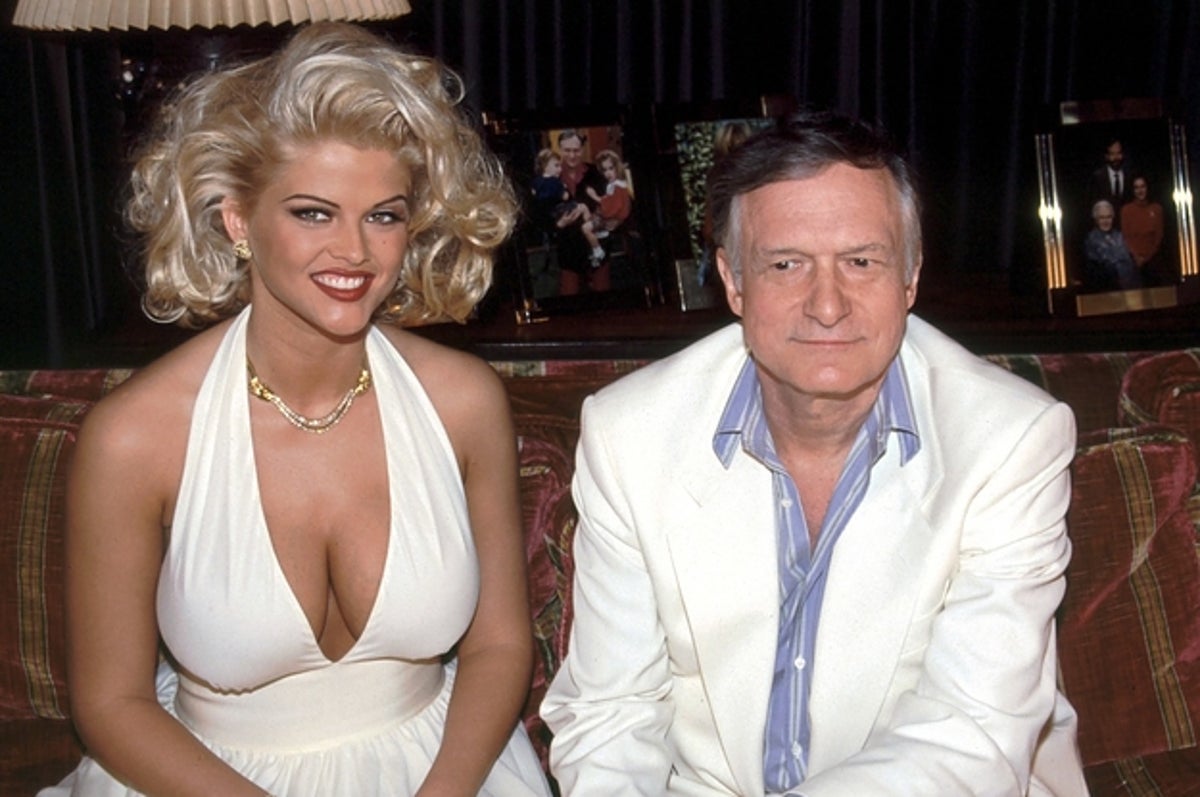 Like her idol, Marilyn Monroe, Anna Nicole Smith lived a fairytale life that ended in tragedy with an overdose of prescription drugs. As a result, Smith's death would result in two highly publicized estate disputes: the will of her late billionaire husband, J. Howard Marshall, and later, her own. The controversy also generated speculation about the reality star's demise, in which the toxicology report listed nine different kinds of medication in her system.
Smith rose to fame in the early 1990s, appearing in ads for Guess and being named Playboy's Playmate of the Year. Although she later dabbled in acting and starred in her own reality show, she became the subject of relentless tabloid fodder because of her 1994 marriage to Marshall, a Houston-based oil tycoon. He was 89. She was 26. Shortly after tying the knot, Marshall died, triggering a legal tsunami between the alleged gold digger widow and her stepson, E. Pierce Marshall.
According to J. Howard's will, he left most of his loot to E. Pierce. However, Smith claimed that her husband had promised her half of his fortune — but neglected to revise the document before he passed away. Adding to the family feud, Smith joined forces with Marshall's other son, J. Howard Marshall II, who had been previously disinherited.
A series of nasty court battles followed, including two separate U.S. Supreme Court decisions. But by the time of the second ruling, both Smith and E. Pierce had died — as well as Smith's son, Daniel, her sole beneficiary. Confused? It gets even crazier. 
In 2006, five months before being found unconscious in her hotel room at the Seminole Hard Rock Hotel and Casino in Florida, Smith gave birth to a baby girl, Dannielynn. A cast of characters soon emerged, claiming to be the father — despite Howard K. Stern (Smith's attorney and executor of her will) being named on the child's birth certificate. 
Eventually, DNA testing declared Smith's ex-boyfriend/freelance photographer, Larry Birkhead, as Dannielynn's dad and received full custody. Although Smith never received the financial windfall she had hoped for, her daughter is entitled to pursue the legal fight as the rightful heir. To be continued…
---
Other Articles you Might Like