Was the Vatican involved in the disappearances of two young girls? Why was a film director murdered just weeks before the release of his last movie? Did 10,000 football fans witness a UFO flying over them? 
These are some of the questions we will be exploring today as we take a look at the strangest mysteries lurking in the dark recesses of the history of Italy.
10. The Ustica Massacre
Words like "accident," "tragedy," and "disaster" are usually used when referring to an airplane crash, but not so much the word "massacre." And yet, that is exactly how Itavia Flight 870 is remembered – the Ustica Massacre. On June 27, 1980, a McDonnell Douglas DC-9 passenger jet was flying from Bologna to Palermo when it crashed into the Tyrrhenian Sea near the island of Ustica, killing all 81 people on board. Since then, controversies and conspiracies have swirled around what actually brought down that airplane.
Both mechanical failure and pilot error have been ruled out. Someone else caused that plane to crash, and the most popular theory claims that it was hit by an errant missile when it got caught in the middle of a dogfight between NATO warplanes and Libyan MiGs. However, no official investigation ever mentioned who fired the lethal shot, and both the Italian military and the secret service have been accused of stonewalling the inquiry and covering up the tragedy. Multiple military officials were charged with high treason and obstruction of justice, but nobody was ever convicted. 
9. The Death of Juan Borgia
The Borgias represent one of the most infamous families in history, having become synonymous with the intrigues, corruption, and power struggles that were all the rage at the royal courts of Europe. Nobody was safe from them, not even the Borgias themselves if rumors are to be believed.
During the late 15th century, the head of the family was Rodrigo, better known as Pope Alexander VI. In 1488, he made his son, Juan Borgia, the Duke of Gandía, very much to the chagrin of his other son, Cesare. Now, Cesare Borgia is one of the main reasons why his family gained its callous reputation due to his ruthlessness and lust for power. Therefore, when his brother was murdered in 1497, many people pointed their fingers at Cesare doing a bit of housecleaning. 
Juan Borgia disappeared on June 14, 1497, after leaving a dinner party in Rome. His body was fished out of the Tiber a few days later. He had suffered numerous stab wounds, but still had his coin purse, so he was not killed during a robbery. The culprit and his true motive remain a mystery.
8. The Vatican Vanishings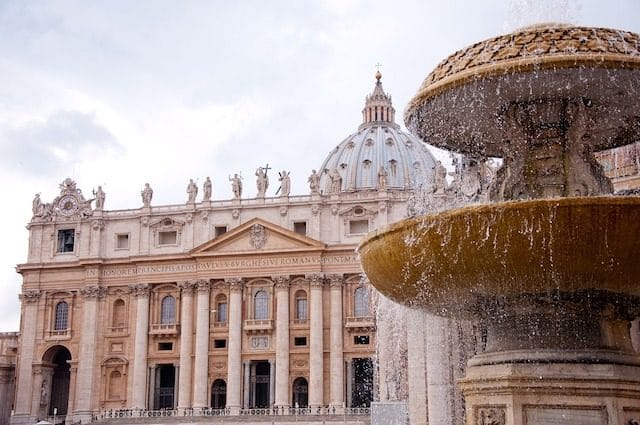 On June 22, 1983, 15-year-old Emanuela Orlandi vanished right off the streets of Rome as she was returning home from a music class. During the investigation, it was revealed that another girl of the same age, Mirella Gregori, had suffered the same fate just 40 days earlier. Were the two disappearances connected in any way?
Officially, there is no answer to that question, but all theories that have been put forward suggest that the two girls had been kidnapped by the same person or persons. Some said it was the Mafia, while others pointed the finger at a Turkish ultranationalist group called the Grey Wolves. But what really poured petrol onto the fire were accusations that the Vatican was involved. And such claims came from within the Vatican itself – in 2012, infamous priest and "Chief Exorcist" Gabriele Amorth claimed that the girls had been kidnapped to be used as sex slaves by members of the Holy See and diplomatic guests. 
While such extreme accusations have never been substantiated, Italian prosecutors have accused Vatican officials as recently as late last year of knowing where the bodies are and refusing to disclose the information. Back in 2018, human remains found at a property owned by the Vatican were thought to belong to the missing girls, but they turned out to be over 1,800 years old so, for now, their fates still remain a secret.
7. The King of Montelepre
Let's move on to one mystery where we can bring closure with some degree of certainty – the fate of Salvatore Giuliano, the notorious Sicilian bandit known as the "King of Montelepre." During World War II, Giuliano and his band of not-so-merry men took advantage of the chaos that surrounded them to run roughshod around the hills that surrounded Palermo. The bandit met his predictable end in 1950 when he was gunned down by a hail of bullets, ostensibly at the hands of Carabinieri paramilitary police, when he was only 27 years old.
Or was he? Ever since his purported death, legends have arisen claiming that the infamous outlaw survived his ordeal and that he escaped Italy while a look-alike was buried in Montelepre cemetery. They believe that the shooting was staged and that Giuliano made it to the USA.
This story has been around for decades, so in 2010 Sicilian authorities decided to exhume the body and doing a DNA test. While the results were not definitive, they suggested that the remains belonged to Salvatore Giuliano with a 90 percent likelihood, so this is one mystery that could probably be put to bed, even though some people still have their doubts.
6. The Halftime Encounter
October 27, 1954, was supposed to be a day like any other for the people of Florence. 10,000 of them had gathered at the Stadio Artemi Franchi to watch their football club, Fiorentina, take on its local rival Pistoiese. But after halftime, a stunned silence fell over the stadium. Nobody was watching the match anymore. They all had their heads pointed upwards and their mouths open as they watched a strange mass of oval-shaped figures move across the sky.
Did 10,000 Italians just witness a UFO sighting? Many believe so, including some of the players who were there that day. There were no cameras, so the bizarre incident wasn't filmed, but the people in attendance were left with a memento of their close encounter – a glittery, silver substance that began floating down to the ground. It was incredibly delicate and disintegrated shortly after landing, but some samples were preserved and sent for analysis. A spectrograph revealed that they contained silicon, boron, calcium, and magnesium, but didn't actually identify what the material was. 
UFOlogists are quite familiar with the substance. They even have a name for it – angel hair – and its presence leaves no doubt in their minds that the event was a genuine UFO sighting. Others remain unconvinced, and one astronomer has an alternative explanation – the moving shape was actually a mass of migrating spiders, and the angel hair was just webbing that the arachnids use as sails to fly on the wind.
5. The Pasolini Murder
---
Italian film director Pier Paolo Pasolini is best remembered today for making Salò, or the 120 Days of Sodom, which is still considered among the most graphic and disturbing movies ever made. But just a few weeks before the film was released, Pasolini was murdered, his body found beaten to a pulp and run over by a car multiple times on the beach at Ostia. 
The only person charged with the crime was a 17-year-old male prostitute named Pino Pelosi. He was Pasolini's date for the night, and was caught by police hours after the murder while speeding in the film director's stolen Alfa Romeo. He confessed to the deed, saying that he and Pasolini got into a fight after refusing some of his more extreme sexual demands. Except that he didn't have a mark on him. Even so, Pelosi was arrested and convicted alone, even though the medical report concluded that Pasolini had been beaten by more than one person.
Many people were never convinced that this was what actually happened, and in 2005 Pelosi retracted his statement, instead claiming that three other men "with a southern accent" attacked Pasolini for his communist beliefs. Nobody else has been charged with the crime.
4. The Ghost of Sant'Angelo Bridge
The tragic story of Beatrice Cenci has resonated with Italians everywhere, which is why legends of her ghost are still popular today, 400 years after her death.
Beatrice Cenci was a noblewoman born in Rome in 1577. You'd think this would mean a life of luxury and security for her, but that was not the case because Beatrice's father was Count Francesco Cenci, one of the most depraved scoundrels in all of Rome. He beat and sexually abused his children, and never suffered anything worse than a slap on the wrist due to his wealth and noble status. Eventually, Beatrice couldn't take it anymore, and she killed her father with the help of her siblings and stepmother. They tried to make it look like an accident but didn't do a very good job. Their plot was discovered and all involved were executed, except for Bernardo who was the youngest of the children.
Beatrice was beheaded on the Sant'Angelo Bridge on September 11, 1599. Since then, people have claimed to have seen her ghost, appearing once a year the night before the anniversary of her death, walking aimlessly around the bridge while carrying her severed head.
3. The Disappearance of an Economist
For decades, Federico Caffè was one of the biggest names in Italian economics, having mentored several Bank of Italy governors and the current Italian Prime Minister. Then, one day, he simply left home and vanished, never to be seen again. 
It was the morning of April 15, 1987, and Caffè left his home and headed towards the University of Rome, where he had taught Economic Policy for almost 30 years. He disappeared somewhere on the way and, despite an extensive search by his friends, family, and the police, he was never found and was declared dead in absentia in 1998.
Decades after his disappearance, some of Caffè's friends admitted that he had been suffering from depression, mainly due to memory problems that impeded his writing. He had suffered a breakdown and had stopped teaching a few months before he vanished. Therefore, some have speculated that the economist could have committed suicide, or maybe left to start a new life somewhere else.
2. The Haunting of Poveglia
Off the coast of Venice, inside the Venetian Lagoon, there is a small island named Poveglia which is divided in two by a canal. At first, it looks quite unassuming – plenty of greenery on one side and some abandoned buildings on the other, including an old bell tower. Few would suspect that this tiny strip of land has the reputation of being one of the most haunted islands on the planet.
During the late 18th century, when Venice was hit with a plague epidemic, the island was turned into a lazaretto – a quarantine station. In reality, though, all the plague victims, even people who showed the slightest signs of sickness, were simply sent to the island by force and left to die. Up to 160,000 people met their end that way, then dumped into plague pits and burned.
This alone would have been enough to grant the island its eerie reputation, but during the early 20th century, it was turned into a mental asylum. According to local legend, a sadistic doctor was in charge of Poveglia, and he used the patients as guinea pigs for his torturous experiments. He was driven mad by the ghosts of the island and, one night, he killed himself by jumping from the bell tower. 
Since then, people have stayed well away from Poveglia, but those who do visit have reported all sorts of eerie sights and sounds, including the ringing of the bell tower which doesn't actually have a bell anymore.
1. The Inconvenient Journalist
We end things with one of the greatest mysteries in Italy's modern history. In 1970, journalist Mauro de Mauro claimed he had a story that would shake Italy to its foundations. Just a short while later, he was gone, never to be seen again.
On September 16, 1970, the journalist vanished outside of his home in Palermo. In the 50 years following his disappearance, the most popular hypothesis claims that De Mauro was kidnapped and killed by the Sicilian Mafia, possibly over his plan to write an exposé concerning the earlier death of Enrico Mattei, an Italian official who fought against the oil oligopoly and had made some very powerful enemies. Mattei had died in 1962 in a plane crash, strongly believed to have been caused by a bomb, so it's possible that Mauro found evidence and was going public with it. 
A Mafia informant named Tommasso Buscetta later corroborated these notions, but then a different informant came in with another story. He said that De Mauro had discovered a coup attempt being planned by former Navy Commander Junio Valerio Borghese, with the goal to restore fascism to Italy under his rule. Borghese asked the mob to silence De Mauro, which they did, but it proved to be in vain as others eventually found out about the plan and the coup was called off. 
With most of the people involved in De Mauro's disappearance long gone, it's unlikely we'll get to the bottom of the mystery anytime soon.
---
Other Articles you Might Like