I'm going to take a break from my usual lists about politics and guns to focus on my other love: the four strings of love that is the bass guitar.  I've been playing bass for over 20 years now and continue to find it an instrument that's deceptively simple to take up, but surprisingly difficult to master.  I'm in my 40's and still learning new techniques and concepts – and will probably do so for the rest of my life.  Fortunately, I've got a lot of influences to learn from: Victor Wooten, Geddy Lee, Jaco Pastorius, dUg Pinnick…
While bass seems to be very much a boy's club, that's not to say that there aren't fantastic female bassists: good, solid bass players that match the big guys with raw talent and energy.  While there are plenty of talented girls playing in the underground, on today's list we're going to focus on the more well-known players.
So sit back and prepare to get low and funky with the ten most talented people with four (or 5 or 6 or 8 or 12) strings and two X-chromosomes as we present the Top Ten Female Bass Players.
10.  Sean Yseult (White Zombie, Star and Dagger, Famous Monsters)
White Zombie had a pretty impressive influence on the industrial metal scene in the late 80's and early-to-mid 90's, and leading the charge, supposedly, was vocalist Rob Zombie.  But what most people probably didn't know was that while the lyrics
were handled by Zombie, most of the music was written by the string section of Sean Yseult and, after 1989, Jay Yuenger (aka "J").  Sean showed flexibility over the life of the band, moving from punk-influenced noise rock to the groovy industrial-influenced metal that became the band's staple during their
final years
.  Sean was never a flashy bass player – she was just very, very solid.
9.  Tina Weymouth (Talking Heads, Tom Tom Club)
Another one of those "not flashy, just really, really solid" bassists was a founding member of both the Tom Tom Club (whose biggest hit, Genius of Love, was sampled by Mariah Carey as the rhythm track for her hit "Fantasy") and Talking Heads, possibly the greatest New Wave band to come out of that movement.  Her heavy, funky, aggressive lines were big, bold, and in your face – typical of the dance-driven styles she played (and continues to play) and part of the definitive sound of those bands.  She's not an overly technical bassist, but she's skilled enough to impress many bass players – and she's smart enough to sit back and let the groove work its magic.
8. Kim Deal (Pixies, The Breeders)
As the bass player for one of alterna-rock's premiere bands from the 80's and 90's, Kim Deal wrote bass lines for songs like "Where Is My Mind" and "Gigantic", establishing a signature sound that would ultimately influence the grunge movement of the 90's, inspiring Kurt Cobain to write an admitted Pixies rip-off called "Smells Like Teen Spirit".  Later on, when Pixies were taking a break, Kim re-formed a band with her sister called The Breeders where she took up guitar and lead vocals, but still wrote songs that were bass-driven alternative pop rock.  Her straightforward but creative style as well as her wide-ranging influence makes her a solid addition to this list.
7.  Melissa Auf der Maur (Hole, Smashing Pumpkins, solo)
I'll be honest:  I wanted to rate Melissa higher, and I probably would have if I could've gotten away with it.  Melissa is one of those really solid players with a long career playing in unflashy bands that just need a solid rhythm line.  She shot to prominence in the mid 90's when her friend, Billy Corgan, recruited her to fill the bass position in Hole left by original bassist Kristen Pfaff's death.  She signed a 5-year contract with the band and played bass on 1998 release "Celebrity Skin", where she also provided some much-needed background vocal expertise.  After her stint there, she replaced D'Arcy Wretzky in the Pumpkins for a few years before turning to solo work.  Melissa's one of those bass players who's more than just a bassist – she's an all-around artist who works to craft the music from every angle (including the visual mediums).  She's certainly not as flashy as the rest of the people on this list, but I probably admire her, personally, more than most of them.
6. Esperanza Spalding (solo)
---
Beginning her career as a jazz double bass player, Grammy-winner Esperanza is a triple threat who adds bass guitar and a killer jazz voice to her music, laying down complex jazz rhythms while she sings like a jazz angel.  She blends traditional American jazz with Latin and Brazilian music to give us a unique, funky blend of pretty, pretty sounds.  Her playing technique is geared towards fast, complicated riffs and quirky grooves that drive the song forward and give the listener a chance to really enjoy the bass without having it completely take over and turn an ensemble piece into a solo.  She's flashy, but within the groove of the music, and, at 28 years old this year, still in the prime of her career.
5.  Meshell Ndegeocello (solo)
Probably best known for the bassline on the song "Wild Night" with John Mellancamp (or whatever he's calling himself nowadays), Meshell has a long career in rock, pop, hip-hop, funk, and jazz.  And, honestly, if all you know is Wild Night, you're missing a lot of solid, groovy, funky bass playing from a woman who's got more soul in her fingers than most people have in their entire circle of friends.  Wildly talented, she brings a classic groove to her music that's a true joy to watch.
4.  Rhonda Smith (Prince, Jeff Beck, Candy Dulfer, Karma Deuce)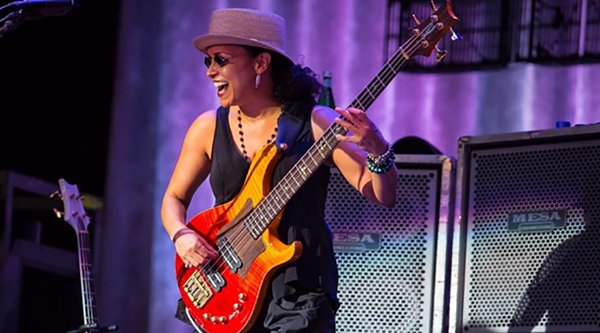 How funky is funky?  How about Prince funky?  Rhonda Smith is one serious funky bassist who adds a level of funk and soul to any genre she plays in.  As smooth and groovy as any player on this list (or any other), she finds ways of locking into the groove of a song and making it her own.  She uses a lot of techniques popularized by players like Jaco and Victor Wooten, but does so with a soulful, creative, funky way that makes her music just sound…well…sexy.  There's just no other way to put it: the woman's style oozes sensuality that comes out groovy and smooth.
3.  Gail Ann Dorsey (solo, David Bowie, Gwen Stefani, Tears for Fears)
Again, not all great players are flashy.  Some are just solid, and there aren't many that come more talented than Gail Ann Dorsey.  She's done some solo and session work, but she's probably best known as the bassist for David Bowie since the first Clinton Administration.  While she also plays guitar and clarinet, her real talent lies with bass, where she's influenced heavily by pop music from the late 1970's, which has positioned her to play for artists who were either influenced by or who directly influenced this period of music.  She bolsters her pop influenced style with an incredible voice that's allowed to duo with those acts she's toured with, including at least one notable substitution for Freddie Mercury in Bowie's performance of "Under Pressure".
2.  Tal Wilkenfeld (solo, Jeff Beck, Allman Brothers, Chick Corea)
Jeff Beck has a tendency of finding top-level bass players, and in Tal Wilkenfeld, he found one of the best, most talented bass players on the planet, locating Ms. Wilkenfeld in a bucket of heaven.  This girl dropped out of high school at 16 to join the Los Angeles College of Music, where she graduated in 2004 and started hitting New York jazz clubs and had endorsements with high-end bass and guitar luthier Sadowsky.  By 2006, she was touring with the Allman Brothers Band, followed shortly by tours with Chick Corea and Jeff Beck, all while she was recording her own stuff.  Blending elements of classic and modern jazz, her style is straightforward, fun, and surprisingly complex, which attracted dozens of top-level musicians to her camp, including Herbie Hancock, Prince, and Gov't Mule, and who has shared the stage with some of the best bass players on the planet.  Not bad for a girl who, at the time of this writing, isn't even 27 years old.
1.  Carol Kaye (session musician with the Clique, aka the Wrecking Crew)
Jamming with Victor Wooten and Steve Bailey
There are flashy bassists and there are solid bassists and there are blends of the two.  And then, there are those bassists who are legendary, who write lines and licks that stick in the heads of entire generations, and in that group, there is Carol Kaye.  She's been in over 10,000 recordings in a 55-year career as a part of a group of session musicians that dominated the LA recording industry in the 50's, 60's, and 70's.  Her most memorable contributions are many of the songs in the Beach Boys discography and as a major part of Phil Spector's infamous "wall of sound".  She also worked on TV and movie soundtracks, including, but not limited to, The Streets of San Francisco, Mission: Impossible, M*A*S*H, The Brady Bunch, The Addams Family, Hawaii Five-O, Wonder Woman, and The Cosby Show.  Her solid, fun, and iconic jazz-influenced style is iconic combined with her wide influence nets her the top spot on our list.
Just so I don't leave them out, there are a ton of other great female players out there, including Kim Gordon (Sonic Youth), Aimee Mann (Til Tuesday, solo), Divinity Roxx (Beyonce), D'Arcy Wretzky (Smashing Pumpkins), Juliana Hatfield (The Lemonheads, solo), and Gail Greenwood (Belly).   There are even more who've never been part of a popular band, who are working away at home, in church, or with other local musicians, many of whom are as talented as anyone on this list.
---
Other Articles you Might Like