From the earliest records of ancient civilizations to the most recent works produced by modernity, the history of literature bears witness to the creative power of the human mind. We have before us a vast library of stories, plays, and poetry to enjoy at our leisure, but in some cases this creativity came with a price – the life of the creator.
A significant number of writers have struggled with depression and the seductions of suicide, leading some to believe there is often a close connection between artistic skill and the mood swings of a tortured mind. While not all of the following writer-suicides of modernity occurred because of the writer's battle with depression, many of them did – and there are many, many more that could be added to this list.
10. Yukio Mishima (1925 – 1970)
Yukio Mishima was the pen name for Kimitake Hiraoka, a prolific Japanese author, actor, and playwright. Taken under the wing of his overly protective grandmother until the age of 12, Mishima was not allowed to play with other boys, participate in sports, or even expose himself to sunlight.
Mishima's early fascination with literature and writing led to clashes with his military-minded father, who destroyed any of his son's manuscripts he found. Still, Mishima enjoyed early success in the academic world, becoming the youngest member of his elite school's editorial board and subsequently publishing poetry and prose in prestigious magazines. To protect him from the scorn of his classmates, his instructors decided that he should write under a pen name.
Mishima graduated from the University of Tokyo in 1947 and continued to publish stories, poems, and plays, while also traveling extensively. Keenly interested in physical fitness and martial arts, he joined the Japan Self Defense Forces (JSDF) and later started his own private force called the Shield Society.
In 1970, Mishima and four members of this Shield Society took over the Tokyo JSDF headquarters and tied up the commandant. Mishima gave a speech outlining his demands to restore power to the Japanese emperor, and then ended his life by committing seppuku. He had been carefully planning the suicide for a year.
9. Jerzy Kosinski (1933 -1991)
As Jews living in Poland during World War II, the Lewinkopf family had to do everything possible to avoid German capture, so young Jozef Lewinkopf was given the false name Jerzy Kosinski, which he kept as an alias. After the war was over, Kosinski remained in Poland in order to pursue university studies.
In 1957, Kosinski emigrated to the United States on a passport obtained by forging papers that "proved" an American foundation was willing to sponsor him. He supported himself by driving a truck until he obtained a grant from the Ford Foundation allowing him to attend Columbia University's sociology program.
In 1965 – the same year he became an American citizen – Kosinski published the novel The Painted Bird, a highly controversial story about a young boy's experiences in Europe during World War II. Other famous (and also controversial) novels by Kosinski include Steps and Being There.
Many people were critical of Kosinski's writing because of the sexual, violent, and often sadistic topics he chose to portray. He was thought to rely heavily on ghostwriters and freelance editors for the content of his novels, and was even accused of plagiarism, which he vehemently denied.
In addition to the mental exhaustion of dealing with these allegations, Kosinski also suffered from serious physical illnesses later in life. On May 3, 1991, his wife found his body in a half-filled bathtub, a suffocating plastic bag wrapped around his head.
"I am going to put myself to sleep now for a bit longer than usual," read Kosinski's suicide note. "Call it Eternity."
8. Hunter S. Thompson (1937 – 2005)
Perhaps most famous for his 1972 novel Fear and Loathing in Las Vegas, Kentucky native Hunter Thompson is remembered for his signature "Gonzo" style of journalism. Avoiding the objective nature of typical reporting, he often wrote in a highly subjective manner, incorporating his own experiences and artistic creativity into stories. The result was a form of writing that blurred the lines between truth and fiction.
Thompson's early journalistic work usually involved editing or reporting sports stories. Over the years he worked various jobs at quite a few different papers around the United States and even in places like Puerto Rico and Brazil. While researching a story for Rolling Stone about the killing of journalist Ruben Salazar by Los Angeles police, Thompson had the idea for Fear and Loathing, which initially appeared in Rolling Stone in 1971 and gave him the opportunity to write much more for the magazine.
From an early age, Thompson clashed with authority and was always outspoken about the rights of privacy and bearing arms (he owned a massive collection of firearms and explosives). He was also known for actively supporting the legalization of marijuana and other drugs.
Thompson suffered from various medical problems, which may have been a factor in his suicide. On February 20, with visiting family members in the next room, Thompson put a bullet through his brain and ended his life.
"No More Games," read a note delivered to his wife shortly before the incident. "No More Bombs. No More Walking. No More Fun. No More Swimming. 67. That is 17 years past 50. 17 more than I needed or wanted. Boring. I am always bitchy. No Fun — for anybody. 67. You are getting Greedy. Act your old age. Relax — This won't hurt."
7. Richard Brautigan (1935 – 1984)
Born in Tacoma, Washington, Richard Brautigan endured a childhood of poverty, parental neglect, and physical abuse. He moved around the Northwest, finally settling in Eugene, Oregon with his mother and stepfather. While in high school, Brautigan wrote articles and poetry for the school newspaper.
In 1955, Brautigan was arrested for disorderly conduct and later committed to a hospital, where he was diagnosed with clinical depression and paranoid schizophrenia. He was treated with electroconvulsive therapy (ECT) and released, but for most of his life he struggled with depression and alcoholism.
Somewhat naïve and eccentric, Brautigan, whose writing style was characterized by a unique sense of humor and a richly imaginative use of metaphor, wrote poems and novels with little success until the publication of Trout Fishing in America (1967), which won him an international readership and the respect of literary critics – the same readers and critics who would dismiss his work in later years.
In October of 1984, Brautigan's long-dead body was found rotting in his Bolinas, California home, where he lived alone. A .44 Magnum bullet through the brain had finally brought an end to his despair.
6. John Berryman (1914 – 1972)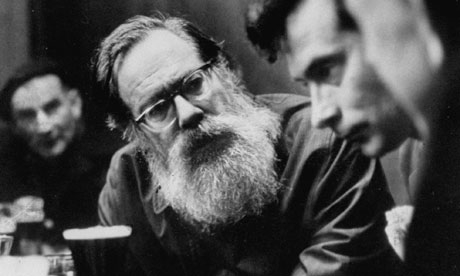 ---
The poet John Berryman was born John Smith in McAlester, Oklahoma. Following his father's suicide when he was only 12, his mother remarried and his surname was changed.
Berryman studied as an undergraduate at Columbia College and later attended Cambridge University on a fellowship. From 1955 until his death, he was a professor at the University of Minnesota. The publication of his 77 Dream Songs (1964), a collection of lyrical sonnets, won him the Pulitzer Prize for poetry. He later expanded on this work by adding over three hundred sonnets and publishing the whole collection as The Dream Songs in 1969. Berryman's style of poetry incorporated a surprisingly scrambled syntax, purposeful disorder, the use of inside jokes, and hidden meanings, and many readers have found Berryman's own "explanation" of his work to be very appropriate – "these Songs are not meant to be understood, you understand."
Berryman's lifelong emotional instability and devotion to alcohol eventually led him down the same road blazed by his father years before. On January 7, 1972, he killed himself by jumping from the Washington Avenue Bridge, which connects the East and West Bank sides of the University of Minnesota's Minneapolis campus.
5. Karin Boye (1900 – 1941)
Known for her compelling, serious writing style that was often symbolic, bleak, and tragic, Swedish poet and novelist Karin Boye was responsible for co-founding the magazine Spektrum, translating T. S. Eliot, and working to introduce surrealism to Swedish readers. Born in Gothenburg, Boye moved to Stockholm in 1909 and spent her early years there, later studying at the University of Uppsala and the University of Stockholm.
Boye published her first collection of poems (Clouds) in 1922, and continued writing poetry and novels throughout her life. Much opposed to totalitarian government, Boye wrote the novel Kallocain, which contained ideas culled from her thoughts while traveling through Germany and the Soviet Union, and which helped inspire the 2002 film Equilibrium.
Although she was briefly married to Leif Bjork, a friend from the Socialist Clarté organization, Boye was a lesbian and lived with her partner Margot Hanel for the last ten years of her life. Her depression eventually led to her suicide in April of 1941. After leaving home one day, she was found dead, lying next to a boulder on top of a hill. She had killed herself with an overdose of sleeping medication.
4. Ryunosuke Akutagawa (1892 – 1927)
Born in Tokyo to a mother who later went insane, Ryunosuke ("Dragon Son") Akutagawa showed an early interest in reading and writing, eventually going on to study English Literature at Tokyo Imperial University. Known as the father of the Japanese short story, Akutagawa's writings often focused on psychological disorders, the macabre, and the evils of human nature, frequently reinterpreting historical themes in a modern light.
Akutagawa taught English briefly at the Naval Engineering School in Yokosuka, but eventually quit and devoted himself completely to writing. Of the 150 short stories he wrote in his short life, most of these were composed during the last ten years he lived. Paranoid, severely depressed, and suffering from visual hallucinations (such as perceiving maggots in his food), Akutagawa killed himself with an overdose of Veronal at the age of 35.
"The world I am now in is one of diseased nerves, lucid as ice," read part of his suicide note. "Such voluntary death must give us peace, if not happiness…"
3. Anne Sexton (1928 – 1974)
The poetry of Anne Sexton is known for being extremely personal and honest; indeed, she is considered one of the modern confessional poets. Much of her writing deals with themes that were usually left alone by other authors – themes like abortion, menstruation, and masturbation. The manic depression that stayed with Sexton for most of her life also factored heavily into her poetic work.
In 1956, Sexton's therapist recommended that she take up poetry as an outlet for her severe depression. So she did – and it wasn't long before she saw her poems accepted in major publications, even receiving the Pulitzer Prize for poetry in 1967.
But despair was always a constant factor. Even as she gained exposure for her poems, the effects of her medications, combined with an increasing alcohol dependency, were slowly putting a damper on her creative fires. She repeatedly made attempts on her own life, and finally she succeeded.
On October 4, 1974, right after meeting with a close friend to discuss her latest book of poetry (The Awful Rowing Toward God), Sexton went home, locked herself in the garage with the car running, and succumbed to carbon monoxide poisoning.
2. Virginia Woolf (1882 – 1941)
"I feel certain that I am going mad again… and I can't recover this time" – so read the suicide note Virginia Woolf left for Leonard, her husband of almost thirty years.
Born in London and raised there by eminent parents, Woolf had to deal with depression throughout her life. The death of her mother in 1895 resulted in her first nervous breakdown, and when her father passed away in 1904 she suffered a collapse so severe that she had to be institutionalized for a short time.
However, Woolf's mental illness did not prevent her from becoming a successful novelist, essayist, and publisher, and it was through her association with the circle of intellectuals known as the Bloomsbury Group that she met her husband, with whom she enjoyed a long and fulfilling marriage. Her most famous works include the novels Mrs. Dalloway (1925), To the Lighthouse (1927), and Orlando (1928).
Shortly after Woolf finished the manuscript for her novel Between the Acts, she once again slipped into a state of severe depression. Afflicted by voices in her head and an ever-increasing despair, Woolf wrote a final note to Leonard, asserting that her disease was beyond healing, yet also telling him how happy her marriage to him had been. On March 28, she slipped on an overcoat weighed down with rocks and drowned herself in the River Ouse. Her body wasn't found for three weeks.
1. Ernest Hemingway (1899 – 1961)

Born and raised in Oak Park, IL, Ernest Hemingway's literary talents go all the way back to his teenage years, when he worked as a writer and editor for his high school's newspaper and yearbook. Post-graduation work as a cub reporter at The Kansas City Star was cut short by his decision to serve as a Red Cross ambulance driver in Italy during World War I, and after he returned to the United States he eventually moved to Toronto and gained employment at the Toronto Star Weekly, where he worked as a freelancer, staff writer, and foreign correspondent.
Hemingway is best known for writing several novels which are now considered classics of American literature, such as For Whom The Bell Tolls (1940) and The Old Man And The Sea (1952). His writing ventures gave him many opportunities to travel, and the things he experienced in such places as France, Spain, Cuba, and Key West became themes for his novels. His contributions to literature won him both the Pulitzer Prize (1953) and the Nobel Prize (1954).
Hemingway's love of the bottle developed into alcoholism later in life, leading to high blood pressure and liver problems. Shortly after receiving ECT at Mayo Clinic in 1961, he attempted suicide at his home in Sun Valley. Ten more shock treatments followed, and two days after being released from Mayo Clinic the second time, Hemingway loaded both barrels of his twelve-gauge shotgun, put the weapon in his mouth, and blew his brains out the back of his head.
Four other members of Hemingway's immediate family also committed suicide – his father, two of his siblings, and his granddaughter – leading some to the conclusion that a hereditary disease was at work behind the scenes.
---
Other Articles you Might Like