When you've been doing this job as long as we have, you get used to the idea that truth is stranger than fiction. History, science, art… they're all full of factoids that seem implausible on the surface, but turn out to be true underneath. Still, there is a limit to this implausibility. It's not like we're going around claiming lightning magically gives you tattoos, or that you can survive jumping off the top of the Empire State Building, or that the Muppets were inspired by a porno, right?
Wait, you mean that's exactly what we're about to do? And all of that is true? Yeesh…
10. Lightning Strikes Give You Sweet-ass Tats
Getting hit by a bolt of lightning is not fun. Aside from knowing that you've angered almighty Zeus, you suffer horrifying agony, terrible burns, and (possibly) a stopped heart. Oh, and you might just wind up getting a sweet-ass tattoo.
'Lightning Flowers' (also known, less-romantically, as 'lightning trees') are strange, fern-like, spiraling figures that can be flash-fried into your skin if a lightning bolt explodes nearby. Essentially burns that are caused by static electric traveling along the tiny blood vessels under the skin, they can last anywhere from a few hours to months and months. A type of Lichtenberg Figure, they're weird, almost plant-like, and, to be honest, kinda cool.
See, unlike most burns, lightning flowers look intentional. The tiny little whorls, the way they radiate out from one central point… it all looks like some ink artist has spent hours agonizing over the design. Usually appearing on the arms, back, neck, chest or shoulders of lightning-strike victims, they might make you look like a tat-loving hippie, but they certainly don't make you look like a burns victim.
They're also useful. If paramedics bring your unconscious body in and the doctor sees your magic tat, he's gonna know immediately that you need treating for a lightning strike.
9. The Muppets Song Mahna Mahna Came From a Porno
Even if you think you haven't, you've heard Mahna Mahna. The song has appeared in everything. It was made stupendously famous by the Muppets in their 1976 TV premiere, having already featured on Sesame Street and the Ed Sullivan show years earlier (complete with Jim Henson puppets). So, where did this globe-striding, era-defining ditty come from? Err… a softcore Italian-Swedish porno.
The year was 1968, and Italian films were routinely flouting censors by filming softcore porn and dressing it up as 'arthouse cinema'. In this instance, the titillating subject was 'Scandinavian sexuality', which gave the Italians plenty of excuses to include shots of hot Norwegian girls kissing, and even-hotter Danish girls posing as nude models. But the piece de resistance was a scene set in a Swedish sauna, in which a bevy of buxom blonds stripped off, giggling, for the camera. Composer Piero Umiliani was tasked with coming up with a catchy ditty for this mildly-erotic sauna centerpiece. He came up with Mahna Mahna.
The producers evidently knew he was onto something. The same year the porno came out, they released Mahna Mahna as a single. It got to 55 on the US Chart, caught the attention of Jim Henson, and the rest is (unlikely) history.
8. F1 Drivers Have Their Weight Monitored More than Catwalk Models
Quick, what's the most-restrictive profession where eating is concerned? Most of you probably said 'catwalk models', and it's true that agencies routinely get their girls to starve themselves. Some of you also said 'jockeys', who often take diuretics to keep their weight down. Both professions are crazy-bad for weight watching. But there's a less-likely profession that may be even worse: Formula One.
F1 racing is a scarily-precise science. Winners and losers are declared on fractions of a second, and cars are so streamlined that they carry absolutely no unnecessary weight. An extra 5 kilograms can wipe out 0.2 seconds on every lap; a horrendous setback in F1 terms. As a result, drivers are pressured to lose weight in order to compete. Over the last few years, this has gotten insane.
Drivers now have to be between 60-65 kilograms if they want to compete in the big leagues. In 2013, Jenson Button admitted that he has to starve himself, compete in triathalons, and avoid carbs like the plague to stay F1-ready. Others develop bulimia or anorexia. Some drivers have said they're monitored and restricted even worse than catwalk models in what they can eat, despite eating disorders in F1 getting almost no airtime whatsoever.
7. Selling Sand to Arabs is a Lucrative Global Business
"He could sell sand to the Arabs!" is one of those classic, slightly-racist expressions beloved by old, slightly-racist uncles the world over. Just like "he could sell snow to the Eskimos," it uses a seemingly-unlikely situation to big up the persuasive powers of its subject. Although, in this particular case, its subject isn't all that impressive. Selling sand to Arabic countries is a lucrative global business.
Australia, for example, shifts tons of the stuff to Dubai every year for construction projects. Germany recently signed a deal with Saudi Arabia to supply the Wahhabist Kingdom with sand. Altogether, the global market for sand is thought to be worth over $89 billion. There's so much money in the stuff that mafia groups have moved in and started stripping tropical beaches under cover of night. And the Middle East is one of the biggest market drivers.
The trouble is that wind-blasted desert sand, such as that found in the Gulf, is too fine to be used in construction. So Gulf countries are forced to import the stuff; a lucrative market when those same countries are trying to outdo one another with insane construction projects.
6. Female Hurricanes Kill More People than Male Ones
If we asked you to name a deadly hurricane, we're betting most of you would have a female name pop into your head (likely Katrina or Audrey). There's a good reason for that. 'Female' hurricanes are more-likely to kill people than 'male' hurricanes.
Since about 1979, hurricane names have alternated between female and male. However, even when hurricanes were exclusively female (1953-1979), how masculine or feminine their names were varied. In 2014, researchers at the University of Illinois crunched the data of all hurricanes to make landfall in the USA, separating them out into names that sounded masculine or feminine. They then divided them into hurricanes that hit populated areas, and those that didn't.
For non-destructive hurricanes that missed population centers, names made no difference. But for those that hit areas full of people, the results were staggering. The most 'male-sounding' hurricanes killed on average 11 people. The most 'female-sounding' hurricanes killed an average of 59.
---
The researchers theorized that this is because we're all hilariously sexist. We tend to think women are unthreatening and less-powerful than men, so when we hear a female hurricane is coming, we kick back and refuse to evacuate. When a male one with a testosterone-fueled turns up, by contrast, we run for the hills.
5. Stayin' Alive by the Bee Gees Can Literally Save Your Life
Oh, come on. This is getting ridiculous now. How could a 1970s disco song that just happens to be called Stayin' Alive possibly help you, well, stay alive? We're glad you asked. It turns out that this particular Bee Gees song averages 103 beats per minute. That's pretty much exactly the rhythm you need to be hitting if you're giving someone emergency CPR.
This isn't us pointing out a wacky coincidence. Emergency medical courses (like, say, for lifeguards or whatever) frequently train their students using Stayin' Alive. The American Heart Association (AHA) has official advice which says, in event of a heart attack (we kid you not) "call 9-1-1 and push hard and fast in the center of the chest to the beat of the classic disco song "Stayin' Alive."
The song was chosen because it hit the right beats, and also because it's famous enough to be known to the general public. In countries where the Bee Gees are less-popular, songs such as the Beatles' Ob-La-Di, Ob-La-Da are used instead.
4. A Woman Survived Jumping Off the 86th Floor of the Empire State Building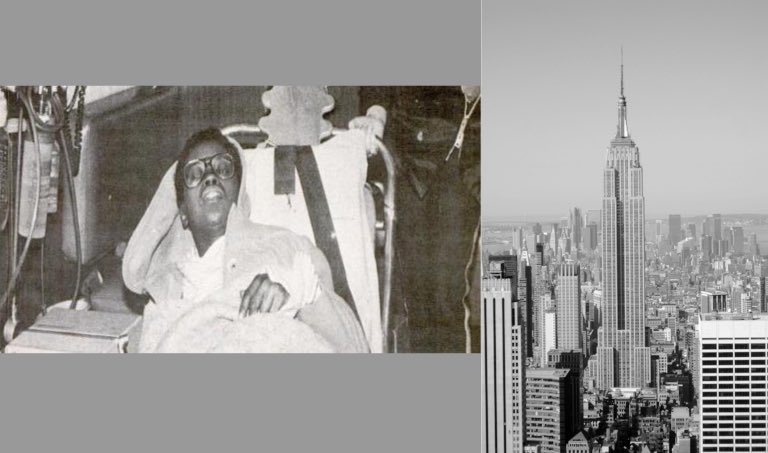 Stepping off the top of the Empire State Building is pretty final. You plunge 86 stories onto hard, unforgiving concrete. That's not something anybody survives… unless their name is Elvita Adams. In 1979, the Bronx resident decided to end it all. She took a ticket to the observation deck at the top of the Empire State building, climbed the security fence, and jumped. When she arrived at hospital, she was still alive.
If you're wondering how the heck this is possible, we'll end your suspense. Adams did jump off the Empire State, and she did go crashing down onto concrete. But the concrete in question wasn't the sidewalk far below. After despairingly leaping out into the unknown, Adams was buffeted by a freak gust of wind. It just happened to be strong enough to blow her onto the ledge of the 85th floor, fracturing her hip. Before Adams could try jumping again, security guards had grabbed her and dragged her back inside.
Although no-one else has ever survived leaping off the Empire State Building, freaks of nature occasionally do save those plummeting from great heights. In 2007, a window cleaner plunged 47 stories and managed to survive thanks to pure luck.
3. Soccer Has Ended Multiple Wars (and caused one)
Passions run high at soccer matches. Heck, Europeans consistently beat each other into comas while watching the sport. But could they run high enough to change the entire fate of a beleaguered nation? The answer is undoubtedly 'yes'. In the past century, soccer has been the driving factor in ending three separate civil wars.
Two of those civil wars took place in the Ivory Coast. The first Ivorian Civil War lasted from 2002-2007, and killed nearly 2,000 people. The reason it stopped? The local soccer team qualified for the World Cup.
On the back of their qualifier win, the Ivory Coast soccer team dropped to their knees on live television, and begged the nation to put aside their differences. They then arranged for a qualifier for the African Cup to be held in a rebel-controlled city. This led to dialogue between the two sides, leading to a peace agreement. When the second civil war erupted in 2011, killing 3,000, soccer player Didier Drogba was instrumental in helping reach peace.
The third incident took place in Nigeria. In 1969, during the worst of the apocalyptic Biafran War, Pele brought his Brazilian club to the country to play the Nigerian national team. Both sides agreed a 3-day ceasefire to watch the match.
On the other hand, soccer has also directly caused at least one war. In 1969, El Salvador and Honduras faced each other in three grudge matches. Blood was so bad that the final 3-2 to El Salvador culminated in Salvadoran troops invading Honduras.
2. The Digit 1 Starts Most Significant Numbers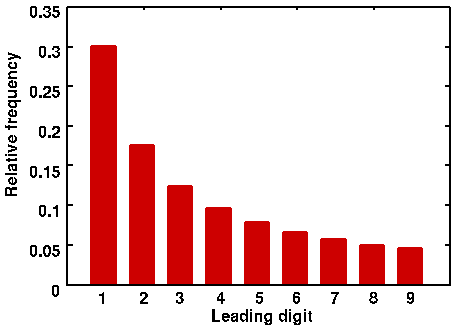 Random numbers are the bane of the trivia aficionado. Go to a quiz, and you might be asked to guess the liters of wine Moldova produces, or the weight of each planet in the solar system, or he population figures for random counties in Louisiana, or whatever. By nature, these questions are designed to be impossible to answer. But if you want a head start, you should make sure your guesstimate begins with the digit 1. There's about a 30% chance that any random, significant number will start with a 1.
Logic tells us that this is plainly nuts. The chances of 1 or 2 or 3 or so-on starting any randomly-selected longer number should equal around 11%. In practice, this doesn't happen. After 1, the chances of a 2 starting the number are 18%, and so-on until 9, which has an infinitesimal chance of showing up. This means that you can go combing through any random set of significant data – baseball batting averages, the length of the world's longest rivers, the number of McDonald's in a certain area – and your figures will be significantly more-likely to start with a 1.
No-one knows why this should be, but it happens. It's even got a name: Benford's Law, and it has real-world purposes. People faking tax returns tend to insert too many figures from the mid-range (4,5,6), instead of figures starting with 1, giving their game away.
1. Cleopatra Existed Closer in Time to the First Pizza Hut than the Pyramids

We all know the Pyramids are old. They were built around 2,500BC, over 1,000 years before Moses is thought to have lived. But few of us realize just quite how old they are. When Cleopatra was queen of Egypt, she was closer in time to the building of the first Pizza Hut than she was the first Pyramid.
Cleopatra reigned between 69-31 BC. The first Pizza Hut was built in 1958. That means the gap between Cleo and a great, big pile of disappointing pizza was 2,000 years. By contrast, the gap between the queen and her ancestors building the first pyramid was 2,450 years.
Look at other comparatives, and this factoid just gets crazier. Julius Caesar (whose own namesake pizza chain, Little Caesar's, was founded in 1959, in case you were wondering) famously got involved with Cleopatra, and probably spent some time admiring the Pyramids. At that point, the pyramids were to Caesar older than the oldest Roman ruins are to us now. Makes you think, huh?
---
Other Articles you Might Like