Their stories of courage and sacrifice fill library shelves and sometimes are even immortalized on the silver screen. But for some war heroes, prestigious medals and citations are often tarnished in the face of discrimination, injustice and false accusations. 
Conversely, many warriors have been ignored altogether for their heroics on the battlefield and left to cope with the physical wounds and psychological damage long after the fighting stops. 
10. Erwin Rommel
He was called "The Desert Fox" and held a well-earned reputation as a brilliant tactician in tank warfare. Erwin Rommel first distinguished himself in WWI and emerged as a national hero in WWII for his role in the invasion of France and victories in North Africa. But after being implicated in a plot to assassinate Hitler in 1944 — an allegation Rommel flatly denied — the venerated Field Marshall found himself hopelessly cornered during the final stages of the war.
The rise of Rommel's stalwart career received a major boost in 1937 with the release of his soon-to-be-classic book on military tactics, "Infanterie greift an" (Infantry Attacks). Based on his experiences in battle, Rommel emphasized the necessity of swift movement and deception to overwhelm and defeat the enemy. The highly influential work would later be immortalized in the 1970 film, Patton, in which the famed American general cries out, "Rommel, you magnificent bastard, I read your book!"
The opus also helped gain favor with Hitler to become one of the Wehrmacht's top generals — a promotion that rankled several senior officers from more traditional German military families and Prussian aristocracy. Whether this played a factor in Rommel's eventual demise remains a matter of debate, Hitler became convinced that his highly decorated commander had betrayed him and must be punished. 
Executing a national hero, however, proved difficult — even for a cold-blooded sociopath like der Fuhrer. As a result, Rommel was given a choice: risk tarnishing his reputation and endangering his family or simply commit suicide. He chose the latter, taking a cyanide pill on October 11, 1944. German propaganda announced that he died from his injuries sustained following D-Day and later received a celebrated state funeral in Ulm. 
9. Henry Johnson
Henry Johnson stood only 5-foot-4 and weighed 130 pounds — a physique that would have barely qualified him as a lightweight boxer. On the battlefield, however, Johnson proved he could punch far above his class, emerging as a bona fide hero in WWI and becoming the first American soldier to earn the Croix de Guerre (France's highest military honor) with the coveted Gold Palm. Sadly, it took nearly a century for Johnson's own country to award him a posthumous Medal of Honor in 2015.
William Henry Johnson was born in 1891 in Winston-Salem, North Carolina and later moved to Albany, New York in search of employment. As a young black man with no education, he took whatever jobs he could find, working as a chauffeur, laborer, and railway porter. In 1917, Johnson enlisted in the U.S. Army and was assigned to the "Old Fifteenth," a state National Guard unit that would be converted into the 369th Infantry Regiment. The unit consisted mostly of African Americans and was one of the earliest arrivals in France as part of the American Expeditionary Force (AEF). 
Not unlike conditions at home, Johnson encountered systemic racism in military life. Most non-white U.S. troops in France, including the 369th, performed menial labor such as unloading ships and digging latrines. The men, however, would soon become the first African Americans to see combat after being re-assigned to the depleted (and more inclusive) French Fourth Army, who dubbed them the "Harlem Hellfighters."
On the night of May 14, 1918 near the Argonne Forest, Johnson and fellow private Needham Roberts stood sentry duty when German snipers began firing at them. Johnson countered by lobbing grenades, but the fast approaching enemy soon surrounded the two Americans and severely wounded the 17-year-old Roberts. After exhausting his ammunition, Johnson continued to fight, using the butt of his rifle, a bolo knife, and his fists. 
He eventually killed four enemy soldiers and wounded more than a dozen others before reinforcements arrived. More importantly, Johnson prevented the Germans from breaking the French line despite suffering 21 wounds during the furious one-hour battle. For his actions, he earned the moniker "Black Death."
When the Hellfighters arrived home in February 1919, they weren't allowed to join the official victory parade in New York City with the other returning U.S. troops. However, a separate parade was held in their honor as thousands of spectators lined the route to watch Johnson lead nearly 3,000 troops in an open car towards Harlem. The government also used his image on Victory War stamps ("Henry Johnson licked a dozen Germans. How many stamps have you licked?") along with an assortment of army recruiting materials.
His fame would be short-lived. Johnson's discharge papers failed to mention any of his combat-inflicted injuries, leaving him with no disability pay after the war. He then returned to Albany and resumed his old job as a porter, but his physical limitations made it difficult for him to perform his normal duties. He gradually drifted into alcoholism and died penniless in 1929 at the age of 32. 
8. Tul Bahadur Pun   
https://www.youtube.com/watch?v=Fw65zhvUz5Q
British Field Marshal Sam Manekshaw once said: "If a man says he is not afraid of dying, he is either lying or a Gurkha." Manekshaw could very well have been describing Nepalese Victoria Cross recipient, Tul Bahadur Pun. The Gurkha soldier single-handedly attacked a Japanese machine-gun position in Burma during WWII, saving the lives of dozens of comrades and re-claiming a vital supply line for the Allies. His only regret was that he didn't kill more enemy soldiers.
Pun entered military service following a rigorous selection process and qualified to become a Rifleman in the 3rd Battalion of the 6th Gurkha Rifles. The name "Gurkha" originates from the Nepalese hill town of Gorkha. Known for their fearless and extreme level of physical fitness, the Gurkhas have served the British Crown for over 200 years and remain an integral part of the British Army. They also possess a deadly secret weapon: a traditional 18-inch kukri – a razor sharp knife which if drawn in battle must "taste blood." In all, Gurkha soldiers have received 13 Victoria Crosses, the U.K's highest military decoration. 
On June 23, 1943, while attempting to capture a key railway bridge, Pun's company became reduced to only himself and two other men. Undaunted, the three survivors launched an attack on a well-fortified strongpoint called the Red House. Pun's two companions soon became badly wounded in the charge, but he picked up their only Bren light machine gun and kept blasting away as he ran across a muddy open field. He then quickly dispatched three Japanese soldiers and planned to kill the others inside the house before the remaining enemy troops fled in terror. Pun also captured two machine guns and a large cache of ammunition.
The citation for Pun's Victoria Cross declared: "Rifleman Pun's courage and superb gallantry in the face of odds which meant almost certain death were most inspiring to all ranks and were beyond praise." After the war, Pun returned to Nepal, but decades later found himself embroiled in another battle. Suffering from ill health, Pun applied to resettle in Britain in 2006 for needed medical treatment. However, he was refused because he "failed to demonstrate strong ties with the UK." 
It would take a media blitz and public outrage, but Pun finally received the treatment. He also continued to campaign for Gurkhas' rights alongside actress Joanna Lumley, who credited him for having saved her father's life during the war. While on a trip to his home village in Nepal, Pun died on April 20, 2011 at the age of 88.
7. David Hackworth
David Hackworth began his military career at the ripe age of 14 after lying about his age to join the Merchant Marines in 1945. He would go on to become one of the most decorated soldiers in U.S. history that included two Distinguished Service Crosses, 10 Silver Stars, 8 Bronze Stars, and 8 Purple Hearts. Before he was old enough to legally buy beer, Hackworth won a battlefield commission during the Korean War and later became the youngest full Colonel in Vietnam. 
Movie buffs will also appreciate that the man known as "Hack" reputedly served as inspiration for the rogue character of Colonel Kurtz in Francis Ford Coppola's Vietnam War epic, Apocalypse Now. As an expert on guerrilla warfare tactics, he also co-authored the Veteran Primer, a manual on counterinsurgency still in use today.
But as the war in Vietnam grew increasingly muddled by bureaucracy and in need of reform, Hackworth became more rebellious and frustrated with the Pentagon. In a 1971 interview with ABC-TV, he even went as far as to say that the war couldn't be won. His candor caught American top brass totally off guard. Following Hackworth's controversial statements, the Army floated the possibility of a court-martial, but the highly successful colonel was eventually allowed to resign with an honorable discharge. 
He then turned to writing, penning his best-selling autobiography, About Face: The Odyssey of an American Warrior. Additionally, he founded Soldiers for the Truth, an advocacy group dedicated to military reform, both in terms of improved capability and treatment of personnel. 
6. Eusebio Mbiuki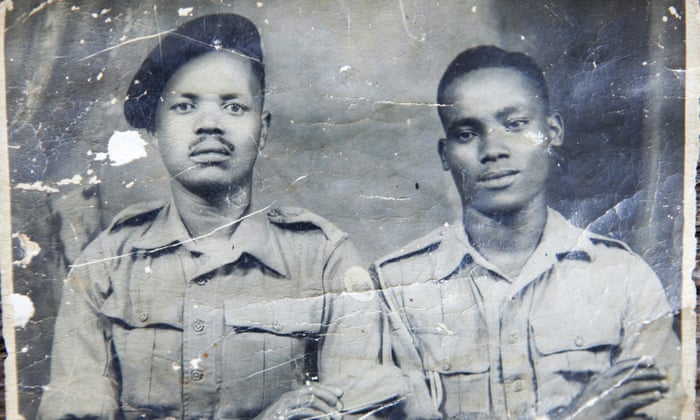 Eusebio Mbiuki recently turned 100 years old. The WWII veteran still lives in rural Kenya where he grew up in the small highland village of Mwema. As a member of the King's African Rifles (KAR), Mbiuki survived tropical diseases, venomous snakes and the onslaught of Japanese gunfire while fighting for the British Empire in the jungles of Burma (now Myanmar). These days, however, the centenarian is fighting poverty — and long-standing discrimination that saw black troops receive three times less payment that white soldiers — and often nothing at all.
From 1939 to 1945, Britain recruited roughly 600,000 African men, sometimes by force, from its colonies to take up arms throughout Asia, Africa, and the Middle East. The deployment formed part of the largest single movement of African men overseas since the transatlantic slave trade. Mbiuki signed up in 1944 and was quickly shipped off to Burma, traveling over 4,000 miles on an overcrowded ship in rough seas and putrid conditions. Upon arrival, they faced not only a seasoned, well-entrenched Japanese Army but frequent beatings by the hands of racist British officers.
After returning home after the war, white soldiers in Britain holding the rank of private received a pension (known as a war gratuity) of ten shillings a month. But Africans earned nearly a third less (if anything) for the same service because of an egregious policy based on colonial origins and blatant prejudice. "They should have known how much we had helped them," Mbiuki said recently. "We were abandoned, just like that."
A 2018 documentary called "Forgotten Heroes of Empire" is helping to create long overdue awareness about the mistreatment of KAR troops. Tragically, the number of veterans like Mbiuki are rapidly dwindling, but efforts are underway to provide compensation as well as the belated acknowledgment of their invaluable war contribution. 
5. Edward A. Carter 
---
The unconventional path of Edward Carter's military career eventually led to a posthumous Medal of Honor in 1997. The award came following a long, extensive study to identify African-American soldiers whose acts of valor might have been overlooked due to prejudice. His citation in part reads:
On March 23, 1945, near Speyer, Germany, while serving with Company #1, 56th Armored Infantry Regiment, 12th Armored Division. When the tank on which he was riding received heavy bazooka and small arms fire, Sergeant Carter voluntarily attempted to lead a three-man group across an open field. Within a short time, two of his men were killed and the third seriously wounded. Continuing on alone, he was wounded five times and finally forced to take cover. As eight enemy riflemen attempted to capture him, Sergeant Carter killed six of them and captured the remaining two. He then crossed the field using as a shield his two prisoners from which he obtained valuable information concerning the disposition of enemy troops.
Born in Los Angeles on May 26, 1916, to missionary parents, Carter's far-away travels included India and China. Eschewing his family's strict, non aggression beliefs, he ran away from home at 15 and enlisted in the Chinese Nationalist Army to fight against invading Japanese forces. He later went to Europe, fighting for the Loyalists in the Spanish Civil War with the Abraham Lincoln Brigade, an integrated volunteer unit of mostly American volunteers dedicated to fighting fascism.  
Upon his return to the United States, Carter joined the Army in 1941 as a sergeant, but soon found himself subjected to racism within the segregated U.S. military. Making matters worse, an intelligence officer at Fort Benning, Georgia, "deemed it advisable" to put Carter under surveillance because of his background in "communist" China and fighting on the side of the "socialists" in Spain. 
Carter eventually shipped out to war in 1944, battle-tested and ready to fight. Upon arrival in Europe, he was assigned to George S. Patton's Third Army, and briefly served as one of the famed general's personal bodyguards. By spring of the following year, Carter saw combat but had to accept a demotion to private because he wasn't allowed to command white troops. That would all change after his heroic actions on March 23, 1945, and had his sergeant stripes restored for the remainder of the war. 
When Carter attempted to re-enlist prior to the Korean War, his overly scrutinized background led to being discharged without explanation. Unfortunately, the fact that he had been awarded the Distinguished Service Cross (later upgraded to Medal of Honor), Purple Heart and Bronze Star fell on deaf ears and closed minds. Disheartened, he moved back to California, where he passed away in 1963 at the age of 47 from cancer — a condition his doctors partially attributed to shrapnel still in his neck.  Although Carter was originally buried in West Los Angeles, his remains have since been moved to their rightful final resting place at Arlington National Cemetery. 
4. Brian Wood
During the Iraq War, a large unit of Iraqi insurgents ambushed a British patrol at a checkpoint known as Danny Point. Soldiers from the Argyll and Sutherland Highlanders became trapped, requiring them to engage in close-quarter rifle fire and hand-to-hand combat while waiting for reinforcements. Despite being highly outnumbered, Sergeant Brian Wood led a bayonet charge in a battle that killed 28 Mahdi Army soldiers. For his actions, Wood received the Military Cross, the third highest military decoration awarded to British armed forces.
Although the Highlanders managed to survive the bloody ordeal with minimal casualties, the aftermath left many of the soldiers with severe PTSD. Compounding the issue, a 2009 public inquiry called Al-Sweady began in which Wood and his men were alleged to have participated in unlawful killing, mistreatment, and abuse on Iraqi nationals. 
A lengthy, highly publicized court fight ensued before being eventually dismissed in late 2014 due to lack of evidence. The inquiry revealed that the testimony of the Iraqis and the law firm representing them, Public Interest Lawyers, were based on "deliberate lies, reckless speculation and ingrained hostility." As a result of the findings, Public Interest Lawyers later went out of business, and its Head of Strategic Litigation, Phil Shiner, was struck off the roll of solicitors by the Solicitors Disciplinary Tribunal in February 2017.
Although the British government announced it would take steps to prevent similar bogus claims, nothing can erase the damage already inflicted on the lives of the falsely-accused  soldiers. 
3. Roy Benavidez
When President Ronald Reagan presented Master Sergeant Roy P. Benavidez with the Medal of Honor in 1981, the former actor turned to the press and said, "If the story of his heroism were a movie script, you would not believe it." Even more remarkably, however, Benavidez's display of courage and valor occurred both on and off the battlefield. 
Raul Perez "Roy" Benavidez was born on March 25, 1935, in Cuero, Texas and fought his entire life, battling systemic racism and bureaucracy, and eventually, a hostile foe in a faraway land. The son of a Mexican-American sharecropper and Yaqui mother, Benevidez lost both his parents to tuberculosis when he was five; he then lived with relatives and sporadically attended school before dropping out at 15 to help support his extended family. He eventually enlisted in the Army and became a member of the vaunted 5th Special Forces Group (Green Berets) whose fighting spirit is defined by its motto, "Strength and Honor." 
During a patrol in Vietnam, Benavidez stepped on a land mine during a covert mission; doctors at the time told him that he'd never walk again. But the wounded warrior viewed the setback as just another challenge to overcome. He underwent a year of grueling rehab (sometimes crawling only on his elbows and chin) and true to his hardened resolve, returned to active duty. 
It didn't take long for him to find himself in another desperate situation. On May 2, 1968, his Special Forces team — 3 Green Berets and 9 Montagnard tribesmen — had been ambushed by over 1,000 North Vietnamese troops. Armed with only a knife and carrying medical supplies, Benavidez hastily jumped aboard an evacuation helicopter and rushed to the location. "When I got on that copter, little did I know we were going to spend six hours in hell," he later recalled.  
By the time the siege ended, the sergeant had saved at least eight men while being shot seven times, stabbed with a bayonet and hit by 28 pieces of shrapnel. His mangled, bullet-riddled corpse had been placed inside a body bag, but before medics could zip it up the barely conscious soldier spit blood onto a doctor's face, letting him know that the tougher than a coffin nail Texan was still alive. 
Two years after receiving his nation's highest military decoration, the hardened soldier again went to war — but this time with the Social Security Administration. A cost-cutting scheme planned to cut off disability payments to veterans, including those of one particular MOH recipient named Roy Benavidez. Naturally, the Green Beret strapped on his boots and marched up to Capitol Hill in Washington, D.C. There, on behalf of thousands of combat vets, he convinced Congress to abandon the ill-conceived motion. Or in military jargon, Sierra Tango Foxtrot Uniform.
2. Walter Tull
The Arras Memorial stands at the entrance to the Faubourg d'Amiens Cemetery in northeast France, commemorating those who fought and died in WWI. One of the names engraved on the wall is 2nd Lieutenant Walter Tull, a British soldier whose enduring legacy is simply immeasurable. As the grandson of a former slave, the biracial officer, and star footballer battled overwhelming adversity, racism, and inequality to emerge as a pioneer in two separate fields. Tull not only exuded valor and bravery — he defined it — and his inspiring story continues to resonate over 100 years after his death.
Walter Daniel John Tull was born in Folkestone, Kent on April 28, 1888 to Daniel Tull, a carpenter from Barbados, and a local English woman, Alice Elizabeth Palmer, who gave birth to five children. By the age of nine, both of Walter's parents had tragically died and he was sent to a Presbyterian children's home in London. Faced with strict church principles and isolation from his siblings, Tull soon found refuge in sport. He eventually became only the third black man ever to play professional football in Britain, but also became the target of frequent racial abuse — one of many social injustices he battled throughout his life.
For most young men in Britain, the outbreak of war in the Summer of 1914 changed everything. Tull joined the 17th Battalion, Middlesex (Duke of Cambridge's Own) Regiment — better known as the "Football Battalion" which heeded to Lord Kitchener's appeal (and public outcry) for fit and healthy men from the same locality or occupation to serve together in "Pals Battalions." His fellow soldiers suggested he apply for officer consideration despite a provision in the Manual of Military Law specifically prohibiting applicants who were not "of pure European descent." Nonetheless, he persevered and ultimately received his commission, becoming the first mixed-race officer in the British Army to lead white troops in combat. 
He fought valiantly at the Battle of Messines in June 1917, before moving to the Italian front where he earned praise by his superior officer for "gallantry and coolness" at the Battle of Caporetto. Tull led 26 men across the fast-moving River Piave in a successful night raid into enemy territory and brought them all back unharmed. He received a recommendation for a Military Cross, a medal he would not receive for reasons never explained. 
On March 25, 1918, Tull spearheaded an attack on enemy trenches during the Kaiserschlact in France and met heavy machine gun fire. The badly outnumbered British troops were forced to withdraw, but as Tull tried to cover their retreat, a German bullet struck him in the neck. Although his fellow footballers desperately attempted to recover his body, Tull would be forever lost to "no man's land."
Over the years, calls to posthumously award Tull his well-deserved Military Cross continue to grow louder. A moving tribute took place in 1918 to mark the centenary of the end of the First World War, featuring Tull's portrait on the beach in Ayr, Scotland. 
1. Navajo Code Talkers
Transmitting secure communications is a vital element of warfare that can often determine victory or defeat. During WWII in the Pacific Theater, the U.S. Marine Corps relied on a highly specialized unit to send and receive a new advanced code rooted in an ancient language: Navajo. As a result, Native American "Code Talkers" saved countless lives with a lexicon that remains the only military code that was never broken. Ever.
In the early stages of the war, Japanese cryptographers had little difficulty deciphering American lines of communication. That soon changed with the implementation of a complex, unwritten language. Spoken only by people born into the southwest Native American culture, Navajo features several different inflections and tonalities capable of conveying entirely different meanings. The befuddled enemy didn't stand a chance.
The Code Talker Program involved the recruitment of over 400 Navajos from Arizona and New Mexico — many of whom lived on reservations without electricity or running water. The two-pronged code consisted of the first letter of a Navajo word that corresponded with one of the 26 letters in the English alphabet to spell out a message. A second part used a vocabulary of 211 English words (later expanded to 411) with Navajo synonyms, e.g. Humming Bird = Fighter Plane.
Previous conventional codes used time-consuming, lengthy procedures requiring electronic equipment. The Navajos, positioned as both senders and receivers, were able to successfully translate, transmit and re-translate the codes directly in a fraction of the time. The men would eventually take part in every major operation involving the Marines in the Pacific theater.
During the invasion of Iwo Jima, the Code Talkers sent more than 800 messages alone without error. Major Howard Connor, who served as signal officer during the battle, later said, "Were it not for the Navajos, the Marines would never have taken Iwo Jima." In other words, Tkin-Gloe-lh-A-Kha  Ah-Ya-Tsinne-Tkin-Tsin-Tliti-Tse-Nill.
After helping the win the war, many of these heroes returned to their reservations. Sadly, the impoverished conditions remain today in a standard of living that could easily qualify as "third world." In addition to recent government cutbacks of Native American programs, many Navajos remain mired in crippling poverty, as well as being besieged by drugs, gang influence and suicide rates that are three times the national average.
---
Other Articles you Might Like