As a country, the United States is probably better characterized by suburbia than by urbanity, by sprawling office parks rather than by dense commercial districts. Nevertheless, the concept of a "downtown", or a centralized and distinct commercial district, first came into use in America, as cities developed along lines that created stark divisions between the 19th century urban core and the newer, less dense, residential neighborhoods of the 20th century.
The United States boasts countless defined city centers; some of which are small and derelict, while others are among the most impressive in the world. To further examine those commercial cores that tend towards the latter, here is a list of the top ten American downtowns. This list is based on size, vibrancy, architecture, businesses, and general aesthetics. While many smaller cities may boast impressive downtowns, this ranking focuses only on major metropolitan areas.
10. Milwaukee
Milwaukee likely has the smallest urban core on this list, a fact that certainly hurts the city's ranking. But this lack of size is also a definite asset: the downtown area boasts upscale river walks, one of the country's most vibrant loft districts, an impressive collection of museums and academic institutions (try the Pabst Theater if you enjoy absorbing plays while supporting one of America's most popular home-grown brews), and, of course, easy access to the Lake Michigan beach. Furthermore, Milwaukee's downtown is clean and easy to naviagte, with a lake-and-river setting that makes it seem like a more relaxed version of Chicago's central core.
9. Detroit
It's no secret that the city of Detroit has fallen on tough times. Its downtown core has fared much better than the surrounding neighborhoods, but still has its share of vacant buildings and a frequent dearth of foot traffic. Nonetheless, Detroit's downtown is one of the most architecturally impressive in the country, largely because the city began to decline before others began urban renewal efforts.  These efforts would ultimately scar the cores of those cities. Detroit's downtown, then, is a remarkable architectural testament to pre-World War II styles of construction. It also remains a center of employment in the greater metro areas, and it has revitalized in recent years with the addition of restaurants and sports facilities.  And you can't forget the legendary automobile manufacturing meccas of Ford, General Motors, and Chrysler, the original symbols of 20th century American innovation.
8. Seattle
One of the country's cleaner and more picturesque downtowns, central Seattle sits upon rolling hills and is in close proximity to excellent water views. Although the downtown may not be as large as that of an East Coast city, it offers an appealing mix of old and new and is the undisputed capital of the Pacific Northwest. Check out the Space Needle, Parsons Gardens, Pier 59, and the Salmon Bay Bridge for landmarks.
7. Boston
Since World War II, Boston's downtown has suffered from the effects of highway construction and urban renewal.  But the Big Dig has removed the old highway and the area is booming now, with one of the best – and certainly one of the most interesting – downtowns in the country. In downtown Boston, you can visit Revolutionary-era historical sites and navigate narrow, twisting roads. You can visit some of the most appealing public squares and parks in the country. And the geographically small downtown core is packed with businesses in both the private and public sector. It's no wonder Boston is often called the "hub of the world". The proximity to the Charles River and some of the nation's nicest neighborhoods is an added plus.
6. Miami
Downtown Miami has boomed in recent decades, as shiny new condominium towers have completely revamped the city's skyline. These glass structures, interspersed with palm trees and newly opened restaurants, help characterize a downtown area that is increasingly vibrant and impressive.  Especially impressive are the beachside locations and the ethnic diversity that makes downtown Miami seem like a uniquely modern, global destination. There are still some classic historical landmarks for visitors to enjoy, including the Freedom Tower, the Ferdinand Magellan railcar, and the Vizcaya Museum and Gardens.
---
5. Philadelphia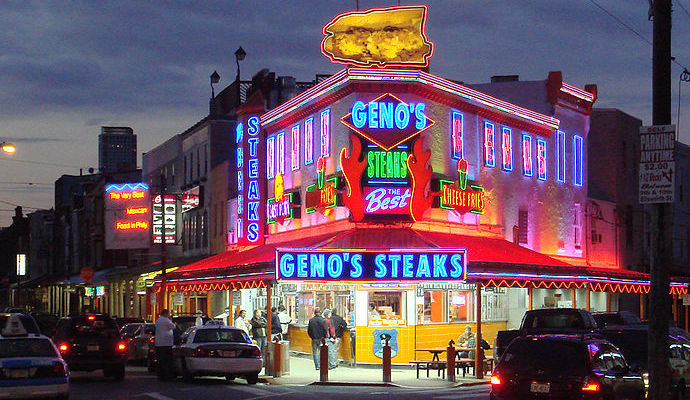 Philadelphia boasts one of the United States' oldest, largest, and more vibrant downtowns. This means that the area has much to offer. It is home to large corporations and convention centers, numerous cultural institutions, highly acclaimed restaurants, and historical sites from the Revolutionary era. All this gives downtown Philly an architectural identity that spans a wide range of years and styles. The city core also has residential neighborhoods interspersed with commercial ones, the combined effect of which gives the place a vibrancy and local color that most downtowns do not share.
4. San Francisco
San Francisco's position on the list is due largely to two strong factors: size and geographic setting. On the size front, San Francisco boasts one of the largest downtowns when it comes to skyscraper proliferation, building heights, amount of office space, and geographic size. For its estimated GDP and number of large corporations that call it home, downtown San Francisco is certainly one of the foremost global financial centers. This size translates into a colorful street vibrancy that few cities share.  In addition, the area is geographically situated on steep hills right alongside the San Francisco Bay, thereby creating a unique and beautiful urban environment.
3. Chicago
Known as the Loop, downtown Chicago more than lives up to the Second City's reputation. By most measures it is the second-largest downtown in the country, after New York. Situated along both the Chicago River and the Lake Michigan shoreline, the Loop is home to the country's second-largest financial district, its tallest skyscraper (second tallest after the Freedom Tower in New York is complete), and a distinctive history of innovation and architectural influence. But the Loop does not come second to New York in cleanliness and natural surroundings. On that second point, it sits right next to Grant Park and the lakefront, along with Navy Pier, Oak Street Beach, and several of the world's premier museums.
2. Washington DC
Due to its lack of skyscrapers, few people consider central Washington when they envision America's best downtowns. But height isn't everything, and D.C. more than makes up for it by having a downtown that is both vibrant and clean.  Many of the United States' most important buildings are contained within its limits, including the White House, the Washington Monument, and the Lincoln Memorial. Downtown Washington has office space that rivals New York and Chicago, along with a spill-over residential vibrancy that is perhaps only equaled by Philadelphia.  In addition, it has the National Mall and the Potomac in its front yard, and it is largely bereft of the highways that slice apart all too many downtowns.
1. New York City
New York City is America's premier urban destination, and it's quite easy to see why. In fact, the city has two main business districts, and each would surpass every American downtown on its own (besides the Chicago Loop). Despite its name, Midtown Manhattan currently stands as the city's urban core and main commercial center. Midtown can get dirty and crowded, but it otherwise offers anything that one could expect of a downtown. It houses numerous international corporations, a vibrant theater district, one of the world's most famous tourist destinations, and no shortage of dining options. Furthermore, it sits mere blocks away from the United Nations and from Central Park, the latter of which can compete with parks in Paris and London for its design and appeal.
post by Amanda Green
---
Other Articles you Might Like