In today's world, nursing is a very popular field of study and a career as a nurse is becoming more and more demanding. However, it took decades for the career to actually gain some sort of credit and recognition. It wasn't until the 19th century that nursing was truly valued, when many remarkable individuals, mostly women, took the stage to find ways to help the wounded and the sick.
Below is a list of ten nurses who have truly changed the field of nursing. Many of them were able to set forth a new stone that would create a path for those who would become nurses in the future.
10. Virginia Henderson
Well known as the "first lady of nursing," Virginia Avenel Henderson graduated from the Army School of Nursing in 1921, during WWI. During this time she came up with a solid definition of her vocation, describing nursing as "assisting individuals to gain independence in relation to the performance of activities contributing to health or its recovery." (nurses.info)
Henderson was able to successfully make the distinction between medicine and the job of a nurse, stating that a nurse is to assist anyone, no matter the condition of their health, in order to help that person gain strength, knowledge, and will. Henderson was also able to create a list of criteria that she believed were part of basic nursing care, including: dressing, sleeping, breathing, eating and drinking, maintaining a normal body temperature, and many other things. She explained that when a person can fully do all of these things, they no longer need the assistance of a nurse.
Not only did Henderson truly define nursing, she also taught at the Yale School of Nursing, empowering future nurses. In 1960, she published a book entitled Principles of Nursing Care which is still widely used today all around the world. In fact, it has been translated into more than 20 languages.
9. Dorothea Dix
While most of the other nurses on this list helped those wounded in battle, Dix was able to take nursing to an entirely new realm. She is credited for opening the first mental asylum within the U.S. However, Dix fought for years before her ideas were even considered by the government.
In her younger years she spent a lot of her time teaching neglected and poor children but over time her health began to fail so she focused on writing children's books. When her health improved she set up a girl's school. After another decline in her health (it is now thought she had tuberculosis), Dix travelled to England to recuperate. Here she encountered plenty of people who were highly supportive of being actively involved with social welfare. Eventually she would return back home to Boston with a plethora of new ideas.
When Dix returned to the U.S. in 1840 she immediately began lobbying for better treatment of the mentally ill. She pointed out the very harsh treatment of these people, who were often locked up and beaten, as their conditions were not understood properly. Dix travelled up and down the coast from Massachusetts to Louisiana and back, collecting information regarding the treatment of those deemed to be insane. She then began to provide this information to legislators in hope of getting the approval to build asylums. As a result, the North Carolina State Medical Society began in 1848 and the Dorothea Dix Hospital opened in Raleigh in 1856. Later on, over 12 million acres of Federal land was set aside for asylums, thanks to Dix's work.
8. Helen Fairchild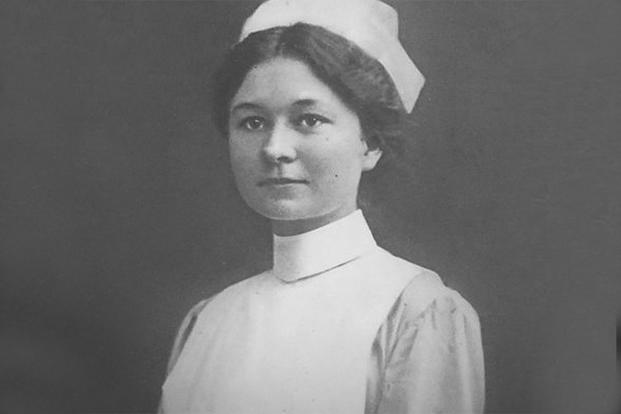 Helen Fairchild nursed thousands of wounded soldiers during her very brief career. She was born in Pennsylvania and graduated as a nurse from Pennsylvania Hospital in 1913. A few years later in 1917, WWI began and Fairchild joined the American Expeditionary Force. She was sent to a location in Passchendaele, France along with 63 other nurses, where she cared for 2,000 wounded soldiers while under fire.
By December of the same year, Fairchild's health was slowly deteriorating. She had been a long-time sufferer of abdominal pain, but the condition had gotten worse during the war (possibly as a result of a combination of her stressful working conditions and exposure to mustard gas). She underwent surgery in January 1918 but fell into a coma and died five days later. It is said that the chloroform used as anesthesia caused hepatic complications. Today, you'll find Fairchild's name in the Women in Military Service for America Memorial.
7. Mary Seacole
While many give plenty of credit to Florence Nightingale for successfully changing the medical care that was provided in the 19th century throughout Britain, another very important name to be associated with these changes is Mary Seacole. It's safe to say that Seacole is the unsung hero of 19th century nursing as a result of her racial heritage: her father was Scottish but her mother was Jamaican. In fact, she applied to join the same nursing group that Nightingale was a part of in Britain, but her application was denied, more than likely because of the color of her skin.
Seacole didn't let this stop her. She borrowed money and made the 4,000 mile trek to Crimea in order to help the wounded and injured soldiers from the Crimean War all on her own. There, she often treated the wounded from both sides, and often relied on her knowledge of Jamaican tropical and herbal remedies and medicines. She was also able to create boarding houses for the wounded to ensure they could stay at a livable place while being treated.
Once the war was over in 1856, Seacole was out of money and in poor health, but due to her help in the war, a benefits fund was set up and she was given money.
6. Margaret Sanger
Birth control might not be as widely known, advocated, or supplied today if not for the determination of Margaret Sanger. In fact, the use and full idea of birth control is not even a century old yet. Sanger was the first to bring up the idea of birth control in 1914, a time in which there was a heavy push for birth control to be legalized. Sanger was looking to give women more rights, especially when it came to birth and being a mother, despite the fact that the Catholic Church and the government at the time highly disapproved of her intentions. Many believe that her push for birth control may have happened due to the fact that her mother died due to her multiple pregnancies of eleven children. Sanger knew all about the difficulties of pregnancy and was looking for a way to fix and combat them. To begin to get her point across, Sanger wrote various documents that told all about the growth of young women, especially when it came to sex and the reproductive system. She also educated the 'lower classes' about birth control.
Despite resistance from many for talking of sexual ideas in public, Sanger continued her quest for legal birth control. She travelled worldwide to learn about different types of birth control. To help educate even more people, in 1916, Sanger opened a family planning and birth control clinic. She also helped to create the American Birth Control League (ABCL) and in 1923 opened the first legal birth control clinic thanks to grants from various places and people, including John D. Rockefeller, Jr.
5. Edith Cavell
Edith Cavell spent much of her time helping those who really needed her, and in the end she died for doing something she loved. It. She was born in Norfolk, England on December 4, 1865 and entered the profession of nursing at the age of 20. She decided to move to Belgium to begin her career, and her she was given the title of matron to the Berkendael Medical Institute located in Brussels. From 1907 until the War began in 1914, Cavell spent much of her time modernizing the nursing profession in Belgium. During the summer of 1914, Cavell was in England visiting family when the war began. Her family begged her to stay but she felt obligated to go back to Brussels to help wounded soldiers. Her hospital soon became a Red Cross location and soldiers from all over, including those from France, England, and Germany were treated as necessary.
During this time, German posters were all over stating that anyone who helps or hidew English or French soldiers would be punished. Despite obvious public warnings, Cavell assisted in helping Allied prisoners escape and hide from the Germans. After testing her fate, the hospital was raided by German soldiers and Cavell was arrested in 1915. Despite having a lawyer who explained she acted out of compassion to help people, Cavell was charged with treason and was sentenced to death by firing squad. On October 12, 1915, Cavell was executed. Today there are various commemorations for her service, including one in Trafalgar Square.
4. Mary Breckinridge
Mary Breckinridge, born in Kentucky in 1881, is best known for creating the Frontier Nursing Service which was able to service and provide health care to those who were too poor to afford it or those who lived in a very remote location throughout the Appalachian region in Kentucky. During her lifetime, she was also able to set up the first school in the U.S. that trained and certified women to become midwives. Through both of her accomplishments, she was able to help reduce the mortality rates of both infants and pregnant mothers in a time when medical help for such things weren't very advanced.
Breckingridge graduated from St. Luke's Hospital Training School in 1910. She then had two children, but both of them died very young. This really motivated her to improve the health of other people, especially infants and mothers.
She travelled all over, including to Washington, D.C. to aide those who were sick from the influenza epidemic in 1918. She also joined the Comité Américain Pour les Régions Dévastées de la France and within the same year decided to create a visiting nurses program, which later became a huge success as many women were trained as proper midwives and nurses who would travel to provide assistance. In 1921 she returned to Kentucky to bring her idea to the U.S. and returned to school at the Teachers College of Columbia University in New York in 1922. In 1923 she surveyed her home town and found that there were no certified doctors or midwives to help promote healthy living. In 1924 after going to the British Hospital for Mothers and Babies, she became a certified midwife, and a year later provided her services throughout the Appalachia. Through her program women would be sent to England to be properly trained as nurses and midwives.
3. Mary Mahoney
Mary Eliza Mahoney makes the list at #3 for her amazing achievements as not only a nurse, but an African American during her time, as she would become the first registered African American nurse. She was born in Roxbury, Massachusetts in 1845 and had a high interest in nursing as a teenager. However, this would be a struggle and most definitely a daunting task, as many women in her time, especially Black women, would simply make themselves content in doing domestic work, which often including hours upon hours of cleaning, scrubbing, and other shores. To avoid this, she spent plenty of time in the New England Hospital for Women and Children working as an unofficial nurse's assistant for almost 15 years.  After, Mahoney decided to go into school and get the education she needed to further her career. In 1879, she graduated from nursing school after 16 months; from a class made up of only 40 people, Mahoney, 34 at the time, the only African American, and three other females graduated.
After getting her degree, Mahoney did a lot of work as a private duty nurse along the East coast. During this time she became a well known member of the Nurses Associated Alumnae (ANA), which at the time was made up of predominately white women. In 1908 she cofounded the National Association of Colored Graduate Nurses (NACGN) which allowed for more African American nurses to be highly successful in their careers.
2. Clara Barton
In war and in disaster, there is one group that never fails to come to the aid, and that is the American Red Cross. Whether you support them or not, the group has been very helpful ever since its creation in 1881 by no one else then nurse Clara Barton. Barton originally got the idea for such an organization some 20 years before the Red Cross was found. During the Civil War in 1861, Barton was living in Washington D.C. and first-hand experienced the Battle of Bull Run. When the battle ended and wounded soldiers were left to die, Barton decided that there needed to be a way for the Northern states to collect, donate, and distribute the needed goods and medical supplies for those affected by the war. In 1862, she was assigned the job of traveling in military ambulances to help injured soldiers in the Northern side as well as on the Southern side of the war. Throughout the entirety of the Civil War, Barton continued to tend to wounded soldiers are necessary. By the end of the war, President Abraham Lincoln himself appointed Barton to be the one to go out and look for, as well as identify, any soldiers from the Union. With all of this experience during the Civil War, Barton saw how successful her ideas were and decided to create the Red Cross.
Though the first Red Cross meeting began with only 15 people, today the organization is a strong 100 million, if not more, people. The organization is well known for helping during natural disasters, but it has also branched out to take blood donations as well as help the homeless.
1. Florence Nightingale
Florence Nightingale is one of the many nurses who are known internationally. She is usually credited with founding today's nursing profession. When she was a teenager, Nightingale believed that a divine voice called to her and wanted her to become a nurse, but her social status definitely didn't fit the job, as she was born and raised by very well-off British family. During her time, women of her age and social status were to become mothers, and nursing was well out of the picture as it was often seen as a profession someone from a very low class would have. However, in 1851, she was given permission from her father to go to Germany in order to study nursing. In 1853, the Crimean War between Germany and Russia broke out, and since she was in the vicinity, Nightingale was sent to a Scutari army hospital in order to help care for wounded and dying soldiers. While doing her job as a nurse, Nightingale also took the time to look around and figure out why so many of the soldiers were dying. She then realized that the hospital conditions were a wreck, and soon became a huge advocate for cleaning and fixing up hospitals. Along with this, she was also able to use her mathematical skills to come up with improved ways to look at medical data that was collected. She continued to work in the hospital until 1857 when she returned home.
After returning home, Nightingale was given the once-in-a-lifetime opportunity to meet Queen Victoria. Here she was able to discuss new ideas that would be used in order to form the Army Medical College. Nightingale would never return to hands on nursing, instead she spent most of her time writing manuals and books that could be published for public use, especially by medical schools. Her literature would eventually help shape what we know as nursing today.
---
Other Articles you Might Like