With over 30,000 Americans dying on our nation's highways each year–and close to a million world-wide–it's inevitable that occasionally someone well known would "buy the farm" from behind the wheel (or as a passenger) in an automobile. The curious thing about such a demise is that in by dying such a sudden and tragic way, the person can often achieve a degree of fame in death they would never have acquired in life had they lived (Jayne Mansfield being a prime example). So who are these ill-fated victims of humanities' fascination with the combustible engine? Here they are, in no special order. (Note: I'm not including professional race car drivers who died behind the wheel as risk is part of the sport.)
10. Lady Diana Spencer, British royal, 1997
Few celebrity deaths were as controversial as that of the one-time Princess of Wales, Lady Diana Spencer (often referred to as "Lady Di") who died alongside her fiancée, Egyptian magnate Dodi Fayed, and their driver in an underground tunnel in Paris on August 31st, 1997. It was reported the entourage were fleeing the paparazzi at the time of the crash, with speeds reaching triple digits, before their Mercedes hit a concrete pylon, killing three of the car's four occupants. Her funeral not only became a media sensation a few days later, but her death has created a flurry of conspiracy theories that continue to swirl to this day, the most outrageous being that she was assassinated to prevent the increasingly outspoken ex-royal from revealing closely guarded family secrets. All such rumors (including one that she was murdered by the British Intelligence service MI5) were found to be baseless, the cause of the crash being attributed primarily to the actions of the driver, who was intoxicated at the time.
9. Jayne Mansfield, Actress, 1967
Known as the "working man's Marilyn Monroe", this buxomly blond was a major Hollywood sex symbol of the 50s and 60s, rivaling even the more famous Monroe (who preceded her with her own untimely death five years earlier). A major star of both stage and screen by the mid 50s, with the decrease in demand for big-breasted blonde bombshells and the increase in the negative backlash against her over-publicity, she had become a box-office has-been by the time of her death in 1967. Riding with her manager and another man (with her three young children asleep in the back seat) near Slidell, Louisiana, their 1966 Buick Electra rear ended a slow-moving tractor-trailer in the dark, killing all three adults in the front seat. (Her children, asleep at the time, all survived with minor injuries.) Rumors that she had been decapitated proved to be untrue (though she was effectively scalped, which was probably the source of the rumors).
8. Grace Kelly, Princess of Monaco, 1982
It was the perfect Hollywood story: starlet of the silver screen marries European prince and becomes a princess in real life. Only no one would have ever imagined the tragic ending for this 1950s equivalent of Charles and Lady Di (see no. 10) who, ironically, would share similar fates. Driving along the serpentine highways of Monaco (a small, coastal principality on the southern coast of France) with her daughter Stephanie, her majesty apparently suffered a stroke and drove down a mountainside, killing her and badly injuring the 25 year old Stephanie. Unlike Princess Diana's death, however, this time there were no conspiracy theories surrounding her tragic demise; just a sad ending to one of European royalties' most successful marriages and the life of one of Hollywood's most beautiful starlets of the fifties.
7. General George S. Patton, WWII General, 1945
It is the height of irony that a man known as one of the greatest soldiers in history should die in a common auto accident, but that was the fate life dealt to old "blood and guts"–the man considered by many to have been the finest field commander of World War II. He was being chauffeured through the streets of Bad Neuheim on the afternoon of December 8, 1945, when the vehicle he was riding in collided with an Army truck that had turned in front of them, breaking his neck and leaving him paralyzed from the neck down. He died 13 days later in his sleep of a pulmonary edema and congestive heart failure and was buried at the Luxembourg American Cemetery and Memorial in Hamm, Luxembourg alongside other wartime casualties of the Third Army in keeping with his request to "be buried with my men." A most unbefitting demise for a man who was quoted as saying the only way for a real soldier to die was from the last bullet fired in the last battle of the last war.
6. Billy Martin, N.Y. Yankees Baseball Manager, 1989
The colorful and often controversial manager of the New York Yankees, Martin had a reputation for turning losing teams into winners and for his animated arguments with umpires. Frequently fired and rehired as the team's manager (along with stints with several other AL teams during his career) he was working as a special consultant to George Steinbrenner when he was killed in a low speed, single vehicle collision during an ice storm near his farm in Port Crane, New York on Christmas Day, 1989. According to police reports, he was a passenger in his truck being driven home by an inebriated friend who lost control of the vehicle and skidded it down an embankment, mortally injuring the unbelted Martin.
5. Dottie West, American Country Music Singer, 1991
---
One of the few women to make a name for herself in the largely male-dominated country music industry of the 60s and 70s, West was in the twilight of her career when she was badly injured in an auto accident in August of 1991 near Nashville. Hitching a ride with a friend to a performance at the Grand Ol' Opry, the vehicle took an exit too fast and hit a concrete pylon, totaling the vehicle. Initially West thought she was uninjured in the crash, but it turned out she had a ruptured spleen and lacerated liver, which doctors were attempting to repair when she died on the operating table a few days later, ending the life of one of Country music's legends.
4. Eddie Cochran, Rock and Roll singer, 1960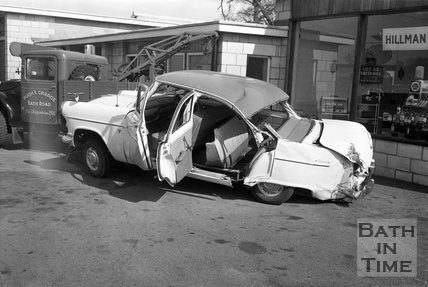 A contemporary of the ill-fated Buddy Holly–whom he sometimes toured with–this up and coming rock and roll singer of the fifties shared Holly's fate (to a degree; Holly died in a plane crash) when he was killed in a taxi accident near Chippenham, England in April of 1960. Curiously, he shared a number of coincidences with his contemporary: both were pioneers of rock 'n' roll and rockabilly, both died at about the same age, both were at the height of their careers when they died, and both died tragically just a year apart. (This is why some claim that Cochran was a victim of the "Holly curse.") It has always been a source of considerable speculation how the music scene of the sixties would have turned out if both men had lived.
3. Pete Conrad, U.S. Astronaut, 1999
Navy fighter pilot, test pilot, and astronaut, Conrad was just the third man to step foot on the moon in November, 1969, forever immortalizing him among the tiny (and ever shrinking) pantheon of men who could make such a claim. (It is said that were it not for a change in scheduling, Conrad would have been commander of Apollo 11 and, hence, would have been the first man on the moon.) Having lived such a risk-filled life, it's ironic then that he would die in a fairly unspectacular motorcycle accident that he walked away from apparently without a scratch. He died six hours later, however, from internal injuries and was buried in Arlington National Cemetery with full military honors–the first of the "lunar twelve" to leave us.
2. Jackson Pollock, Abstract Impressionist Painter, 1956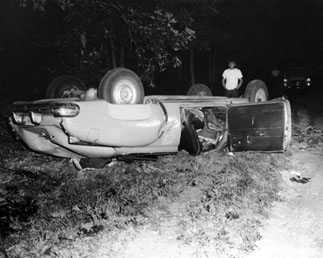 Pollock was one of the most influential painters in American and a major figure in the abstract expressionist movement when he died in an alcohol-related car accident near his home in Springs, New York in August of 1956. A recluse most of his life known for his volatile personality and struggles with alcoholism, he was just 44 when he went off the side of the road and flipped his Oldsmobile, killing him and one other passenger in his car. It was largely through the efforts of his wife, Lee Krasner, that he remained well known within the art community long after tastes in art had changed, giving him greater fame after his death than he achieved in life. (An apparently common fate for artists.) So renown is he considered today, in fact, that Hollywood made a critically acclaimed movie about the man in 2000.
1. James Dean, Actor, 1955
Few deaths had as big an impact on American youth of the 1950s as that of actor James Dean, who died much the way he had lived: fast and quick. Only 24 years, the up-and-coming actor, best known for his portrayals of brooding, dark teenagers, was driving his Porsche 550 Spyder near Cholame, California on September 30, 1955, when he collided head on with a 1950 Ford Coupe that had crossed the centerline in an effort to make a left-hand turn. (There is some speculation that he may have actually been a passenger, with his co-driver, German mechanic Rolf Wutherich, behind the wheel.) In either case, both men were severely injured in the crash, with Dean dying on the way to the hospital. (The belief that he was speeding at the time of the crash has never been substantiated, despite the fact that he had received a speeding ticket earlier that day.) Ironically, Wutherich himself was to survive his injuries only to die in another car crash 26 years later, causing some people to maintain that a "curse" hung over Dean and his "death car" which, after being shown around the country as part of a driving safety demo, mysteriously disappeared.
Other Notables: N.C.Wyeth, American Painter; Johnny Horton, Country Singer; Mel Ott, Baseball Player; and Steve Allen, Comedian.
---
Other Articles you Might Like