As hip-hop continues to evolve, and change the way we view urban life, there are a few things that will never change. Collaborations in hip-hop are still found around almost every corner, but very few influence a generation. The following collaborations did just that; they inspired people, both creators and listeners, and helped shape the genre of hip-hop for years after their release.
10. The What (Notorious BIG & Method Man)
"The What" was a track on Biggie's first major studio album, Ready to Die. At the time of the release, Bad Boy Records was known for its R&B artists, and the West Coast was known for a more hardcore rap scene. In the midst of all of this, there was a precocious Christopher Wallace, who decided he would not have a single collaboration on his LP … with the exception of Def Jam's newest artist, Method Man. Biggie approached Meth
in a club, and history was made. This influenced the many fans of Biggie to learn more about Method Man, and vice-versa. The two artists demonstrated completely different styles, and the combined production and lyrical flow was way ahead of its time.
9. Notorious Thugz (Bone Thugz-n-Harmony & Notorious BIG)
Grammy-winning group Bone Thugz-n-Harmony will forever be remembered as the first group to mix rap with harmony. This particular collaboration not only set records on the charts, it actually made a mark in history that will never be done again. After the release of "Notorious Thugz," Bone Thugz became the first (and last) hip-hop group to collaborate with both the Biggie & Tupac Shakur, while they were still alive. "Thug Luv" is the name of the Tupac & Bone collaboration. However, the success of that song did not outdo the success of Notorious Thugz.
8. Black Republican (Nas & Jay-Z)
After the death of Tupac and Biggie, collaborations in the hip-hop community were scarce. They became restricted, if you will, to artists of the same label, same area, and same family. However, rap beef began to escalate between many artists. In 1998, Jay-Z dropped his first platinum album Volume 2: Hard Knock Life. Nas was looked upon as a hip-hop icon, and master lyricist. As both artists were from New York, the race began to crown the king of the state. Since Hard Knock Life, each of Jay-Z's album have gone platinum, while Nas's have dwindled in sales. The duo went back and forth with their rivalry until Stillmatic was released in 2001, which included the Jay-Z dis track "Ether." Jay-Z would never respond with a track hard enough to proclaim the "Takeover," like he said he would prior to the release of "Ether."
In 2006, Nas signed with Roc-A-Fella Records, and recorded the track "Black Republican," with his now friend and co-worker, Jay-Z. In Jay's verse, he speaks slightly on the two's relationship over the years, and gives respect to the MC he once rivaled.
7. The Worst (Wu-Tang Clan & Onyx)
In a track that contains over six artist performances, this song, and it's video, is very relevant in the hip hop world. In the video's future dystopia, all forms of hip-hop have been banned. Whoever is caught doing any kind of hip-hop is either killed, or arrested on the spot. Wu-Tang Clan, representing Staten Island, and Onyx, representing South Jamaica Queens, got together on the six-minute track full of hard bars, over a classic repetitive hard beat. Running anchor on the track is Sticky Fingaz and Method Man, going back and forth while rhyming together. Method Man and Sticky Fingaz are respectively the most famous members of of each group. This track was very important to hip hop, as it was not quickly dated like many of the pop-rap collaborations of this generation.
6. Swagga Like Us (T.I., Kanye West, Jay-Z, & Lil' Wayne)
When your career peaks in hip-hop, most artists tend to do one last act of kindness, so to speak, to let their fans know they're still relevant to an entire generation. Before T.I. was sent to prison on gun charges, he dropped Paper Trail, an album certified Platinum. There was a chance, during his stay at Club Fed, that he would not maintain his hierarchy while many other southern hip-hop artists were on the rise. After self-proclaiming himself the Jay-Z of the South, he treated all of his fans to one of the greatest collaborations in hip hop history, even being performed on the 2009 Grammys. That song was "Swagga Like Us" featuring hip-hop's most prominent, and dominant, artists of the time.
---
5. 4, 3, 2, 1 (LL Cool J, Method Man, Redman, DMX, Canibus, & Master P)
This collaboration came at a great period in hip-hop. Southern hip-hop was becoming well-known for its slow, drawling style, while the North was still dominating the charts. LL Cool J, who had long peaked, and who was starting to come down in his music career, blessed his fans by collaborating with classic rappers like Redman and Method Man, along with upcoming stars like DMX & Canibus. Also adding his own Southern flavor to the song was Master P.
This is an important event in hip-hop, as it marked the point where battle rap and hip-hop were welded together, between Canibus and LL Cool J. Canibus dropped his verse and, after hearing it, LL decided to drop a different verse that seemingly attacked the young artist. LL was offended by a bar noting his famous microphone tattoo. Despite the downfall of Cannibus in recent years, this collaboration is still one for the history books.
4. Big Pimpin' (Jay-Z & UGK)
Being the HNIC (look it up) in your city is important when proclaiming yourself as part of the top tier of hip-hop. And when you can name yourself after God, you must have a nice cult following. However, in this collaboration, it was the Southern artists who made themselves the leaders. While this is a Jay-Z song, Bun B and Pimp-C made it work. This marks one of the initial stages of the Southern movement to the mainstream. Southern music has always been popular, but it was mainly popular in their respective states, with few shining through elsewhere until the late 90's and early 2000's.
3. Can't Deny It (Fabolous & Nate Dogg)
East Coast/West Coast beef was, and still is, blamed for the death of Tupac and Biggie. However, in this track, you see Brooklyn native Fabolous colab with Long Beach native Nate Dogg, in a commercial hip-hop track that sent the New Yorker to the top of the charts. Gaining so much recognition for his punch lines, similes and metaphors, it was Nate Dogg's unique voice, and Tupac sample, that made the track impossible to get out of your head.
2. Maybach Music Series (Rick Ross & Various Artists)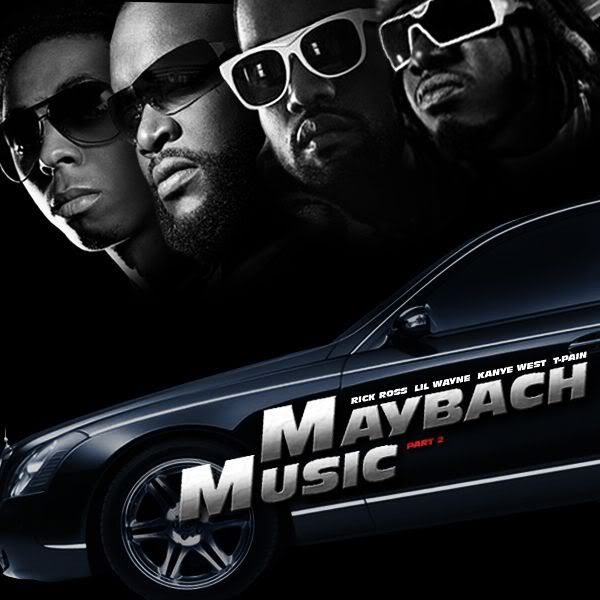 It's an entire series of songs, but the sheer number of great artists that have appeared on the Maybach Music Series that Rick Ross has put together, is mind-blowing. Featuring the likes of Jadakiss, T.I., T-Pain, Jay-Z, Erykah Badu, Lil' Wayne, & Ne-Yo, and using what sounds like actual instruments such as violins and pianos, Rick Ross adds real luxury to hip-hop with these tunes.
1. Where Brooklyn At (Notorious BIG & 2Pac)
This live freestyle between Biggie and Tupac, two of the all-time greats, is one that will forever be remembered by fans of either artist. Over a steady back drop beat, the two go on for about 20 bars, amplifying an already-excited crowd. It's so electrifying, in fact, that it has shown up on many, if not all, of the "Best Of" mixtapes from Biggie and Pac over the years, despite it being "only" an impromptu freestyle.
Written By Andre Walker
---
Other Articles you Might Like