When playing an instrument, being able to see is definitely helpful, right? For anyone who has fumbled about with a guitar, learned their first chord, their second, even a third and then given up when it came time to put all three together, imagine doing all that again, only without the help of the sense of sight. Then, imagine getting really good at it.
This is what the following people did, and in a cutthroat music business too.  A business obsessed with image and to a much lesser extent (these days at least), talent. Through their own doggedness, determination, hard work and oodles of natural God given talent, these guys managed to make successes of themselves.  Visual impairment be damned.
10. Ronnie Milsap
Blind musicians seem to be generally blues and jazz musicians, so country singer Ronnie Milsap is a bit of an oddity.
He was born in Robbinsville, North Carolina with a congenital disorder that left him almost completely blind at birth. This disability did not stop him from progressing in the music business. A childhood spent listening to country, gospel, and blues music inspired him and by the age of seven his teachers had already noticed his budding musical talent.
Classical music training followed as he taught himself how to play several different instruments before his career started in 1963 when his first single "Total Disaster" enjoyed some local success. In the seventies and eighties, Milsap would go on to become one of the most influential and well known country singers around, with hits like "It Was Almost Like A Song" and "Smoky Mountain Rain."
Chart success might have dried up in recent years, yet he still remains one of country music's best loved singers.
 9. Nobuyuk Tsujii
Proving that it's not just blind American piano players who doing insane virtuoso things, Nobuyuk Tsujii is a gifted young Japanese musician. The word "gifted" being something of an understatement. For those not aware of his talents, a quick synopsis of his achievements, all achieved before he reached the age of 25:
At the age of four he started playing "Jingle Bells" on the piano after he heard his mother humming it. By seven years of age, he had won first prize at the All Japan Music Competition for Blind Students. At ten years old, he debuted with the Century Orchestra Osaka and at 12 years old he had given his first piano recital while also composing his first song, called "Street Corner of Vienna."
Since then, Tsujii has performed in countries all over the world and written theme music for a Japanese film and TV drama. Over the last few years he has gained prominence in the classical music world and many of his recordings are now widely available. All of this and he's still in his early twenties.  What will be next for this young, talented musician?
8. Blind Willie Johnson
There are a lot of blues musicians with "Blind" in their name.  It was just the thing to do back in the day. With people like Blind Blake
,
Blind Lemon Jefferson
and Blind Boy Fullerm, the association with the blues and blind musicians became so close that people started adopting the "blind" moniker when they weren't actually visually impaired.  For example, during the sixties when Bob Dylan chose a pseudonym for an early recording, he chose Blind Boy Grunt.
Willie Johnson was most definitely blind. How he got that way is disputed – like a lot of things about his life – though the most commonly told story is that when his father beat Willie's stepmother for cheating on him, in a fit of rage she threw lye on the face of his son.
From childhood, the future gospel singing great wanted to be a preacher. He began, as so many of his contemporaries did, singing on street corners, his gruff baritone singing the gospel of his Lord. His guitar playing, however, was certainly not in the tradition of gospel music. It was, in fact, seeped in the tradition of the blues. Johnson also happened to be one of the finest slide guitar players around.
Over the course of his brief recording career he produced 30 tracks for Columbia Records 1927-1930. Songs like "Let the Light from the Lighthouse,""The Soul of a Man" and the incredibly atmospheric instrumental "Dark Was the Night, Cold Was the Ground" still cast their considerable shadow today and his songs have been covered by the likes of Beck, Eric Clapton and The White Stripes.
Like many a blues man before and since, he was under- appreciated in his day and when his Texas home burnt down in 1945 the poor musician had nowhere else to go and simply slept in the rubble. He died a short time later after contracting malaria.
7. George Shearing
Internationally famous jazz musicians are a rare breed today. Not that there aren't a lot of great ones out there but it's hard to hear their name ringing out among all the talent show contest winners in media today. Maybe starting Jazz Idol, The Jazz Factor, or So You Think You Can Jazz would help. Anyway, George Shearing represented something of a dying breed, an immensely talented musician famous in the jazz world but known the world over by both jazz and pop fans.
Born in Battersea in London in 1919, Shearing began playing at an early age and even won a university scholarship based on his abilities. Alas, money intervened and he had to refuse the scholarship in place of more financially rewarding work… playing piano in a local pub for the handsome sum of £5 a week.
In 1947 he made the move to the U.S. and over the ensuing decades would become one of its most celebrated musicians, playing for three presidents at the White House, winning the admiration of Beat writer Jack Kerouac and writing over 300 compositions including the seminal "Lullaby in Birdland."
In 2007 he received a knighthood from the Queen of England. The blind pianist whose poor father had once delivered coal to the palace received his country's highest honor from the Queen herself.
George Shearing died in February 2011 aged 91.
6. Moondog
Most of this list is dominated by pretty traditional guitar and piano related musicians. There is nothing traditional about Louis Thomas Hardin, aka "Moondog." Take the next sentence, for instance. Early on in life the blind musician and poet made the conscious decision to live on the streets of New York dressed as the Norse god Thor.
He began life fully sighted and started his musical education by playing drums on a cardboard box as a child. At 16 he lost his sight in a farming accident and taught himself to play music by ear. In the 1940s he moved to New York where he became a street musician, though he did have his own apartment in upper Manhattan. Then he got the idea to start calling himself Moondog in honor of a dog he knew that used to howl at the moon.
Later, he would settle in Germany where the traveling Viking would make music that was inspired by street sounds, subway noises and foghorns. It was suitably eccentric. Always in search of something new he also invented quite a few instruments such as a triangular-shaped harp known as the "Oo" and the Trimba, a triangular percussion instrument.
While his recordings didn't trouble the pop charts in his lifetime or since, they have had a considerable influence on musicians from all walks of life. Minimalists like Philip Glass and Steve Reich are fans; Janis Joplin covered his song "All is Loneliness" as did Anthony and the Johnsons; while DJ Mr. Scruff sampled his song "Bird's Lament."
He died in Germany in 1999 aged 83.
---
5. Blind Willie McTell
Like his friend and contemporary Blind Willie Johnson, McTell was destined never to be a major success in his lifetime. In fact, like his gospel playing friend, he died pretty much forgotten, just a few years before the folk boom of the early sixties would surely have rescued him from obscurity. Either way, his music has endured and his legacy today remains stronger than ever.
Willie was born, most likely, in 1898 in Georgia. Unlike many of his contemporaries – including Johnson – he was not the stereotypical raspy voiced baritone blues singer but instead had a sweet, melodic tenor. Music was always his choice of occupation and he started out playing the harmonica and accordion, before the twelve string guitar eventually became his instrument of choice.
He could play the jazz and pop standards of the day but it was his blues and gospel songs which would make up the foundation of his musical legacy. "Mama T'Ain't Long Fo' Day," for instance, is as perfect a piece of blues as you'll ever hear while songs like "Statesboro Blues" and "Southern Can Is Mine" have been covered by The Allman Brothers Band to the White Stripes.
Bob Dylan perhaps paid him the greatest compliment on a song called after the singer when he sang "nobody can sing the blues like Blind Willie McTell."
4. Jose Feliciano
Some might be prone to ignore the considerable skill needed and challenge associated with becoming an accomplished musician when visually impaired. In some cases, like the old blues and jazz men, we just don't have the pictures to remind us of their disability, in others, the personality is so well known and indeed charismatic, their impairment can be forgotten. Sometimes, though, the sheer technical ability of the performer almost makes the disability more pronounced, as if you're forced to remind yourself that what you are witnessing is truly happening. A point in case is Jose Feliciano.
The Puerto Rican guitarist is what you might call a virtuoso. Throughout his 50 year career he has tried almost everything.  Classical, rock, pop, jazz, blues and everything in between are all part of this musical maverick's repertoire.
His commercial high point came in 1970 with the release of the track "Feliz Navidad," but his work amounts to much more than the seasonal novelty song. He continues to record in both Spanish and English and has the rare distinction of being successful in both.
3. Art Tatum
Speaking of virtuosos, few beat Art Tatum as one of the worlds greatest. Tatum is, simply put, one of the finest pianists who ever lived. The inventive flights of improvisational genius and remarkable feats of musical dexterity make Tatum's output as breathtaking and inspirational today as when his fingers first flew over the piano keys.
He was born in Toledo, Ohio to a guitarist father and piano-playing mother. Unlike everyone else on the list he was not 100 per cent blind. Cataracts caused him to lose sight in one eye and he had limited vision in the other.
Music came easily to young Tatum and he picked up everything by ear, drawing inspiration from Fats Waller and James P. Johnson, among others. Building upon both classical and stride influences, he formed a unique sound. Tatum used inverted and extended chord progressions that were at least a decade ahead of his time and the pianist would greatly influence future jazz giants like Bill Evans, Thelonious Monk and Oscar Peterson.
Perhaps the greatest compliment Tatum was ever given was from his hero Fats Waller, when he walked into a club where Waller was playing. Fats, noting his entrance, stepped away from the piano and said, "I only play the piano, but tonight God is in the house."
2. Stevie Wonder
Stevie Wonder is a bit of a genius. First, he became a child star, then got unprecedented control of his own songs, helped get Martin Luther King Jr.'s birthday a public holiday and also crafted some of the finest songs and albums ever, all without ever having the full use of his eyes.
Born Stevland Hardaway Morris in 1950, Little Stevie Wonder was playing music as soon as he could pick up a harp. By the age of 11 Wonder had already signed with Motown.  "Fingertips" was his first big hit and his career took off from there. Hit singles throughout the rest of the sixties followed before Wonder let his Motown contract expire. Facing a showdown with Berry Gordy, the star won complete creative control of all his new work, an unheard of step for any musician at the time. He was in his early twenties with about a dozen classics behind him, still, his best work was yet to come.
Over the next two years he released a trilogy of albums; Music of My Mind, Talking Book and Innervisions that would prove to be the cornerstone of his career and, in many ways, popular music for decades to come. Wonder perfected the use of the synthesizer, a sound which has dominated pop music ever since.
Sure, his later work doesn't quite hold up to what came before it, but everyone has limits. Little Stevie Wonder grew up to change the music industry forever. The fact that no one else, least of all himself, could live up to his past isn't all that surprising when the history is unmatched by anyone.
1. Ray Charles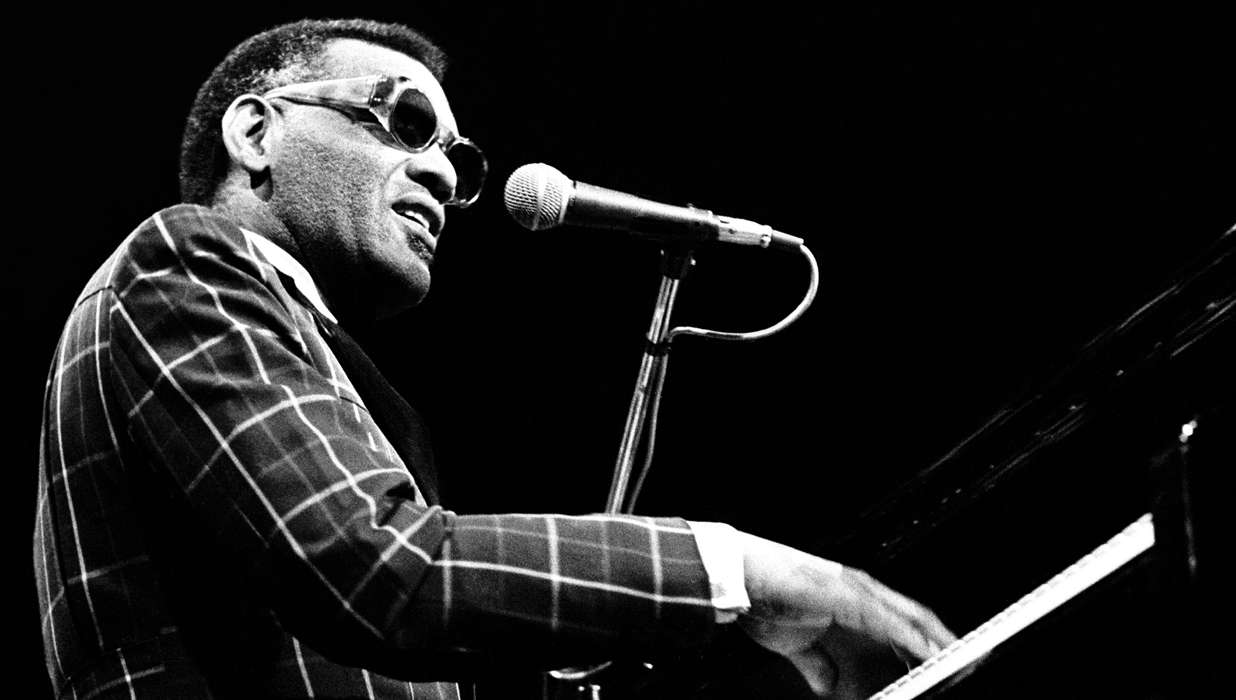 It is pretty impossible to choose between Ray Charles and Stevie Wonder for the number one spot.  In terms of musical chops, legacy, influence, singing ability and sheer charisma it is a pretty close race. Charles jumps ahead a spot for a couple of reasons. One, that he got there (on the music scene) first and two, without Ray Charles's melding of blues and gospel into soul, chances are Stevie Wonder would not be the artist that he is.
Ray Charles was born in Georgia in 1930 and started to lose his sight age five. By age seven it was completely gone. By then his musical interest had already been sparked by a local blues piano player and he quickly became a star at school. Pretty soon he was out on the road learning the ropes with various groups before settling for a while in Seattle. Early on, his records were mere imitations – granted really good ones – of artists like Charles Brown and Nat King Cole, before Brother Ray finally found his feet at Atlantic Records.
"Mess Around," " I Got A Woman," and " Drown in My OwnTears" were among the many hits he released during this period when he combined R&B beats with gospel hymns into a new kind of music that would become known as soul.
He then signed with ABC Paramount Records on the heels of his major crossover hit "What I'd Say." Like Stevie Wonder after him, he managed to negotiate a freedom in his contract that few artists before him had managed. With this secured, he dropped his R&B roots and explored his country side, completely reinventing himself and that type of music in the process.
Modern Sounds in Country and Western Music brought the genre into mainstream prominence and secured Charles' legacy as more than just an exquisite R&B man.
He wrote some fine originals but his role as an interpreter of material was second to none.  Nowhere was this best displayed than on his interpretation of country standards "I Can't Stop Loving You" and "You Don't Know Me." From the mid-sixties onwards his work was hit or miss, but when he was good he was still very good. Take his version of "Eleanor Rigby" by The Beatles or John Lennon's "Imagine." Those were pure musical bliss and clearly showed that Charles was working off one cylinder for about thirty years. When one had achieved what he had and revolutionized one genre of music and helped invent another then one had earned his right to do as he pleases.
Ray Charles died in June 2004 at 73, leaving behind him some of the finest recordings in popular music.
---
Other Articles you Might Like