a not-do-subtle effort to cater to the growing popularity of Pinterest, Toptenz will be attempting more articles based on image-focused lists that also look to teach and inspire. Sure, we'll have our standard lists about the bizarre, food and "Why Batman and Teddy Roosevelt are Similar" but we hope you will find these simple lists enjoyable too. And, yeah, we would be mighty appreciative if you pin a few things. If you missed the link above, here is our pinterest page for you to follow.
And we even included a handy image for pinning this creative endeavor. Or feel free to pin the images below. Subtle, we ain't.
For our first foray into the magical world of all things Pinterest we offer 10 11 great ideas for vintage books, you know, rather than actually reading them. A "novel" concept, I couldn't resist. Each picture has a link with instructions on how to create the DIY project.
10. Stacked-Books Table Lamp
Upcycle old books by turning them into a one-of-a-kind lamp. Be careful reaching for that bedside book, which is now a lamp stand. See how it's done.
9. DIY Vintage Book Picture Frame
This book was up-cycled as a wedding photo frame, but you can use it for any pictures, even the picture of the book you used to make the frame. Freaky.
7. A Book Planter
Find out how you can easily create this poetic planter, and pay tribute to the art of gardening and the world of "real" books. I imagine the book, A Tree Grows in Brooklyn would be a good choice.
6. Bookmarks from Old Book Spines
This feels a bit like cannibalism, but I'm not sure why or possibly more like soylent green. The idea came from here.
---
5. Vintage Book E-Reader Cover
An old book with a cool, colorful cover design keeps iPads, Nooks and Kindles safe. The past protects the future. How you can do it.
4. Book Pages Paper Vase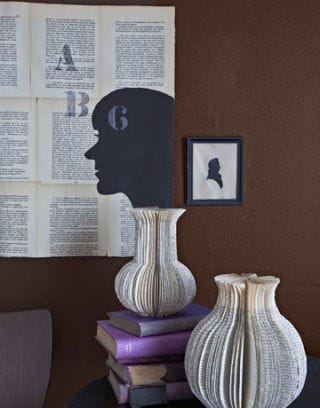 I wouldn't suggest putting water in this vase, some paper flowers complete the theme. It's not as hard as it looks. Here are the instructions.
3. Vintage Book as Custom Journal
Okay, this feels more like reincarnation. You know you are bordering on god-like powers with the power to give new life to an old book. Give it a try.
2. Old Book Lamp Shade
We showed you how to create a lamp stand so it is only fair to show you how to create a lamp shade. Low wattage bulbs (10-15w) as a maximum or you may be on this list. See the light.
1. Vintage Book Purse/Bag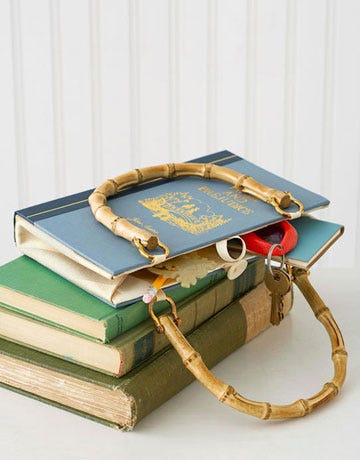 You can buy these on Etsy, but where is the fun and subsequent book destroying? And in a pinch you make believe you still read books. Make it a DIY project.
Bonus: Invisible Book Shelf Made with, yup, Books
Sorry, I had such fun finding these I couldn't narrow it down to 10, so here is my favorite, an invisible bookshelf. Look, its magic, just like how our current culture is making books disappear. I'm reading this on my iPhone right now! So easy to do.
What do you think? Stupid idea? Waste of your time? Selling out? (P)Interesting stuff? Not sure? We'd like to know, so make a comment below.  And finally, thanks to our friends at BigDIYIdeas.com.
---
Other Articles you Might Like