Giving birth to one baby seems enough for one set of parents, but for others, they are graced with the miracle of being able to give birth to twins. In today's world, it seems that more and more women are having twins then ever before. It's said that there is a 1 in 80 chance of giving birth to twins.
In ancient times and in today's world, there are plenty of twins who have come to the forefront and been able to make their mark in history. Some of these twins you've most definitely heard of, while others may not be so prominent in your mind. In any case, all of these twins have made some sort of impact in the world.
10. Jacob and Esau
While not the most famous of all twins they may have been the first twins born. The twins were the children of Issac and Rebekah. Rebekah had been unable to conceive until blessed by God. Esau was firstborn and was therefore in line to gain most of the inheritance. Esau wasn't not favored with intelligence, unlike his wise brother Jacob, and traded his birthright for soup. That was an expensive meal to be sure. Jacob also tricked their blind father into giving him his blessing instead of Esau. Not the most caring brother, but eventually he had a dream where God spoke to him and started following the Lord. He had 12 sons and his name was changed to Israel. His sons became known as "The 12 Tribes of Israel."
9. The Kray Brothers
These twins are definitely the most notorious on the list. The Kray Brothers became well known for being the perpetrators of organized crime during the 1950s-1960s in the East End in London. Ronnie, a paranoid schizophrenic, and Reginald lived a life of violence, often participating in arson, torture, assaults, armed robberies, and murdering many, including George Cornell and Jack McVitie. Despite their violent and crude nature, the twins could be found spending time with very popular entertainers such as Judy Garland and Frank Sinatra. In 1968, the twins were arrested and sentenced to life imprisonment and have both since died.
8. Romulus and Remus
In ancient Roman mythology, Romulus and Remus were the twin brothers born to Vestal Virgin Rhea Silvia and Mars, the god of war. As a common practice in Rome at the time, the two boys were abandoned in a remote location as they were unwanted. In time, the two were found by a she-wolf, who looked after them as if she was the boys' mother.  After growing up, the pair founded the great City of Rome, which soon became a flourishing empire. However, the twin boys would soon dispute the land, and in the end Remus is killed by Romulus, possibly providing for the reason why Rome is named as it is.
7. Apollo and Artemis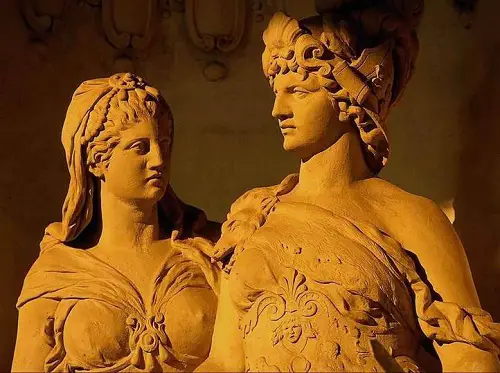 Apollo and Artemis, the son and daughter of Leto and Zeus, are two very important and popular figures in Greek mythology. They are twins and were born on the island of Delos. Artemis is said to the most Greek of all of the gods. He is a musician and is usually seen with his golden lyre. He masters the silver bow and teaches medicine and healing, but is also the god of light and truth. Artemis is his sister who is the goddess of wild things, including hunting. She is a virgin goddess and is the goddess of childbirth, as Leto experienced no pain when birthing her. However, she is also a warrior that seeks revenge.
6. Ronde and Tiki Barber
---
Maybe athletics do run in the family, at least with identical twins Ronde and Tiki Barber that seems to be the case. At one point, both men were professional football players in the NFL and both do some sort of broadcasting. Ronde plays for the Tampa Bay Buccaneers while Tiki played for the New York Giants. The twins became famous once they started their careers in the NFL, and today still have a major impact on society and football fans alike. Ronde is a correspondent for the Today's Show while Tiki spends time as a sports broadcaster. Not many twins have such a similar career path!
5. Chang and Eng Bunker
The Bunker twins were born on May 11, 1811 in Siam, which is known Thailand. Since the two were born in Siam and were connected by a piece of cartilage at the sternum, their condition became known as Siamese twins. The brothers both had livers, but they were fused. In today's world, the twins could have easily been separated, but 19th century medicine wasn't fit for that type of surgery. The brothers were exhibited during a world tour after being discovered by Robert Hunter, but soon after settled down and became U.S. citizens. Both men were able to marry and even had children. The Bunker brothers are famous for being the first widely known pair of Siamese twins. In 1874 Chang had contracted pneumonia and died, but Eng was still alive. Doctors offered to separate them but Eng declined, dying three hours later.
4. Jenna and Barbara Bush
Jenna and Barbara Bush make the list as they are "The First Twins." The Bush daughters are the first twins to ever live in the White House. They were born on November 25, 1981 and are the only children of George W. and Laura Bush. During their stay, the sisters took on several activities such as writing books, attending presidential events, and helping with campaigns that dealt with learning. Though the twins have since moved out of the White House, they did give advice to the newcomers.
3. Robin and Maurice Gibb
Robin and Maurice Gibb are definitely some of the most influential people in the world, despite the fact that they are twins. Being separated by only 35 minutes, the twins would make their round in history by creating the worldly famous band The Bee Gees. After starting their band in Australia, the twins along with another brother, Barry Gibb, eventually made a breakthrough after traveling to England. The Bee Gees have since won nine Grammy Awards, five American Music Awards, a World Music Award, and plenty of inductions, including one into the Rock and Roll Hall of Fame. Unfortunately, Maurice Gibb passed away on January 12, 2003, after suffering a heart attack.
2. Ann Landers and Abigail Van Buren
Ann Landers and Abigail Van Buren were born in Sioux City, Iowa on July 4, 1918. Though identical twins, the two sisters didn't look too much alike, as Landers had surgery to correct a deviated septum. However, both were seen as idols to many women during their time. The twins worked together and even had a joint wedding. When Landers started her 1955 column, Abigail also decided to write one of her own after helping her sister. Both women soon became very popular columnists and even became competitive at one point which drove them to not speak to each other for about 10 years. Known for their famous Dear Abby, the sisters are said to have received about 15,000 letters each week with about 200 million readers.
1. Mary Kate and Ashley Olsen

Best known for sharing the part of Michelle Tanner on the show Full House, Mary Kate and Ashley Olsen are definitely one of the more prominently known twins in today. The two also seem to be the youngest twins to become famous, officially being hired as actresses at the age of six months. After growing up, the sisters went on to star in plenty of movies, television series, and then split to move onto their own careers. The sisters also have dolls, a clothing line, and other items in their names that continue to keep them in the spotlight.
---
Other Articles you Might Like