Obtaining an education has long been considered an essential component in attaining personal success.   As a result, many endeavor to locate those institutions of higher learning that will fulfill this purpose.  Knowledge, however, is not the only discernible characteristic needed for a productive and successful career.  Integrity, discipline, and honor (among others) are also laudable and desired traits that need to be developed.  Yet these social qualities are seldom emphasized in traditional academic curriculum.
However, this is not so with schools that features a military tradition as a part of its overall academic offerings.  These institutions offer an environment that is completely unique in comparison to traditional schools.  Military schools place great stress on discipline, teamwork, and goal-oriented achievement in a blend of military structure and competitive academics. The aim: to produce highly capable graduates who are able to assume the reins of leadership in their various occupational pursuits (military or civilian). The following are the top 10 military schools.
Author's note:  For this list, I've confined myself to American, post-secondary institutions (i.e. colleges and universities).  Further, virtually every military-oriented school has features that can be found in every other institution of the same nature – such as a rigid honor code or high academic standards.  As such, one may ask what the big difference from one school to another is.  Well, that answer is ultimately up to the reader, but I have attempted to articulate something unique about each school, as well as the common characteristics that these institutions share.
10.  Valley Forge Military Academy and College
Officially designated as the Military College of Pennsylvania, Valley Forge is an interesting institution in that it is both a secondary and post-secondary school.  Founded in 1928, the school is located in Wayne, Pennsylvania and offers instruction for young men in grades 7-12 (junior high and high school) as well as a two-year post-secondary offering.  In fact, Valley Forge is one of only five military junior colleges and offers a direct commission into the army after only two years of study (through the army's Early Commissioning Program).  In essence, students at Valley Forge can begin their military indoctrination at a very early age and carry it through college.
The school offers a very intimate atmosphere due to the small number of students (compared with larger institutions) on campus.  In total, Valley Forge has about 600 students, with a little over half of these being enrolled in the college.  Like most military schools, students are a part of a corps of cadets and abide by a strict, no-nonsense honor code.  It's interesting to note that the corps of cadets is described as almost completely autonomous.  By this, it is meant that the student leaders within the corps are responsible for the day-to-day administration, discipline, training, etc. of the other students.
Cadets are required to live on campus and follow a very structured daily routine: formation, breakfast, cleaning details, academic classes until lunch and then more classes until mid-afternoon.  After classes, students participate in athletics and such, winding down to mandatory study halls from 7:30-9:30 PM.  While this is fairly standard for any military school, Valley Forge has some unique characteristics that are wholly their own.  One is that unlike other military schools, Valley Forge follows very distinctive British
traditions.  In fact, they are the only school in the U.S. that maintains British Drill and military ceremonies.  Almost the school's entire faculty is either active duty or retired military personnel from both the United States military and the British military.
Valley Forge is also one of the few military schools in the nation that maintains a mounted battalion and that caters to all five branches of the U.S. military and all five service academies.  Valley Forge is a bastion of traditions that are both standard and unique, offering a level of education that is not only competitive, but personal and intimate because of its small size.
Alumni: William R. Trefel-chairman of the board, CarMax; Larry Fitzgerald-professional NFL player
9.  US Merchant Marine Academy
Their motto is "Deeds not words," and there is no other service that better exemplifies this creed than the Merchant Marine Service.  While very few consider the importance of sea transport, suffice to say that the military does.  In fact, because the U.S. Navy does not maintain the necessary sealift capacity to move high numbers of military formations (personnel, equipment, supplies) to diverse locations around the world, the Merchant Marines (which are basically privately owned, U.S. flagged transports) provides this ability for the armed forces.
Of course, the Merchant Marines also provide the lifeline of international commerce as the means for moving goods across the world's waterways.  To further this endeavor, it became apparent that an institution of higher education was needed to develop seafaring officers.  The U.S. Merchant Marine Academy (USMMA) was established in 1942 for this very purpose end is one of the 5 federal service academies that train its students for military (or in the case of the Merchant Marine and Coast Guard, military related) service.
Located at Kings Point, New York, USMMA enrolls a little over 900 undergraduate students.  Getting in, however, is not easy.  In fact, an excellent high school student might find it easier being accepted by Harvard or Yale.  Aspiring candidates for USMMA must have strong SAT/ACT scores, write an essay, provide 3 letters of recommendations, pass a medical and physical fitness examination, and obtain a nomination from a member of Congress (either a U.S. Senator or Representative).  If successful, and after a period of indoctrination the summer before the first school year at USMMA, students are welcomed into the Regiment of Midshipmen.
As with all federal service academies (and one of the attractive features of attending), all expenses are paid by the government, and each student receives a monthly stipend.  Life, ­however, in the regiment is about what one would expect for a military academy.  When Midshipmen take their oath of office in their first year, they become members of the U.S. Navy reserve.  In other words, welcome to the military!  A regimented military environment is the norm at USMMA, but unlike the other academies (with exception to the Coast Guard Academy); the emphasis here is maritime in nature.  Midshipmen focus their academic studies in one of two maritime-related areas: marine transportation and marine engineering.  Courses of study lead to a Bachelor of Science degree in 6 different majors, as well as maritime accreditation and licensing.  Additionally, USMMA midshipmen are provided a heavy course of practical experience.
Between their sophomore and junior years, midshipmen are required to serve as cadets on operational U.S. merchant ships.  During this time, students will visit, on average, 18 foreign countries and spend almost a year away from the academy.  With four years of intense academic study, leadership development, physical and military training, midshipmen have a number of options available to them upon graduation.  Unlike the other service academies that require several years of active duty service upon graduation, USMMA graduates are responsible to fulfill their government obligations on their own accord.  Essentially, USMMA graduates have the option of either obtaining employment in an approved civilian maritime occupation, or serve as an officer in one of the 4 branches of the U.S. military.  Graduates leave the academy with a B.S. degree, a commission in the U.S. Naval Reserve (unless they choose to accept an active duty commission), and an unlimited license as a merchant marine officer (3rd mate or 3rd asst. engineer).  In short, if one is looking for a career on the seven seas, as well as a superior quality education, the U.S. Merchant Marine Academy is a very attractive option.
Alumni:  Mark Kelly, U.S. Naval captain, space shuttle pilot, and husband of former U.S. Representative Gabrielle "Gabby" Giffords of Arizona
8.  US Coast Guard Academy
It seems proper to follow our 9th spot with another maritime-related school that probably has escaped the attention of most of the American public.  With the motto, "the sea yields knowledge", the Military Academy of the United States Coast Guard is charged with providing officers for the U.S. Coast Guard service (or other military services).
Located in New London, Connecticut, the U.S. Coast Guard Academy (USCGA) is the smallest of the five federal service academies.  As with all the federal service academies, admissions are very selective.  Unlike the other service academies, however, USCGA admissions standards are based solely on merit.  As such, potential candidates do not have to obtain a nomination from a U.S. member of Congress.  Nevertheless, USCGA is renowned for being one of the most selective schools to gain entrance to, with the school accepting about 16% of the students that apply (about 400 of 2,500 applicants).  USCGA also has the highest number of women amongst the service academies, with female cadets comprising about 30% of the student body.  All students, male and female, make up the schools Corps of Cadets.
As with all federal service academies, USCGA cadets are on active duty (Naval Reserve), wear uniforms at all times and follow a very strict and regimented daily routine.  The Corps of Cadets is a self-administrating body, which is to say that the student themselves are responsible for the day-to-day operations of other students (training, discipline, etc.).  With this, the classes of cadets (freshman/4th class, sophomore/3rd class, etc.) are structured to facilitate this dynamic.  The 1st class, for example, is made up of students that hold the senior leadership roles in the Corps, while the 4th class is basically a bunch of followers.
The organization of the Corps, down to its smallest operation component (departments and divisions), is designed to mirror the organizational structure of a Coast Guard cutter.  The idea is to provide leadership experience to cadets in a meaningful and practical way.  In addition to the daily military influence cadets are required to participate in various types of intense military training during the summer (generally maritime related).  In addition, the USCGA requires its students to carry a very strong academic course load, with emphasis on engineering and the sciences.  Upon graduation, cadets are commissioned as ensigns and required to serve at least 5 years in the U.S. Coast Guard (or apply for commission in another one of the branches of the armed services for a similar length of time).
The Coast Guard is a unique service as it is not strictly military in nature.  The CG provides both emergency first response services and as well as maritime law enforcement (and come under the jurisdiction of the Department of Homeland Security and not the Department of Defense).  Nevertheless, the Coast Guard has a military component in its mandate that includes harbor and port security, and the protection of naval assets.  As a result, the service not only provides various challenging career opportunities, but requires an institution of higher learning such as the USCGA to train and develop the officers that allow the service to excel at its mission.
Alumni:  Sandra L. Stosz, admiral, first woman to command a service academy, first female graduate to earn flag rank.
7.  The Citadel
Officially titled "The Military College of South Carolina", the Citadel is a school of high academic standards and rich traditions.  Located in Charleston, South Carolina, the Citadel was established in 1842.  The school is known for its Corps of Cadets undergraduate military program that integrates high level academics with physical training and military discipline.
The Citadel is somewhat unique in the makeup of its student body.  Of the 3,300 students that attend the school, 1100 of these students are civilians who take part in the schools post-graduate offerings.  Another 100 or so are active duty personnel and veterans.  Both of these groups attend evening classes and are separated from the main body of students.  The main body of students at the Citadel (about 2,100 strong) comprises the Corps of Cadets.  The Citadel has the distinction of maintaining one the largest Corps of Cadets outside of the service academies.  Interestingly, the Citadel also is ranked among the top two schools in the number of officers that are commissioned among schools that offer ROTC programs.
Life for the Corps of Cadets is pretty similar to cadet life elsewhere.  Typically, cadets have physical training twice a day, along with drills, leadership training and, of course, their normal academic classes.  Cadets are expected to stand regular formations and they march to all meals.  Cadets are required to live on campus and are only permitted to go out on weekends (though they must return to the campus at specified times).  In addition, a cadet cannot be married.
Unlike the service academies, however, cadets, while required to participate in four years of ROTC training, are not required to enter the military upon graduation, though they are offered commissions in the armed forces (and about 40% accept).  And a cadet has a good chance of graduating as well, as the school maintains a high graduation on-time percentage in the nation (69% for 4 years).  The Citadel prides itself on the strong academic foundation of its graduates.  In fact, Citadel engineering graduates are highly sought after and the Citadel's engineering school is consistently ranked among the best in America.  The Citadel has also produced 269 flag/general officers.  Without doubt, this school produces graduates who are capable of excelling in their chosen field of endeavor, whether it's civilian or military.
Interesting note: the firing on Fort Sumter, generally considered the first shot that sparked the Civil War was not actually the first shot fired.  In fact, the first shot fired was by cadets of the Citadel who were manning the cannons and fired on the resupply steamer "Star of the West'" that was heading to Fort Sumter.
Alumni: Ernest 'Fritz' Hollings, U.S. Senator; Pay Conroy, novelist
6. Virginia Military Institute
With the inspiring motto, "in peace a glorious asset, in war a tower of strength", the Virginia Military Institute (VMI) stands as a monument to academics in the military tradition.  VMI is a public military college (which means that it receives support ­ though minimal- from the state of Virginia) founded in 1839 and located in Lexington, Virginia.  It is the oldest state-supported military college in the country.  Unlike other military colleges (the federal service academies), all of VMI's students are members of the Corps of Cadets.  This tradition of not offering civilian programs is in keeping with VMI efforts to offer students "a Spartan, physically and academically demanding environment combined with strict military discipline."
This they do very well.  Cadets at VMI don't even have beds!  Instead, they have what amounts to a roll-out mats that are slept on.  Of course there is the strict honor code, one for which a violation can merit immediate expulsion from the institution.  VMI was also the last military college to admit women, doing so in 1997 under the looming threat of a court order.
Tradition is very important at VMI.  Nevertheless, the schools academics are without peer.  Its engineering programs are highly ranked, as well as the school itself.  VMI has produced more Rhodes Scholars than all of the other senior military colleges combined.  Its strong academics, combined with its rigorous military traditions, succeed in producing highly motivated and capable graduates.  VMI states that within 4 months of a cadet graduating, 97% are either serving in the military, employed in civilian occupations or admitted to a graduate or professional school/program.
While students at VMI are indoctrinated into a military lifestyle, graduates are not required to join the military, though obviously, very high percentages do accept commissions in the various branches of the armed forces.  To this fact, VMI has so far produced 265 general/flag officers and 7 Medal of Honor recipients.  VMI is the only school, including the service academies, to have graduates who have served as the service chief of three of the four primary armed service branches.  Success is a way of life for graduates of the Virginia Military Institute.
Alumni: George Marshall, US General/Secretary Of State/Nobel Prize Winner
---
5.  Norwich University
Norwich University has been around for a while.  Established in 1819, Norwich has the distinction of being the oldest of the six senior military colleges.  In fact, the U.S. Department of Defense recognizes Norwich as being the birthplace of the Reserve Officer Training Corps (ROTC) program.
The founding of the university is interesting in that its founder, Captain Alden B. Partridge's, intention was to create an education model that was wholly American and structured around a liberal arts academic curriculum.  Captain Partridge's motivation for doing this was to counter what he felt was an elitist (he called it burgeoning professional officers) class in America, and wanted a well-educated and trained militia to be able to counter it.  He certainly succeeded in creating an institution that catered to academic excellence and military leadership development, a template that other institutions such as the Citadel and VMI would emulate.
Presently, Norwich enrolls about 3,400.  Officially known as the Military College of Vermont, the university has a mix of both civilian and cadet students (though the majority of the student body comprises the schools corps of cadets).  The school's motto, "I will try", emphasizes its determination to provide a high academic standard within a traditional military styled environment.  The school hosts 29 majors that span 6 academic divisions (with the most popular major being criminal justice).  However, it is the corps of cadets and military styled training that stands as a hallmark at Norwich.  There's a reason the school has produced 138 generals for the armed forces.  There is a continuing effort to provide the highest quality military training and development possible.  In these efforts, Norwich sponsors specialized ROTC units.  These include the Norwich Rangers (Army) and the Mountain/Cold Weather Company (Army and Air Force), and Air Force Special Operations Unit (the Navy component sponsors a chapter of Semper Fidelis).
An interesting note about Norwich is that a high number of its graduates that are commissioned into the U.S. Army choose to become armor officers.  Because Norwich is a private school, students who are a part of the corps of cadets are not required to join the military upon graduation, though obviously, high percentages do so.
Alumni:  Thomas Green Clemson- US ambassador to Belgium and founder of Clemson University.  Bill W. co-founder of Alcoholic Anonymous
4.  US Air Force Academy
Established in 1954, the U.S. Air Force Academy (USAFA) is the youngest of the five federal service academies.  It is by no means any less prestigious than the other four.  Located in Colorado Springs, Colorado, the academy is one of the most popular tourist destinations in the state.  USAFA's mission, however, is not about attracting sight seers.  Rather, its stated goal is to "educate, train, and inspire men and women to become officers of character, motivated to lead the Air Force in service to our nation."
That's a tall order, and one which the academy performs well to the benefit of its 4,417 students.  USAFA is consistently ranked by such publications as Forbes and the U.S. News and World Report as one of the best colleges in the nation.  Indeed, the academy's undergraduate engineering program was recently ranked as the 5th best in America.
With excellence comes prestige, and USAFA is one of the most selective institutions of higher learning to gain admissions to.  As with all federal service academies (excepting the Coast Guard Academy), a nomination from a member of congress is necessary, in addition to other stringent criteria.  Once admitted, however, all expenses (tuition, books, etc.) are paid by the government.  Of course, upon graduation, one is required to serve up to five years on active duty in the Air Force, or another selected branch of the armed services.
The education value is more than worth it.  The academy's curriculum emphasizes military training, academics, athletics and character development.   Academically, while humanities and military studies are a significant part of the core curriculum, there is a heavy dose of engineering, science and mathematics that must be mastered.  In addition, there are numerous research opportunities at the academy as well.  Of course, the primary mission of the academy is to train students or cadets to become commissioned officers in the U.S. Air Force.  As such, being a member of the Cadet Wing (similar to the Corps of Cadets, just a different name) takes center stage at the academy.
As with other military schools, the Cadet Wing is responsible for a great deal of its own internal administration, with leadership responsibilities primarily carried out by upper class cadets.  There is the traditional honor code- "we will not lie, steal or cheat, nor tolerate among us anyone who does"- that is adhered to.  On a daily basis, life for the typical cadets follows rigid pattern- formations, academics, physical training/athletics, and military training.  The academy's sports programs have benefited from the level of athletic participation required.  Competing at the NCAA division 1 1evel, the academy's football team has been competitive nationally, as well as several other varsity level sports.  The combination of all of this produces men and women (who make up about 21% of the class) who go on to excel as officers in the U.S. armed forces.
Alumni:  Heather Wilson- Rhodes Scholar, U.S. Representative, New Mexico
3.  Texas A & M University
It is surprising at the number of people who do not realize that Texas A & M is one of the six senior military colleges in America.  In fact, until 1965, participation in the corps of cadets was mandatory for every student enrolled at the university.
Established in 1871 and located at College Station, Texas, the schools original mandate was to "educate white males in farming and military techniques."  Presently, students have the option of enrollment into the corps or opting for a traditional academic curriculum.  The university is only one of three public schools with a full-time corps of cadets on campus.  Nevertheless, the university's corps of cadets is the largest in the country (with exception of the service academies), numbering about 2,250 cadets.  Considering, however, that current enrollment at the school tops 50,000, then it's not inconceivable how the corps could be overlooked.
Still, the sheer size of the university (it's the 6th largest university in the U.S.) and the academic opportunities that come with this is certainly to the benefit of the cadets.  The school has a rich tradition of providing quality officers to the U.S. armed forces.  The school has produced over 225 flag and general officers, and members of the schools corps of cadets have been involved in every American armed conflict since 1875.  The school's marching band is also the largest precision military marching band- in the world!  Texas does everything big.
The corps of cadets, to give one an idea of the scope of its military program is broken down as follows: 3 Air Force wings, 3 Army brigades, 2 Navy and Marine regiments, nd the Fightin' Texas Aggie Band.  As a result, the university produces more commissioned officers for the U.S. armed forces than any other school outside of the service academies.
And then there are the academics. The university offers degrees in over 150 different fields of study, has 10 colleges and 18 research facilities (in 2001, the university cloned the first domestic animal, a cat named CC).  Opportunity is the operative word that comes to mind with Texas A & M. The school offers an environment in which a cadet/student has all the tools necessary to become a successful member of society and their chosen profession- military or civilian.
Alumni:  Rick Perry, Texas Governor; Mike Fossum, Astronaut

2.  The U.S. Military Academy (West Point)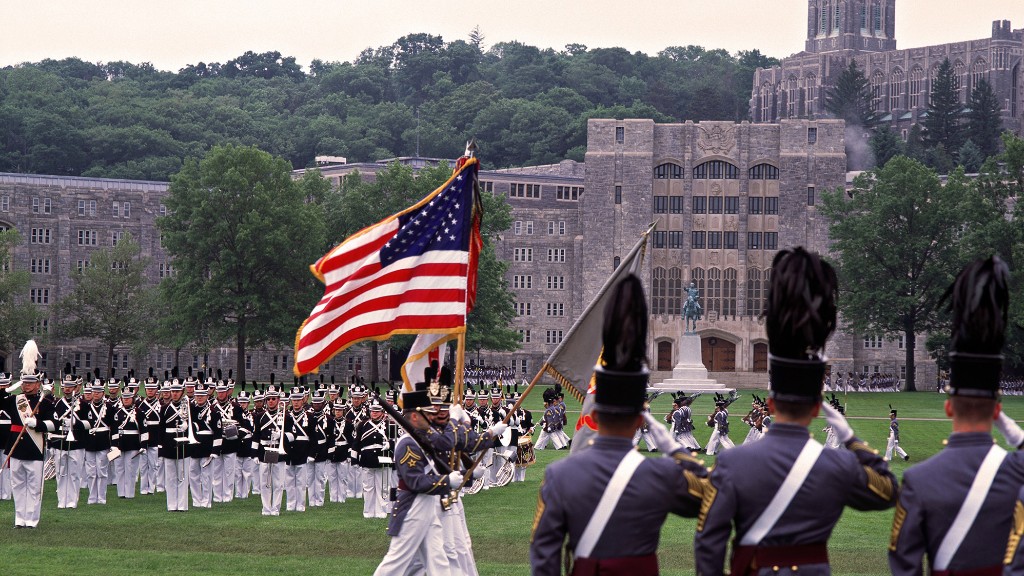 There is little question about the value of a West Point education.  Established in 1802 and located at West Point, New York, the academy has been in the forefront of producing leaders for this nation from the very earliest days of its inception.  The motto of the school is simple: "Duty, Honor, Country".  Simple and yet very profound.
For over 200 years, this school has dedicated itself to produce the highest quality of officers for service to the armed forces of America.  As a result of its high academic standards and offerings, as well as its military influenced leadership and character development, West Point is consistently ranked among the best schools to attend in the nation.
Gaining admission, however, is not an easy endeavor.  As with all the federal service academies -selection is a tough process, with only a small percentage of applicants gaining admission each year (a little over 12%).  The school offers 45 academic majors, with the most popular ranging from foreign languages to mechanical engineering.  The academics at the school are structured according to the Thayer system (named after former academy superintendent Sylvanus Thayer).  This system places an emphasis on small classes that allow more one-on-one interaction with students, and daily homework.  The idea (with the homework) is to encourage cadets to be actively responsible for their own learning by making them accountable by completing their class assignments outside of the classroom (and discussing the assignments during the next class period).
With its primary goal of training officers, as with the entire federal service academy, there is an emphasis on the military aspects of the school.  All students are members of the corps of cadets and are technically on active duty in the armed forces while attending the school.  Upon graduation, every cadet (now a commissioned officer) is required to serve several years in the armed forces of the United States.
Currently, there are 4,487 cadets at the school (of which, about 15% are women).  Cadets will reside on campus for all four years, though with each succeeding year, cadets are granted additional privileges (such as weekend passes).  All 4000+ students eat breakfast and lunch together during the weekdays in the school's enormous mess hall.  This is just one of the many traditions that have made West Point a fixture in the lexicon of military schools.  West Point was also the first school to have class rings for its graduates.  And consider the alumni who have graduated from the school -the names read like a who's who of military (and civilian) excellence.  West Point is not just about commissioning officers for the military, it produces leaders.
Alumni:  Douglas MacArthur, 5 star general; George Patton, 4 star general; Dwight D. Eisenhower, President of the United States, 5 star general; Ulysses S. Grant, President of the United States, general.
1.  US Naval Academy
I will admit to a slight bias with this selection; in all honestly, West Point and Annapolis are really neck and neck in terms of quality.  However, being a former Marine, well…
There is no finer institution than the U.S. Naval Academy in Annapolis, Maryland.  Established in 1845, it is the second oldest federal service academy, behind West Point.  With an enrollment of 4,400 midshipmen, the mission of the academy is to educate, train and develop officers for commissioning in the U.S. Navy and Marine Corps.   The academy produces high quality graduates that are prepared to undertake the reins of leadership in either the military or civilian sectors.
The academy was recently ranked as the #1 public liberal arts college in America by U.S. News and World Report, and its engineering program is consistently ranked in the upper echelons.  The academy is also an accredited Technological Institution.  With 22 majors in 3 divisions (engineering and weapons, mathematics and science, humanities and social science), the academy is well equipped to provide the highest level of academic training to its Brigade of Midshipmen.  Consider the pedigree of its alumni stats: 990 noteworthy scholars, 45 Rhodes Scholars, 16 Marshall Scholars, 50 astronauts (sorry Air Force, that's more than any other school), 2 Nobel Prize winners and a U.S. President.
Of course, any image of Annapolis brings with it the Brigade of Midshipmen, probably marching around sporting their crisp white uniforms.  Certainly, the rigid military styled environment – as with all the service academies- forms the structure that midshipmen must acclimate themselves too.  One aspect of this system that differs from other institutions is the Naval Academy's approach to the honor code.  While other institutions have a formal proceeding to address honor code violations (as does the Naval Academy), the academy encourages midshipmen to confront violators on a personal basis when the situation warrants.  In this manner, it is believed that this process develops honor among the men and women, as well as a sense of moral self-worth.  It is also noteworthy that the term midshipmen is not arbitrary, but is an actual naval rank (it falls between the warrant officer rank of w-1 and w-2).  This is in accords with being officers of the line, but in training.
In addition to a heavy  academic load, military leadership training, and athletic participation, students also spend  their summers engaged  in specialized military  training – from oversea cruises aboard U.S. warships to special schools like the Army's Jump (parachute) school.  The Naval Academy also fields NCAA division I athletic teams.  However, it is their rivalry with West Point that highlights any sporting matchup (they compete against one another in every sport both institutions dually field).
What is certain is that the naval officer is traditionally seen as not only a leader of men, but as an individual that is competent in their chosen endeavor. For those who attend the U.S. Naval Academy, this is what one can expect of themselves.
Alumni: Jimmy Carter, President of United States; David Robinson, NBA player; Roger Staubach, NFL quarterback
---
Other Articles you Might Like