One of the major trends in the travel industry is the popularity of adventure excursions. From trekking and mountaineering to rafting, zip-lining and bungee jumping combined with unique cultural histories, these destinations have just about anything an adventure traveler could ask for.
10. Norway
Best known for beautiful fjords, mountains and coastline and as the old home of the Vikings, Norway has an adventure opportunity around every turn. With their close proximity to the arctic circle, winter sports include downhill and cross-country skiing, snowboarding, dog sledding, snow kiting, ice skating, ice climbing, snowmobiling, tobogganing, snowshoeing and ice fishing. In the mountains during the summer try cycling, hiking, fishing, hunting, rafting, climbing, trekking, mountaineering and summer skiing. Full of fjords, Norway is a perfect place for water sports, including: sailing, diving, canoeing and kayaking. Norway has a wide array of native life and you can easily find safaris to see musk ox, reindeer, king crab and many bird species, as well as tours that offer whale watching and swimming or kayaking with killer whales.
9. Madagascar
Four hundred kilometers off the coast of Africa, Madagascar is full of mountains, rainforests, beaches, coral reefs and wildlife that aren't found anywhere else on earth. Trekking, climbing, mountain biking, spelunking, hang gliding, camping and a whole lot more are all available here. As Madagascar is an island there is a wide array of water sports including surfing, diving with sharks, white water rafting, sailing, snorkeling and kayaking. But the island's main draw is its incredible ecosystem. Here you see lemurs, elephant birds, fossa, poisonous frogs, chameleons and the notorious hissing cockroach. It is also one of the best places in the world for whale watching.
8. Switzerland
Best known as a snow sports haven, Switzerland has enough to keep visitors enthralled all year around. Besides skiing and snowboarding, snowshoeing, tobogganing, ice climbing, air boarding, hiking, dog sledding and ice diving are great ways to take in this winter wonderland. Summer travelers to Switzerland can enjoy hiking, Nordic walking, rafting, climbing, fishing, canoeing, spelunking, biking, hang gliding, mountaineering, cliff diving, gold panning and going through rope suspension courses. Dotted with medieval castles, Switzerland's rich alpine culture comes to life with an awe-inspiring beauty that will make you never want to leave. Photo: extremesportscafe.com.
7. Nepal
The home of eight of the tallest peaks in the world, including Mount Everest, Nepal is proud of its mountain sports and rich culture. Trekking, mountaineering, climbing and mountain biking are the most popular tourist activities; however rafting, bungee jumping, motorcycling, hot air ballooning, paragliding and mountain flights are also readily found. The southern part of Nepal, the Terai, is full national parks and game reserves that offer elephant back or 4×4 safaris to see rhinos, Bengal tigers, crocodiles and countless species of birds and butterflies. Cultural treks are easily found in Nepal and usually take you to the Numbur Cheese Circuit, Indigenous Peoples Trail, Tamang Heritage Trail or Chepang Heritage Trail, just to name a few. Photo: mentalfloss.com.
6. Croatia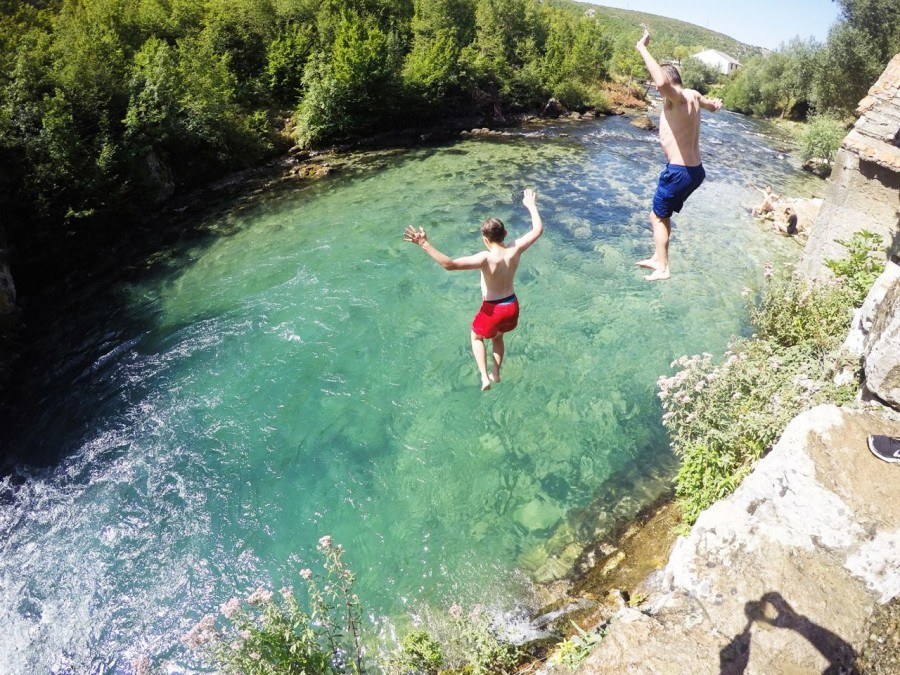 With a rich cultural history, Croatia's terrain ranges from flat plains to low mountains and highlands making it a great place for your next adventure. Inland, mountain biking, climbing, hiking, adventure racing, camping, horseback riding, hunting, skiing, fishing, white water rafting and spelunking are popular among tourists and residents alike. And on the water, sailing, diving, kayaking and canoeing are top picks. While it was never the center of a great civilization, Croatia's place as a communications hub is marked with countless monuments ranging from Ancient Greco-Roman to New Age Secession. Croatia has a diverse natural allure that is well protected by ten nature parks and eight national parks as well as a multitude of special ranges. Photo: adventuresportsholidays.com.
---
5. South Africa
With spectacular coastlines and majestic mountains, South Africa attracts adventure travelers from across the globe. They boast both the highest abseil (112 meters high on Table Mountain) and the highest commercial bungee jump in the world (an exhilarating 216 meter drop off of Bloukrans Bridge). Other alpine excursions include rock climbing, sand boarding, hang gliding, mountain biking, horseback riding and hiking. If you prefer spending your time in the water, try white water rafting, scuba diving, shark diving, snorkeling, fishing, water skiing, surfing and sailing. Besides South Africa's national parks, private reserves offer excellent opportunities to view elephants, lions, zebras, African penguins, rhinos, leopards, hyenas, giraffes, hippos and cheetahs, as well as boat tours to see right whales and great white sharks.
4. British Columbia, Canada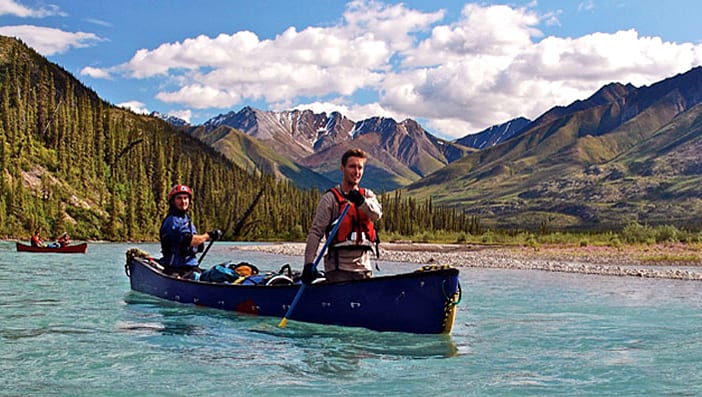 With mountain ranges and lakes a plenty and the Pacific coast, the province of British Columbia (B.C.) is a year round adventurer's Eden, with spectacular views and a multicultural charm that is influenced by its colorful past. Winter sports like skiing, snowboarding, heli-skiing, snowmobiling and snowshoeing are available in most of the mountains in British Columbia; however, the most famous ski resort is Whistler Blackcomb, which will host the 2010 Olympics along with Vancouver. In the summer, backpacking, mountain biking, hiking, horseback riding, climbing, mountaineering, white water rafting, camping, fishing and heli-tours are popular choices. Along the coast and in the lakes of the Shuswap, kayaking, canoeing, fly fishing, sailing, whale watching, diving and surfing are all available. Photo: whistlermountainbike.com.
3. Brazil
Known for its jungles, beaches and the Amazon River, Brazil is the perfect place to lose yourself in the beauty of the rainforest. A jungle tour is a must, whether you hire a guide and trek in on foot or take a boat or canoe to the "wedding of the waters," where the Rio Negro runs into the Amazon. Besides the Amazon, the Pantanal Matogrossense National Park is one of the best places for wildlife watching, and you just might catch a glimpse of jaguars, capybaras, caimans, iguanas and more than 1000 different types of birds. In the southern mountains, repelling, rafting, hiking, climbing, horseback riding, hang gliding and mountain biking to God's Finger, Bell's Rock or to Iguassu Falls are great ways to take in Brazil. As for water sports, surfing and diving are the most popular but you can also find kayaking, sailing, fishing, snorkeling, windsurfing, kite surfing and jet skiing. Photo: glissers.com.
2. Australia
Australia's varied terrain makes it an adventurer's paradise. Water sports are king in Australia, with everything from surfing, kayaking, windsurfing and white water rafting to jet skiing, speed boating and sailing. Of course no trip is complete without scuba diving the Great Barrier Reef. If you choose to venture away from the stunning beaches there are many inland things to do, such as overlanding the Outback, biking, hiking, spelunking and climbing at Ayers Rock and the Blue Mountain. You can even find adventures in the city in Australia, like climbing the Sydney Harbor Bridge. To experience aboriginal culture, be sure to take in Tjapukai Aboriginal Cultural Park. Australia also boasts a rich natural diversity and they like to show it off at the Australian Zoo, Lone Pine Koala Sanctuary, Cairns Wildlife Dome and Cairns Night Zoo. There are also whale-watching tours between July and October. Photo: bridgeclimb.com.
1. New Zealand
Also one of the most beautiful countries in the world, New Zealand is an adventure lover's dream. Despite its small size, it has mountains, volcanoes, rivers and coastlines that could only be described as magical. Most known for its majestic mountains, trekking, climbing, white water rafting, and in their summer, skiing, snowboarding, heli-skiing, snowmobiling and ice climbing are all popular. Spelunking and blackwater rafting gives you the opportunity to see the glowworm-lit caverns and explore the underground rivers of the Waitomo Caves. The New Zealand coast is a great place to partake in surfing, water skiing, sea kayaking and sailing. Considered one of the best diving destinations in the world, some of the must-dive spots are The Poor Knights, Bay of Islands, Fiordland and Stewart Island. Photo: gocountry.co.nz.
---
Other Articles you Might Like