To zombie or not to zombie. That is the question faced by many Halloween revelers as the holiday approaches. The obvious choice is to go zombie or go home. Basically you can take any costume idea and zombify it up with a little make-up and some fake blood. In fact, many folks will argue that zombieing up a costume takes it to the next level.
For zombie make-up you can go extremely simple. All you need is some "clown white" and "black smudge." Make your face pale and apply the dark circles under your eyes and paint your lips black and you're good to go. You can also find a rubber leg or arm to carry as a "meaty" prop. There are plenty of how to tutorials on more extensive zombie make-up applications found at Ehow and WonderHowTo websites.
To spark your zombie inspiration here are my top 10 zombie Halloween costume ideas:
10. Office Zombie
If you work in an office, you probably have a suit in your closet that might be destined for Goodwill. Or you can go to Goodwill and find a cheap suit. All you need to do is add some dirt and blood and you'll be ready to punch the zombie time clock. You might also want to carry a mug of coffee as if to say, "I can't eat brains without a good cup of java." Source.
9. Cowboy Zombie
When it comes to simple costumes the classic cowboy outfit is right up there with a white sheet with two holes cut out for eyes. All you need is a cowboy hat, toy gun belt, some boots and a tacky western shirt (which everyone owns). Then give it the zombie treatment. If you are so inclined you could also rig your outfit with some arrows protruding out of your gut to show that nothing is going to slow down a cowboy zombie. Source.
8. Little Red Riding Hood Zombie
Is there anything as sweet and innocent as little Red Riding Hood and her basket of goodies for Grandma? Of course not. So, clearly a costume like this needs some zombification. It wouldn't take much to rip up some stockings, splatter around stage blood and fill up Grandma's basket with rubber body parts. If you can find a zombie wolf to put on a leash, you're sure to take home first prize in the costume contest. Source.
7. Zombie Bride and Groom
Here comes the bride, all drenched in blood. Here comes the groom covered in mud. Let's face it, you're never going to wear that wedding gown again so why not put it to go use by giving it the zombie treatment? What's great about wedding zombies is you can zombie up the entire wedding party. Imagine six zombie bridesmaids, a zombie priest and zombie wedding singer. The more the merrier. A variation on this theme is zombie prom dates. Bonus points for drenching your prom date in blood like Carrie. Source.
6. Superhero Zombie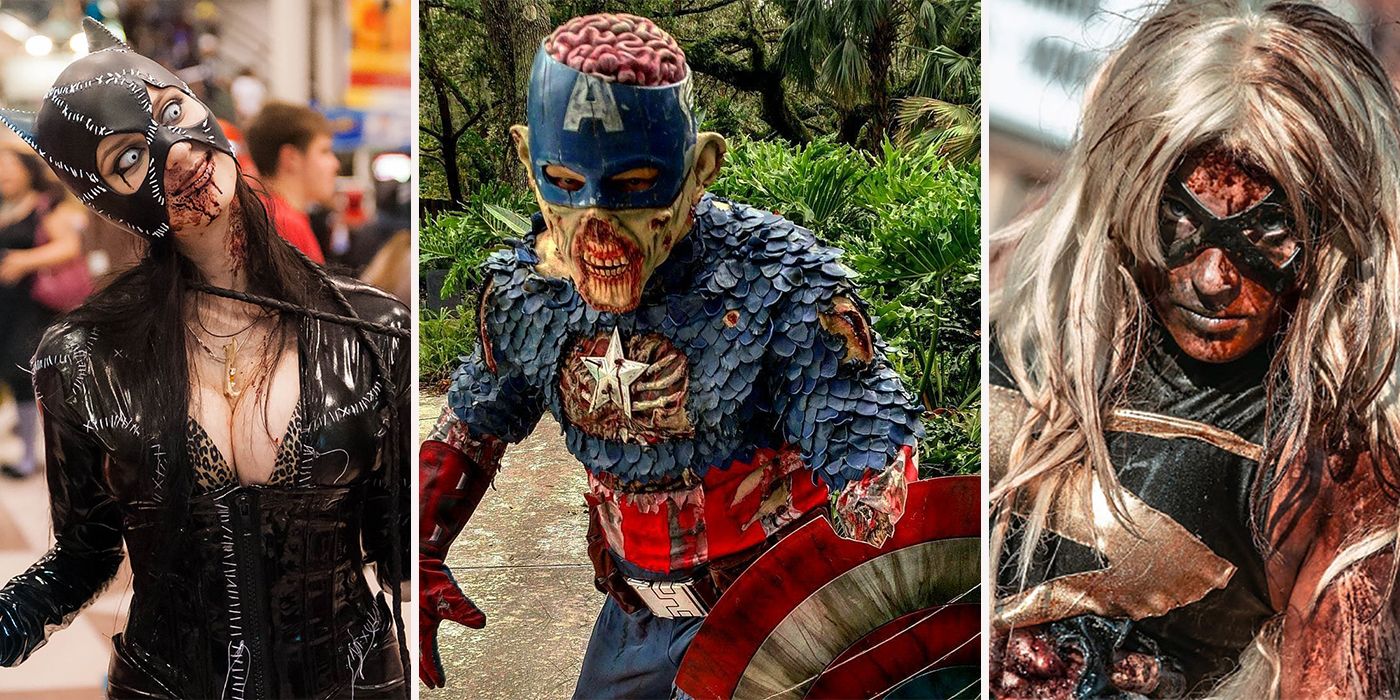 Everybody wants to be a hero. But what happens when our heroes are accidentally bitten by a zombie? They turn into the undead and crave brains just like every other zombie. Cheap comic book super hero costumes can be had at plenty of costume stores. In fact, the cheaper the better because then you won't feel so bad when you ruin the outfit with all your zombie stuff. Think about how you'll stand out at Zombie Spider-man or Zombie Superman.
---
5. Zombie Girl Scouts
Is there anything more horrifying then Girl Scouts trying to sell you cookies? What if those Girl Scouts were zombies? You get the idea. Gather up a couple of your closet friends and put together your own zombie Girl Scout troop. If you really want to take this to the next level consider guys going in drag as zombie Girl Scouts. The mind boggles at the possibilities. Image source.
4. Disney Zombies
Just as it is easy to find super hero costumes you can also find lovely Disney character costumes then destroy them by turning them into zombie outfits. Take your pick: Tinkerbell, Snow White, Aladdin, Cinderella… don't they all deserve to be zombies? Source.
3. Star Wars Zombie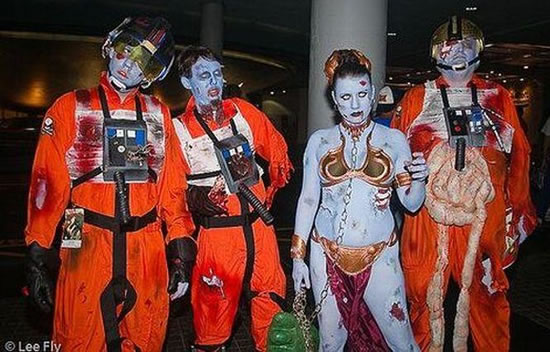 Sticking with the 'what other movie icons can you turn into zombies' theme then Star Wars becomes the obvious choice. At every Halloween parade there are always a handful of Comic Con devotees who brush off their storm trooper outfits to the delight of the crowd. So, what happens when blood is sprayed over those outfits? The crowd is even more delighted!
2. Zombie Kids
The family that zombies together, stays together. Have you ever seen a kiddie pageant? If that doesn't qualify for the zombie treatment nothing does. Obviously, if you're going to be zombieing up your kids, they'll need some help with the make-up but it will well be worth the effort when you can see their bright shiny faces dripping with fake blood. Source.
1. Santa Zombie
No, you can't! You shouldn't! Oh, why not? Zombie Santa Claus. Completely original and totally tasteless. And isn't that what Halloween should be all about? If you're lucky you might find a lovely Mrs. Zombie Claus or some zombie elves to complete the portrait.
by Rick Bitzman
---
Other Articles you Might Like